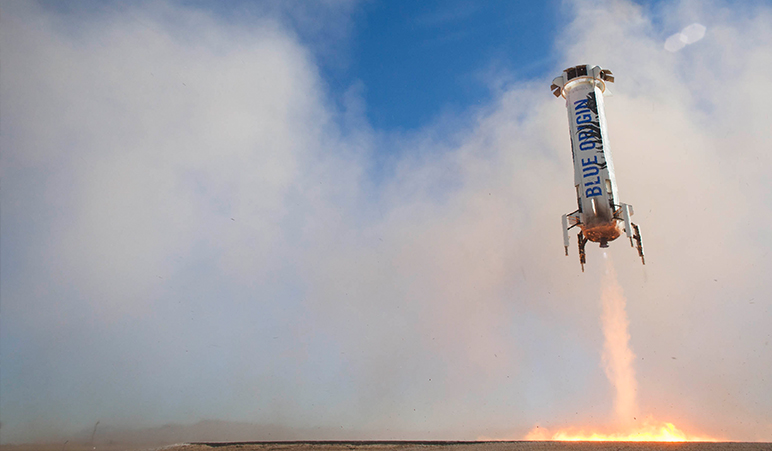 Shad Canada's first online program lifts off with a Blue Origin space mission
| July 24, 2020
Shad Stories
Categories:
Over the years, thousands of youth from across Canada have taken on Shad's annual real-world design challenge: a team-based, hands-on project to develop a business plan and prototype that solves a real-world issue.
Whether it was helping Canadians reduce their waste, or improving food security, Shads have a history of taking their passion for STEAM and using it for good.
But Shads have never had the opportunity to address a real-world problem… outside of the real world.
For this year's ShadOnline program, Shad is collaborating with Blue Origin and Luna Design and Innovation to challenge youth to work in teams and design a spaceflight experiment that helps humanity in some way. One team's experiment will be chosen to fly on Blue Origin's New Shepard rocket—a journey that will go past the Kármán line or about 100 kilometres above Earth.
"We're excited to put one of Shad's payloads on our New Shepard rocket, fly it to space, and return it to you so that you can take that dream you had and transform it into a reality," said Dr. Erika Wagner, payload sales director at Blue Origin.
This is the first Blue Origin spaceflight competition in Canada.
But it's certainly not the first time scientists have taken advantage of the unique characteristics of space.
From cancer cell research to understanding crop yields of space-flown seeds, microgravity and space experiments present an entirely new frontier of previously unimagined possibilities.
"Microgravity introduces a whole new way of thinking about the scientific process. Biology and fluids, for instance, don't intuitively behave the same way in space as they do on Earth," says Andrea Yip, Founder and CEO of Luna Design and Innovation. "While space-based research presents new and creative design challenges, it also opens up novel opportunities for discovery."
Andrea plays a key role in the spaceflight competition, weaving her expertise in healthcare and passion for space into the very fabric of its design. Her company, Luna Design and Innovation, helps biotechnology and commercial companies plan missions to space, and is an official Blue Origin channel partner. Luna's design leadership gave Shads—like Mia Isakovic—a great foundation to launch their ideas off.
"When we began brainstorming, we wanted our experiment to be extremely meaningful. We wanted to create something that made a real change," says Mia. "That's probably what I like most about Shad. It really gives students the opportunity to try and make real meaningful change and ideas. This year especially when you consider space, the possibilities are pretty much endless!"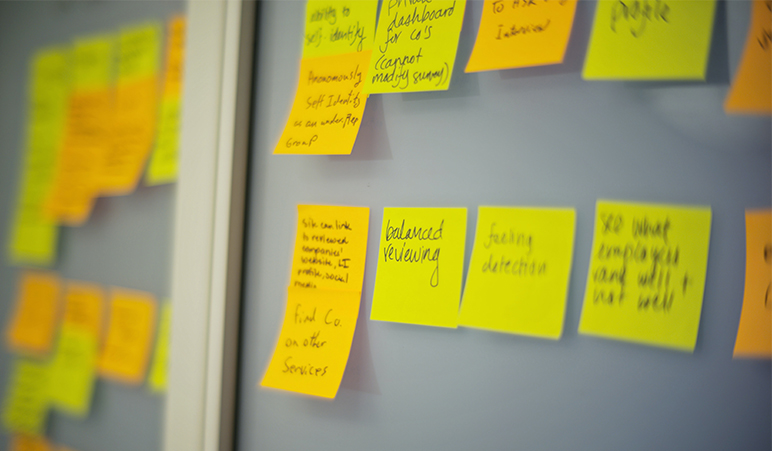 For the challenge, students from all over Canada have been placed in diverse, virtual teams and are spending four weeks researching, iterating, and creating their own research experiment.
"I've often felt an imbalance in work ethic when it came to school projects, and I was a bit worried about that here," says Mia. "But everyone has been committed equally here, putting in the same level efforts and ideas."
Along the way, Shads will receive expert advice from mentors with experience in the space industry, including engineers from the Canadian Space Agency.
Dr. Shawna Pandya, a Canadian physician and scientist-astronaut candidate with Project PoSSUM (Polar Suborbital Science in the Upper Mesosphere), will be the Principal Investigator for the project. Through Project PoSSUM, she was part of the first crew to test a commercial spacesuit in microgravity and has flown seven microgravity campaigns to date. With Shad, she will help guide the winning team as they build and test their experiment for launch.
At the end of ShadOnline, the top five experiments will be selected by Dr. Pandya and four other space experts. From there, only one payload will be chosen to embark on the launch of a lifetime.
"I am thrilled to be working with such driven students, and have been impressed with their ingenuity so far," says Dr. Pandya. "With this challenge, the Shads will be exploring new horizons – figuratively and literally – and my hope is that they will realize how capable they are."