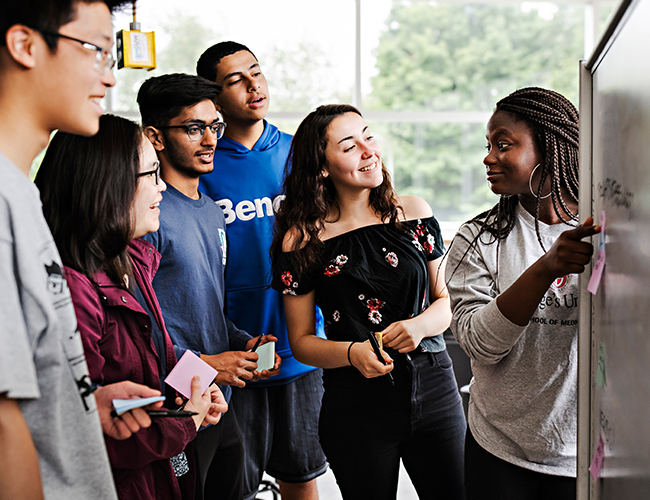 Parents' Perspective
Parents are always on the lookout for opportunities for their child to grow, learn and gain confidence in themselves. Shad's experiential learning provides opportunities for students to explore new concepts in a genetics workshop or a graphics lab or tour a high-tech firm. Students leave the program feeling exhilarated with new career ideas, new excellence seeking peers and a confidence to rediscover what's possible.
Here's what parents are saying:
"I think the lasting impression is that Shad is the stepping stone…Shad is the link between this high school mindset versus preparation for university, preparation for life"
– Melissa, Ontario
"Kids don't park their brains over the summer. So, it's just a great opportunity to allow them to continue to expose themselves to different perspectives, knowledge areas and content experts that are going to be able to stimulate them."
– Darin, Ontario
"I think Shad was just a step out of ordinary life and a chance for something new and inspiring."
– Christina, Ontario
Belonging

"I cannot stress how grateful we are for how Shad helped my daughter find 'her people' and fit in and blossom. Thank you."
Transformation

"I have to tell you that being among these kids at the end of the program is inspirational. Shad was the best experience of my son's young life. My wife and I are grateful to Shad for what it has awakened in him. We believe that Shad will become an important Canadian institution for the leaders of the future."
Confidence

"I had heard great things about Shad over the years but the experience far surpasses any expectations that my daughter or I might have had. My daughter benefitted tremendously from the culture of Shad and its unique combination of belonging, acceptance, empowerment and unwavering belief that anything is possible."
Quick Links
Have other questions about what Shad2024 will look like?
Have questions about how the program began?
Is your child eligible for the Shad program?