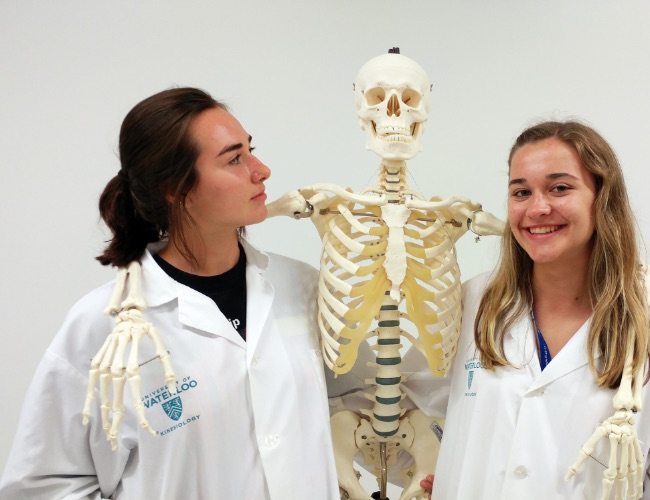 Fees and Financial Support
The Shad program is not a 9-3 classroom or sleepaway camp. It's a 24/7 commitment for 27 days living on campus. It's a chance to immerse yourself into university academics, social innovation and hands-on STEAM and entrepreneurship workshops. It's a way to connect with experts, mentors, and like-minded youth passionate about making a difference. All this—while still in high school.
More than 20,000 students from across Canada have participated in Shad, many going on to start businesses, lead discoveries and make changes in economic and social sectors. One month at Shad gives you the tools to explore your future, chase your passions, and expand your impact.
Shad2022 Program Fee
Program Fee*
$6,100
Shad's program fee does not include travel to and from campus, or money for incidentals such as laundry and souvenirs.
Financial Assistance
1 in 3 Shads receive financial support.
Shad Canada operates on many beliefs, and one we share is that individual financial constraints should not prevent exceptional youth from participating in our program. Thanks to the generosity of donors, Shad Canada is able to offer financial support for full or partial program fees to those with demonstrated financial need. As part of the application process, every Shad applicant's parent or guardian will be sent an email with complete details for their consideration.
Over $1M in financial assistance was awarded in 2019.
Insaf couldn't have done it without a bursary.
She was encouraged to apply after learning about financial assistance opportunities.
Partnership Scholarships
Community matters at Shad. We are mindful and purposeful about building community each year. We partner with programs, associations and foundations that work directly with youth from all walks of life. Shad's partners let their communities know about our program and in some cases offer a scholarship for their members to participate at Shad.
Check out if there are community scholarships available for you:
Fundraising Opportunities
Many Shad students put their entrepreneurial spirit to work and develop fundraising campaigns to support their Shad program fee.
Some successful places to start:
Shad accepts HigherEd Points: family and friends can exchange travel points for dollars towards the program fee
Organizations: clubs, musical affiliations, volunteer organizations
Educational Communities: Board of Education, school board, principal, teachers, classmates, school clubs
Religious Community: religious leaders, congregations, community
Work Contacts: supervisors, coworkers, staff
Businesses: local merchants, banks, supermarkets, law firms, realty firms, insurance companies, auto dealers
Service Organizations: Rotary Clubs, Lions Clubs, Kiwanis Clubs, Optimists Clubs, Civitan Clubs