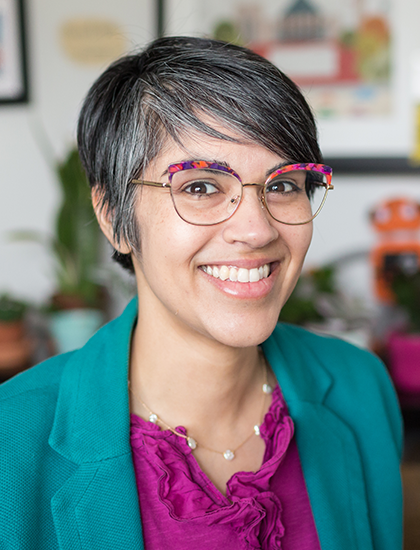 Alvina Mardhani-Bayne
Recruitment Manager
As Shad's Recruitment Manager, Alvina connects with teachers, principals, guidance counsellors, and other educators who support students in learning about and experiencing Shad. She is based in Edmonton and happily travels from coast to coast to coast as she leads Shad's national recruitment efforts.
Alvina is inspired by the authentic, immersive learning that happens in the Shad program and the sense of community that Shads develop.
Prior to joining Shad, Alvina was an Assistant Professor at MacEwan University and spent years working with students and teachers across Alberta as an educator, researcher, and advocate for accessible education. She has also worked for the Edmonton Public School Board, the U School Program at the University of Alberta, Edmonton Public Library, and the Art Gallery of Alberta. She holds a PhD in Education from Syracuse University, and an MSc and two BA degrees (one in Art History and one in Linguistics and Anthropology), all from the University of Alberta. Outside of the office, Alvina spends time with her critters (she shares her home with three dogs and two cats!) and loves to read.