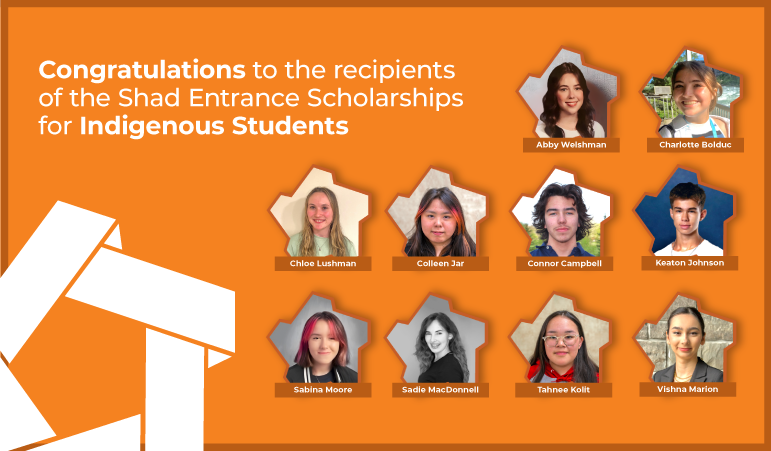 Spotlighting Future Leaders: Shad Scholarship Recipients for Indigenous Students Ignite Change in STEAM Fields
| June 6, 2023
Shad Stories
Categories:
Congratulations to the recipients of the Shad Entrance Scholarships for Indigenous Students. 

Shad is committed to identifying young leaders who embody the willingness to go the mile for their community in an impactful way, and for overall excellence. These students inspire those around them through their changemaker capabilities and will continue to have a positive impact as they use their passion for STEAM to drive change. 
We had a chance to catch up with these future leaders to hear what they are looking forward to this summer and beyond. 
Abby is looking forward to exploring new opportunities and discovering STEAM. Charlotte is passionate about the environment and wants to help build a more sustainable future through engineering. Chloe is excited to try different experiments and aspires to make a positive impact. Colleen is eager to learn more about technology and engineering and hopes to continue to be an asset to her community. Connor aspires to study medicine and understand the specific needs of the Indigenous community. Keaton enjoys the creativity of design and sees a future in architecture. Sabina looks forward to learning new skills and studying law or psychology at university. Sadie is passionate about her local arts community and is excited to explore new ways of solving problems. Tahnee can't wait to forge new connections and hopes to start a business someday. Vishna loves coding and sees herself studying law at university. 
These entrance scholarships are specifically for students that have historically been underrepresented in STEAM fields.  The award offers a combined value of $100,000 and is fully funded by Shad and its generous donors. 
Click on the photos below to learn more about these changemakers.