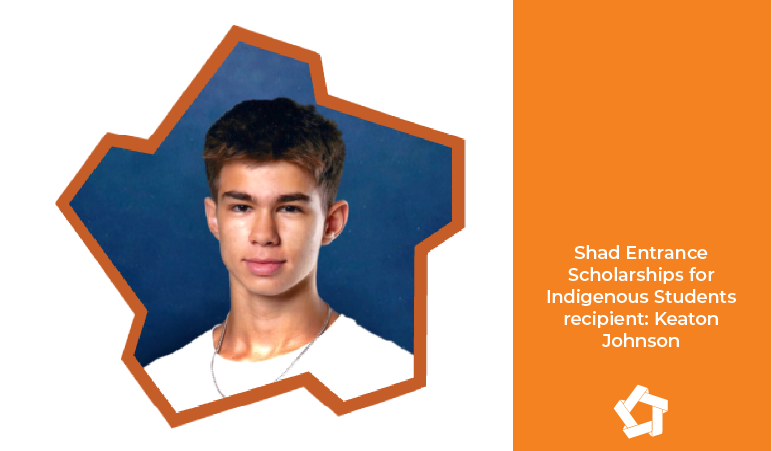 Shad Entrance Scholarships for Indigenous Students – Keaton Johnson
| June 5, 2023
Shad Stories
Categories:
Q: Tell us a bit about yourself.
I am Keaton, a guy who loves to be creative and active. I like being inventive through school, my own personal projects, and everyday life. I play competitive basketball, soccer, and football; I enjoy working out as a way to stay fit and active. My favourite hobbies are watching basketball, playing video games, and hanging out with my friends. Everyday I enjoy exploring new foods, listening to music, and playing with my pets.

Q: Why do you want to participate in the Shad program/What are you most looking forward to?
I wanted to participate in the Shad program to explore a new city in Canada, further my knowledge in STEAM, and expand my interests. I was introduced to Shad through my school counsellor, so I did further research and this opportunity seemed amazing. In Shad I look forward to exploring the York Campus and the surrounding areas and learning from true experts in my areas of interests.

Q: What motivates or sparks your curiosity in STEAM and/or entrepreneurship?
What motivates my curiosity in STEAM is the freedom of creativity. In this field I can be creative and design countless ideas while still applying my analytical skills. I am especially interested in architecture and architectural science as I can be completely clear and creative while helping the world at the same time. For example, I can create different structures or buildings to support everyday people to have an easier life. I am curious how I could use my interests to improve the lives of Indigenous peoples in Canada.

Q: How do you envision your future?
I envision that in my future I will have completed my post-secondary schooling, explored more of the world and be working in architecture. I hope to do my undergraduate and graduate degrees somewhere outside of my hometown to increase my world views. I am hoping to achieve a master's degree in either architecture or architectural science, then I envision moving back to my home, Vancouver, to develop a rewarding career. While I think I have a plan, I would like to see where my life takes me. I want my future to be an adventure, not a checklist.
---
Want to meet the other Indigenous Scholars? Read their stories