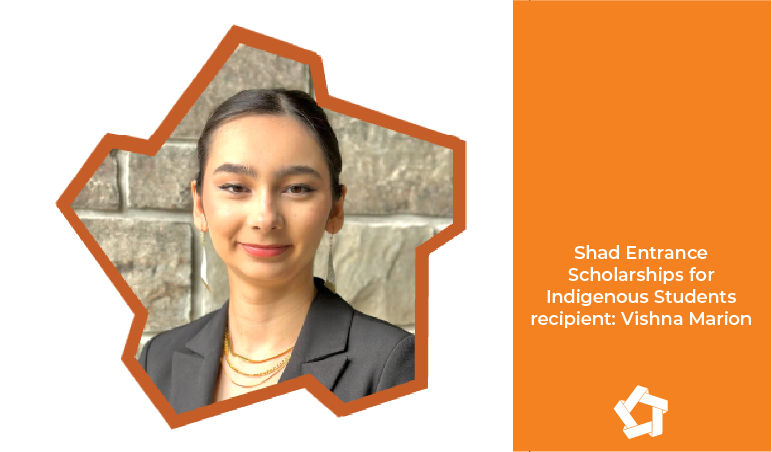 Shad Entrance Scholarships for Indigenous Students – Vishna Marion
| June 5, 2023
Shad Stories
Categories:
Q: Tell us a bit about yourself.
My name is Vishna Marion, and I am 17 years old. I am bilingual, of Métis, French Canadian, and East Indian heritage. I love teaching swimming, reading classic novels, learning new languages, and coding video games.
Q: Why do you want to participate in the Shad program/What are you most looking forward to?
I want to participate in Shad for numerous reasons. My friends attended last year, and they spoke very highly about the program, which inspired me to apply. I am excited to go to Shad because I want to meet like-minded people who are determined, creative, curious, innovative and a little bit geeky. I want to broaden my horizons and challenge myself. I am most looking forward to becoming more independent, having unique experiences, getting a taste of university life, and making lifelong friends.
Q: What motivates or sparks your curiosity in STEAM and/or entrepreneurship?
I have been coding since the age of seven. Over the past decade I've learnt many programming languages such as python, java, javascript and C#. I instantly fell in love with programming as it appeals to my logical, analytical, curious, and mathematical brain. I've always found math to be my favourite subject while at the same time I fell in love with languages, literature, and debate. I am an eager participant in Model UN; I debate passionately at conferences and spend my free time learning about the world.
Q: How do you envision your future?
I envision myself working as a human rights lawyer. Though I adore STEM, I know that I have found my passion – in law. I am a strong advocate in my community and want to pursue a career that allows me to give a voice to those who have been silenced. I see myself travelling around the country and around the world to fight for human rights and social justice. I want to fight primarily for women, the South Asian community, the Indigenous community and for children around the globe. I see myself as a leader in the field of law and as a role model to young girls.
---
Want to meet the other Indigenous Scholars? Read their stories