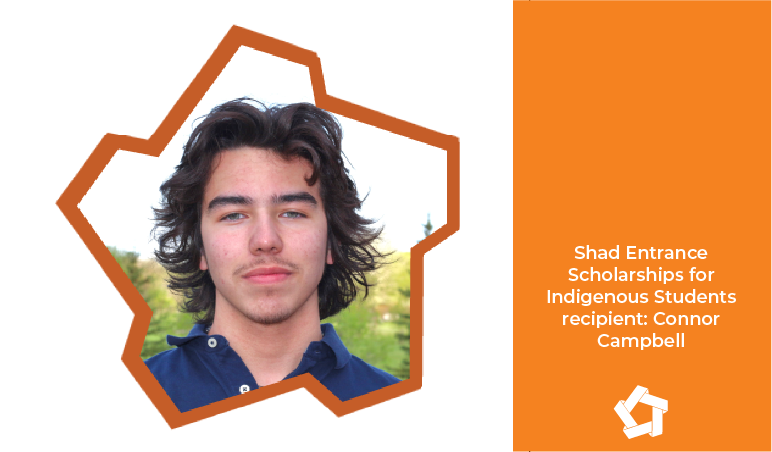 Shad Entrance Scholarships for Indigenous Students- Connor Campbell
| June 5, 2023
Shad Stories
Categories:
Q: Tell us a bit about yourself.
Hey! I'm Connor Campbell and I am a First Nations student from Winnipeg, Manitoba. I have always been eager to learn, and school has been the central focus of my life since kindergarten. Like many students who enjoy school, I have taken a higher interest in the sciences, and I apply myself to take all three sciences offered at my school (chemistry, physics, and biology). I also look forward to hockey season in the winters as that is a hobby of mine, and I like to stay sharp on the piano year-round. In the summer, I enjoy working and traveling in order to diversify my experiences and strengthen my work ethic. Although it can be stressful, I always encourage a challenge.
Q: Why do you want to participate in the Shad program/What are you most looking forward to?
Despite being so excited to go university and start my life, I have been dreading the weight of choosing which campus to attend, especially given my complete lack of knowledge about life on campus. When I heard about Shad, I knew that I had to apply. The prospect of an opportunity to further my education and create new experiences was enticing enough, but the rare opportunity to test life at university before I go is one that I had to take. I am immensely excited to participate in daily life at Shad, explore the campus, get a feel for living in a new city, and best of all, broaden my horizons with the curriculum and enrichment that Shad will offer me over my summer.
Q: What motivates or sparks your curiosity in STEAM and/or entrepreneurship?
The idea that I can promote change and advancement in the world pushes me to extend my knowledge in STEAM. It is such a nuanced area of study and includes such a vast set of options that I have become motivated to find my place in STEAM. Through high school, I have been able to determine that physics, for example, might not be the area I will devote my life to. That however does not detract from my belief that it is only a matter of time before I discover which area of STEAM best involves my interests and skills. STEAM has helped me gain a more complete understanding of humanity and how the world truly works, and I hope that I can one day use my knowledge to give back and help others.
Q: How do you envision your future?
I believe that Shad will help me refine where my interests lie, and what exactly I want from my post-secondary education. I have yet to decide on a specific goal for my future, but I do know that I plan to provide future generations with more than I was given, as that is what my parents have done for me. I also believe in the importance of shedding light on issues that are typically overlooked by the masses, specifically the injustices facing the Indigenous peoples of Canada. I have harboured ideas of studying medicine to better understand the health needs of Indigenous people and how equity can be attained. I also fantasize about architecture and learning how to design and provide sustainable, affordable, and comfortable housing that is sensitive to those in need. Regardless of where I focus my future studies, I know that my key focus will be to make sure I am giving back, and working with my peers to leave our planet in a better state than when than when we got here.
---
Want to meet the other Indigenous Scholars? Read their stories