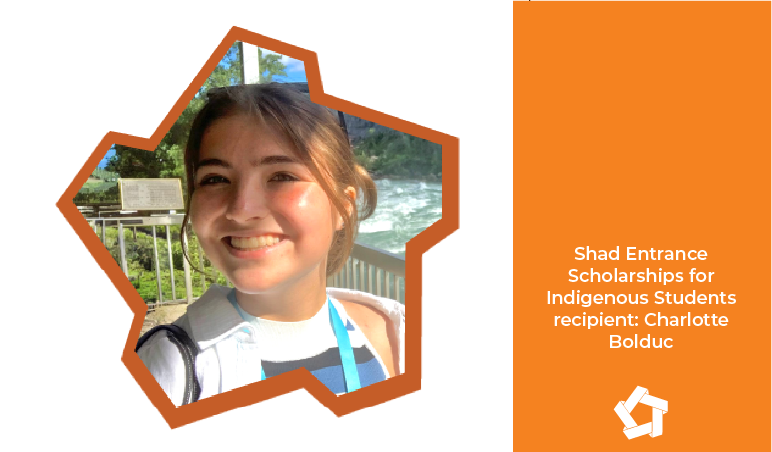 Shad Entrance Scholarships for Indigenous Students – Charlotte Bolduc
| June 5, 2023
Shad Stories
Categories:
Q: Tell us about yourself.
My name is Charlotte, and I am a 15-year-old student in grade 10. Although I live in Oakville, I travel forty-five minutes each day to attend the I-STEM program at Aldershot, where I'm eager to pursue my passion for science, technology, engineering, arts, and mathematics. As a proud member of the Ojibway community, I have a profound appreciation for the natural world and its interconnectedness. I'm an avid reader with an insatiable curiosity about diverse cultures and ways of life. I'm particularly drawn to environmental issues and aspire to use my engineering skills to promote sustainable development.
Q: Why do you want to participate in the Shad program/What are you most looking forward to?
I'm thrilled to have the opportunity to participate in the Shad program because it promises to be an enriching and transformative experience. I'm eager to expand my knowledge and skills in the fields of STEAM and entrepreneurship, while also collaborating with other bright and passionate individuals from across the country. I'm confident that this program will enable me to explore new horizons and gain fresh perspectives on the challenges facing society today. Above all, I'm excited about the hands-on, immersive learning experiences that will push me to think critically and creatively and inspire me to make a positive impact in my community and beyond.
Q: What motivates or sparks your curiosity in STEAM and/or entrepreneurship?
I am motivated to pursue STEAM and entrepreneurship because I believe that these fields have the power to address some of the world's most pressing problems, including climate change and social inequality. I am particularly interested in the intersection of technology and the environment and how innovative solutions can be developed to mitigate the negative impacts of human activity on the planet. My curiosity is sparked by the potential of these fields to create positive change and improve people's lives.
Q: How do you envision your future?
In the future, I hope to use my knowledge and skills to contribute to the creation of a more sustainable and just world. I am interested in pursuing a career in engineering related to environmental issues, and I hope to work on projects that address challenges such as renewable energy, sustainable agriculture, and waste reduction. Ultimately, I envision myself as an agent of change, using my expertise to help create a more equitable and sustainable future for all.
---
Want to meet the other Indigenous Scholars? Read their stories