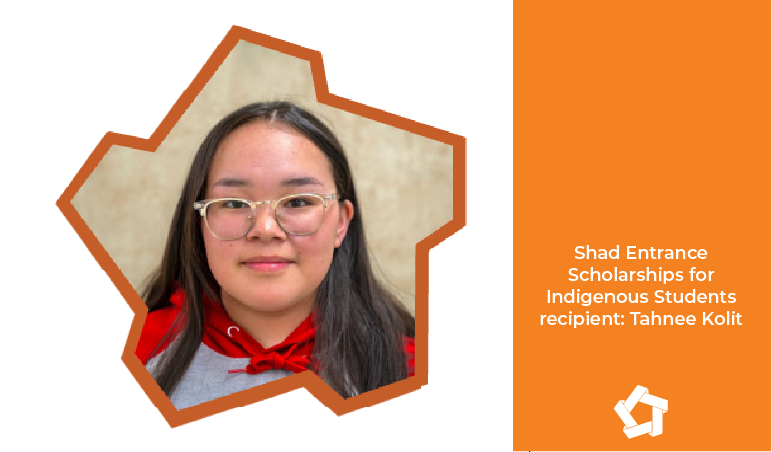 Shad Entrance Scholarships for Indigenous Students – Tahnee Kolit
| June 5, 2023
Shad Stories
Categories:
Q: Tell us a bit about yourself.
I am 15 years old, and I currently attend high school in Nunavut. I am an active member of the Student Council and Junior Rangers extra-curricular programs at my school. I am very passionate about hunting and sewing, and I enjoy undertaking other adventurous activities. In my spare time, I volunteer in my community.
Q: Why do you want to participate in the Shad program/ What are you most looking forward to?
The Shad Program offers opportunities that are not easily accessible in my area. I believe that I will be able to learn something new and meet new people. Forging connections of this nature and gaining knowledge from them will be beneficial for me. This opportunity will help me to develop my independence and adapt to a new environment. These are skills I will need in the future. I will also be able to share my abilities with others.
Q: What motivates or sparks your curiosity in STEAM and/or entrepreneurship?
Through this program, I will be able to learn more about developing and managing a business. I would like to contribute to my community by setting up a thriving business that will sell products such as mitts and coats. In addition, I will be exposed to different aspects of Science and Technology that are limited in my community. I am also excited about the chance of being creative at tasks that I will be given. I believe that we should always take advantage of opportunities to learn something new. We are reminded of that every day by my school principal.
Q: How do you envision your future?
I intend to pursue a career in business. I will be able to not only profit from this business, but I will also be able to give back to my community. I believe that I will be able to provide jobs for other young people too and give back to those who are less fortunate than myself.
---
Want to meet the other Indigenous Scholars? Read their stories