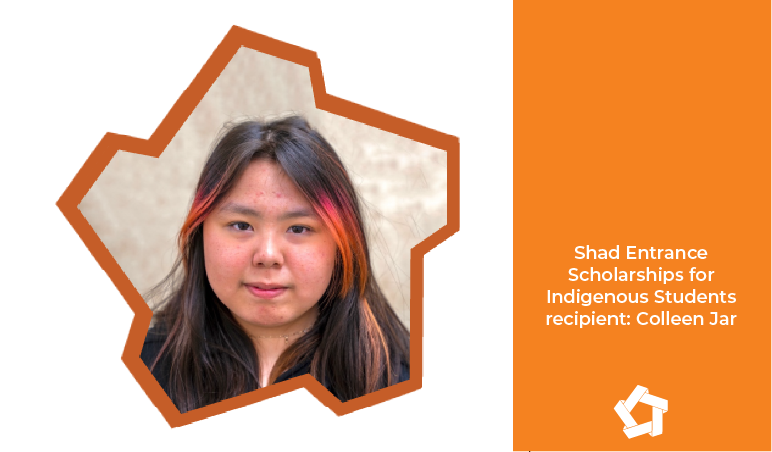 Shad Entrance Scholarships for Indigenous Students – Colleen Jar
| June 5, 2023
Shad Stories
Categories:
Q: Tell us about yourself.
I am a grade 10 student, and I live in Salliq, Nunavut. I am the secretary of the Student Council Body. Even though I am a team player, I am widely competitive, and I work at achieving excellent grades in my classes. I take advantage of opportunities to meet individuals and participate in programs that can make an impact in my life. I strongly believe in helping others, so I tutor students in my school's reading program.
Q: Why do you want to participate in the Shad program/What are you most looking forward to?
Getting involved in the Shad program was an easy decision. I am fascinated by the fact that the program caters to the development of students' skills and knowledge, and I know that it will be valuable to me. The nature of the program will expose me to new things that are not available at my school. I am very enthusiastic about exploring more about technology and engineering because I know how much they affect the economy and ecosystem. I will also be able to team up with new people and form relationships that will be inspiring and life changing.
Q: What motivates or sparks your curiosity in STEAM and\or entrepreneurship?
I am captivated by this form of education because all facets of STEAM connect with everything in life, and we cannot live without this level of knowledge and skill in our daily lives. I want to know as much as I possibly can about new technologies and participate in hands-on activities in a different environment. I have always been fascinated by the disciplines covered in this program, since I was seven. I am also interested in entrepreneurship, because I would love to operate my own business and learn how to make financial decisions.
Q: How do you envision your future?
I am confident that I can be an asset to my community. In order to achieve my goal, I have to gain the experience and endure the challenges that come with becoming successful. I have finally decided to become a pilot or lawyer. I will also open a business that will serve my community.
---
Want to meet the other Indigenous Scholars? Read their stories