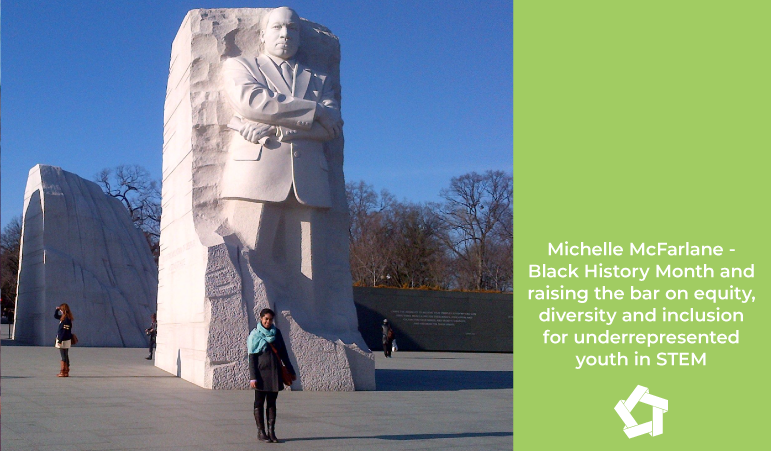 Michelle McFarlane – Black History Month and raising the bar on equity, diversity and inclusion for underrepresented youth in STEM
| February 28, 2022
Shad Stories
Categories:
A Shad alumni, a scholar in STEM academics and on a mission to break down barriers, Michelle is making a difference for youth across Canada.
Making the path to STEM education more inclusive and accessible for youth who are traditionally underrepresented in STEM is the ultimate goal for Michelle, and she is well on her way. She has been working with Shad Canada to review processes, identify partnerships and provide an equity lens on projects. We recently sat down with her to learn about her own pathway into STEM and Shad's impact on it.

Q: Why is it important that organizations purposefully take an active role in Equity, Diversity, and Inclusion (EDI)?
"It is unfortunate, but there is a narrative that students from underrepresented communities, such as Black youth, are not interested in STEM or do not belong in STEM, which is far from the truth. They are interested and are deserving of the spaces they choose to fill. They are just not given the opportunity to explore these interests in a supportive community."
"The Black community has many incredible and inspiring leaders, but when it comes to STEM there is a need to increase and retain the number of Black youth in STEM pathways, and to increase representation of Black Canadians in STEM careers."
"There are multiple barriers associated with the "STEM identity" in the Black community, with roots in long-standing discrimination and oppression, including academic course placement below ability in high school, and students feeling discouraged from pursuing STEM at an early age. About 94% of Black youth in Canada would like to get a university degree, but only 60% think that they can." (Statistics Canada 2016, Canada's Black Population: Education, Labour and Resilience)

Q: Who inspires you and has helped you want to make a difference in the world?
"A quote from Nelson Mandela: 'Education is the most powerful weapon which you can use to change the world.' When I was thirteen, I heard Nelson Mandela's speech in person! I learned about Black excellence, leadership, social justice and about the discrimination that Black people faced in South Africa and around the world."
"Nelson Mandela helped me understand what it meant to be a member of the Black community and what my responsibility was as a Black woman. He helped me better understand what my father often told me, which is that I am standing on the shoulders of giants. Black ancestors that have worked and succeeded under incredible circumstances. I am able to be the person I am today because people have endured incredible hardships and were able to create a legacy."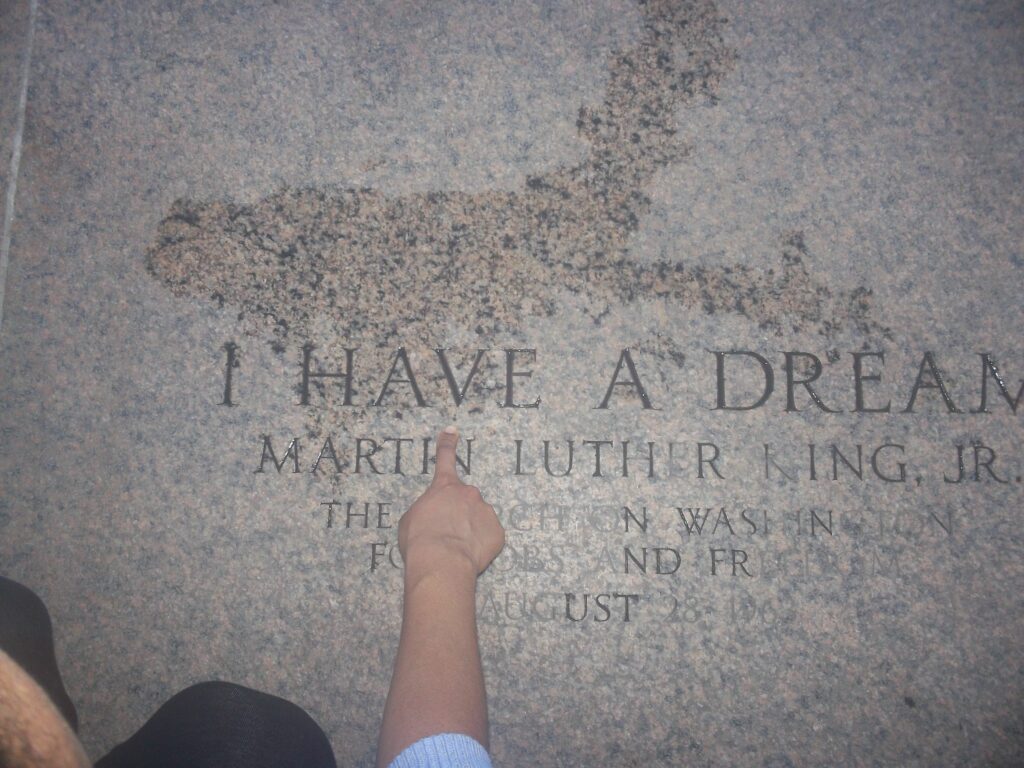 Q: What was your pathway in STEM?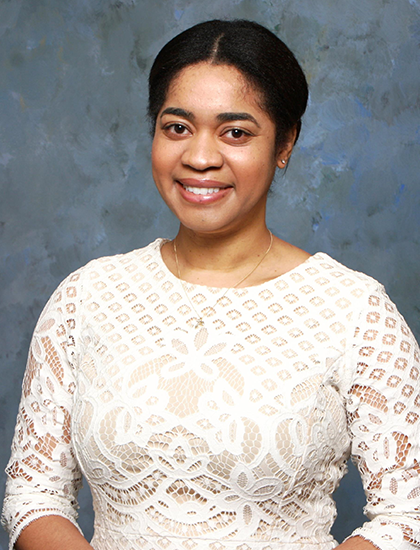 "I have a Bachelor of Health Science from McMaster University and a Master of Science from University of Toronto. Most of my success was due to the mentorship and encouragement I received from educators growing up. I was fortunate, unlike many students in the Black community who often lack supportive mentorship that allows them to explore all things without fear of failure, and to be curious without limiting expectations."
"I rarely saw any Black students in my academic classes…sometimes none at all. It takes a toll on you over time. As I tried to envision myself in the future working in a STEM career, it became increasingly difficult. I did not have any Black mentors within STEM careers. Sometimes you are just looking for a mirror to give you the confidence to take that next step. It was my family's encouragement that helped me persevere."
"In grade 11, under the advice of my high school guidance counselor, I discovered Shad and attended Shad Calgary. And it was a life changing month! It really strengthened my confidence and public speaking ability, and opened my eyes to the possibilities within STEM and entrepreneurship. After Shad, the possibilities of what I could do in the future were just opening up – and I came back a different person. I really felt like I could do anything!"

Q: I understand your Shad experience inspired you to go into medicine. How did that happen?
"Being exposed to a research facility at Shad for the first time, I was inspired to apply for the Martin L. Wills Research Scholarship in grade 12 and spent the next three summers working with Dr. Robert Tsushima on medical research at University of Toronto." [Exciting side note: Dr. Tsushima is now a Program Director for Shad York!]
"I continued medical research while pursuing a Bachelor of Health Science degree at McMaster University. My passion for medicine continued to grow. However, I felt lost at times, being one of only two Black students in a class of over 100, mainly from private schools, whose life experiences were different from my own. I struggled with the next steps in my journey. I was thinking about medicine, but it was a foggy idea. I think, if I had Black mentors in the medical field, it would have helped to crystallize my journey more quickly, and with a strong sense of purpose not only for myself, but for my community.
"While becoming a medical doctor was enticing, I felt more comfortable with medical research, given my prior experience with Dr. Robert Tsushima. While pursuing a Master of Science at the University of Toronto, I worked at Sick Kids Hospital."

Q: What was one of the biggest milestones in your career?
"When I worked at Sick Kids Hospital, a mentor reminded me that I was capable of anything. Then all of a sudden I was traveling internationally, doing podium presentations in front of hundreds of people and in 2011, that same mentor nominated me for the BBPA Harry Jerome Academic Award."
"The BBPA Harry Jerome Awards were established in memory of Harry Jerome, an outstanding African Canadian Olympic athlete, scholar and social advocate. Receiving this award was a monumental achievement for me. Connecting with other accomplished people from the Black community, including those in the medical field, was the missing piece from my post-secondary education. I felt honored to receive the award because I was able to connect with other truly inspiring people from the Black community which helped me to clarify what I wanted to do."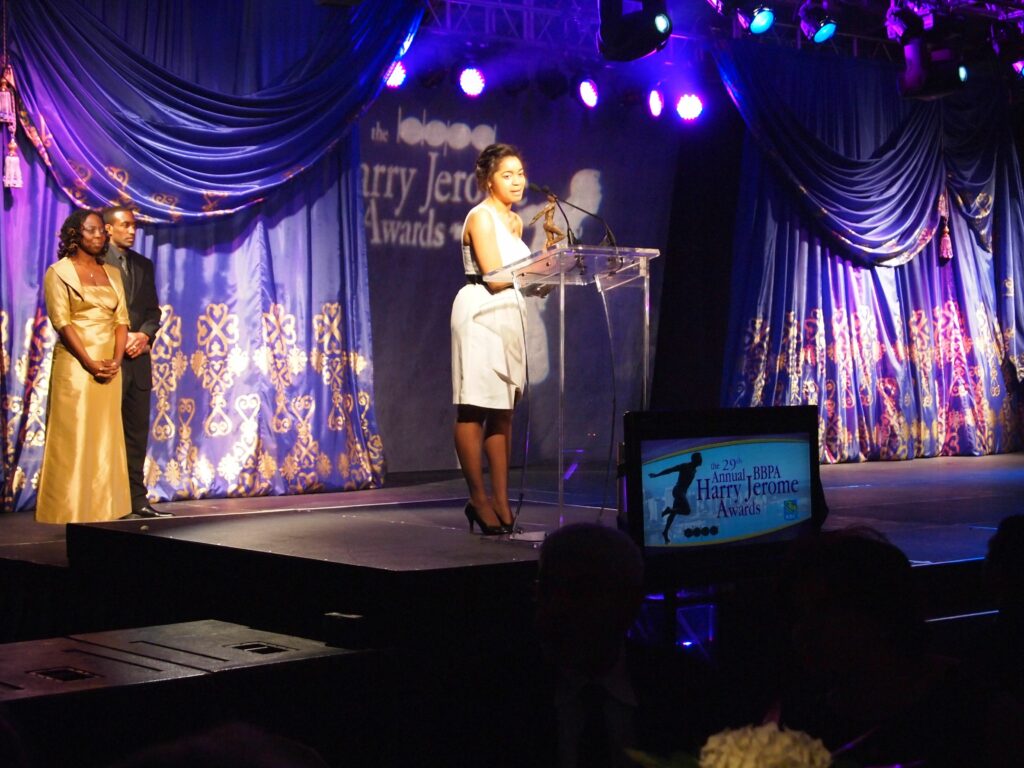 Q: What inspired you to move into EDI work?
"I was inspired by my new connections and wanting to make a difference when I moved to Washington D.C., and attended medical school – which ultimately inspired me to move into EDI work."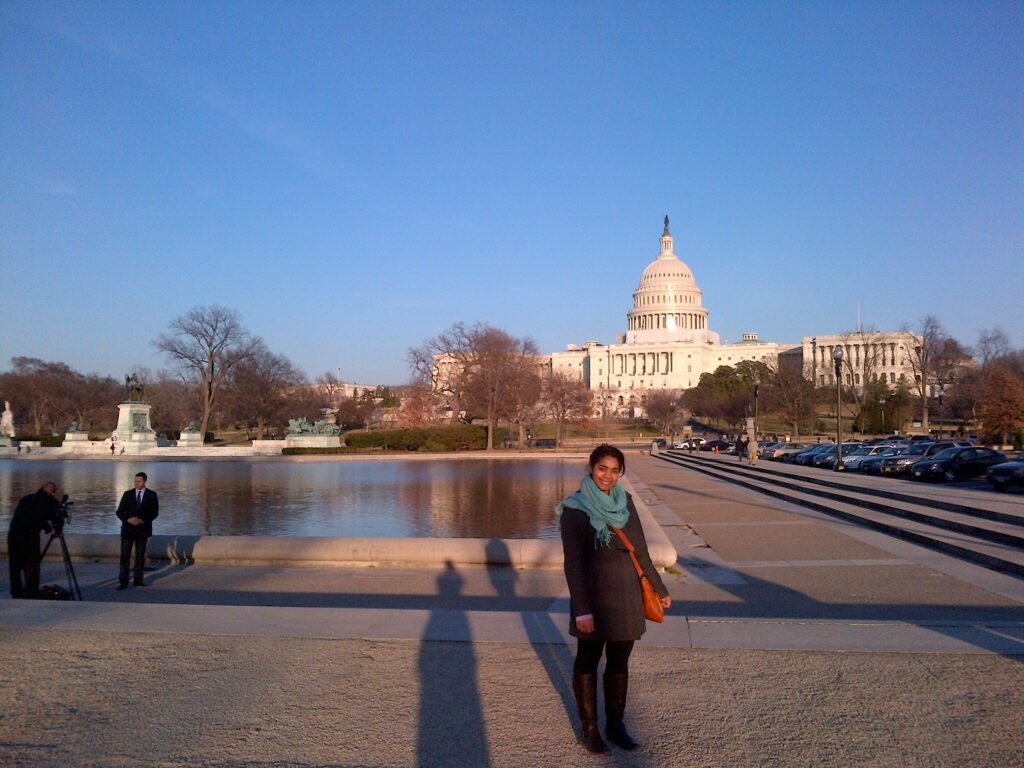 "I felt an inner drive to pursue medicine in an environment where I could learn about ways to be a strong social advocate. I chose Washington, D.C. because I wanted to be close to Capitol Hill and to learn more about policy. I learned so much about equity, fairness, diversity and inclusion just by living in Washington and having it incorporated into the school curriculum. I had the unique opportunity of meeting with policy makers in Washington and hearing about the ways they were able to affect social change. I learned about systemic barriers at play that affected vulnerable communities such as the African-American community. Together, these experiences taught me about the systemic barriers that exist in our communities, and the ways in which individuals can work collectively to break down barriers."
"And I wanted to be part of the change."

Q: And now you are consulting with Shad, what has that been like?
"It's really an honor to work with Shad in an EDI capacity. My journey has unexpectedly come back full-circle, and I am extremely motivated to help students who encounter systemic barriers along the STEM pathway to gain access to STEM opportunities and to see themselves in STEM. It is a real pleasure."