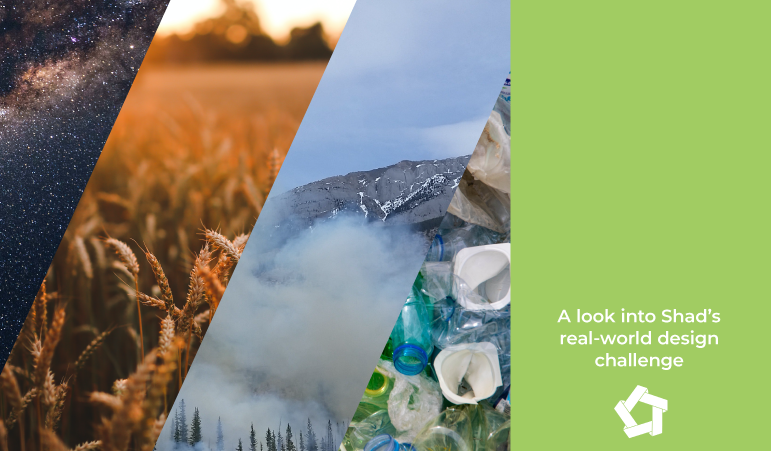 A look into Shad's real-world design challenge
| December 2, 2020
Shad Stories
Categories:
The Shad experience is about more than taking in knowledge about STEAM and entrepreneurship. It's a time that participants will test their creativity, work in diverse teams, and open up to new ways of thinking.
Thousands of young changemakers have gone through Shad's real-world design challenge, moving through those exact moments while tackling complex problems with STEAM solutions and a design thinking framework. Each year, a timely, Canadian issue is selected for Shads to dissect, understand, and ultimately develop pitches and prototypes for. Shad selects themes that have a concrete human impact, so participants are creating with empathy top of mind. Using STEAM as a force for good, projects are developed for important social issues like curtailing waste management and creating products for Canadian children with disabilities. It's this type of human-centred design and social enterprise that many Shads want to continue pursuing in the future.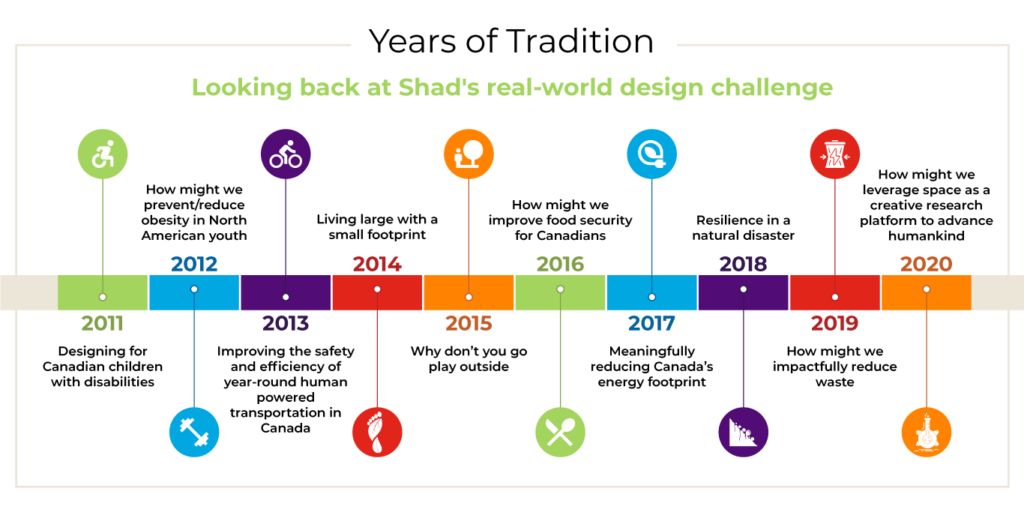 Despite undertaking different themes each year, Program Director Jennifer Murphy says what students gain from the experience remains the same. The project is all about people, process and personal development.
Each Shad is part of a dynamic, high-functioning team—a collection of people from different regions of Canada, each with their own unique skills and talents they bring to the project.
These teams are guided through a process and framework on how to break down a complex problem and look at it through multiple lenses.
And at the end of the project, Shads realize how much they've grown throughout the process.
"There are moments of success where we celebrate and we value feedback between the different groups," says Jennifer. "But then there are moments that are tough, where teams are really stuck and have to have hard conversations about what they're trying to achieve and who they are."
Going into the project, students are not aware of the design theme, who their teammates will be or the exact process they are about to dive into.
"Everyone is entering at the same point of vulnerability…," says Jennifer. "We rarely get that kind of experience in our day to day lives to just be present."
Shad2018 Jonah Leinwand, a second year Engineering student at the University of Waterloo, brought his Shad real-world design project to the Canada-Wide Science Fair when he was in Grade 12.
The project was a device called, AirTree, which helps purify air during wildfires.
After attending Shad, Jonah wanted to build on his group's initial idea for AirTree, and he connected with a professor who provided him with lab space and funding to work on the idea.
After attending different science fairs with the project during his last year of high school, Jonah put some thought in trying to secure a patent.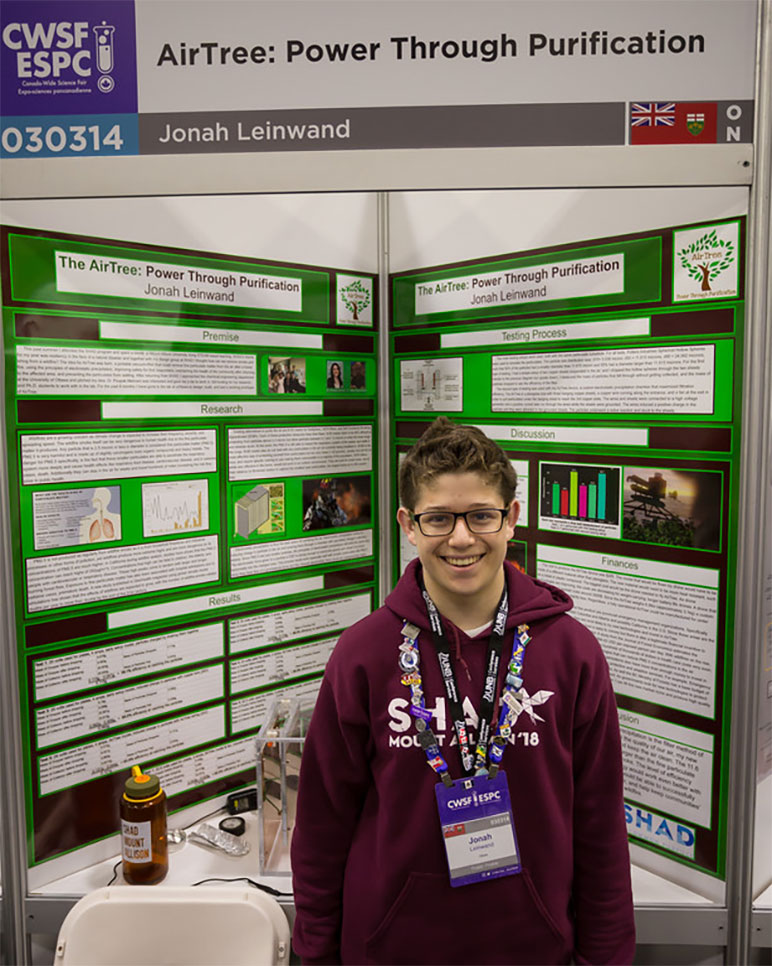 "That would have been the next step in terms of actually producing a bunch of them and testing a bunch of them," says Jonah.
Finances being a hurdle as a high school student, Jonah has since focused his time into school, joining the biomechatronics design team at the University of Waterloo. He found that working through a challenging problem at Shad helped him in these new pursuits.
"Those are really great skills to learn as an engineering student and a university student generally. The idea of iterative design, correcting your mistakes, not being so dissuaded by failure—there's definitely a lot more of that in university than in high school."

Jonah Leinwand
As part of the design team, he worked on a pressure sensor to prevent people in wheelchairs from developing pressure ulcers. The sensor would provide a pressure reading to medical professionals so they know when patients need to re-adjust.
After building the initial sensor with the team, they were able to add their own twist to the project in second semester. They added LEDs that would light up if the reading hit a certain threshold.
It's this type of iterative, human-centred design that Jonah wants to continue pursuing in the future.
"That's a great aspect of what I took away from Shad, is making things that you do find interesting as an engineer, as a designer but then have the ability to help people to actually improve the quality of life for a lot of people."
Like last year's real-world design challenge, the next will also take place virtually—another real-world element that's currently impacting businesses today.
"If you're learning how to work in a virtual environment, it's just going to open up so many more doors for you on who you can collaborate with in the future," says Jennifer Murphy.
Applications for Shad2021 are open! The deadline to apply is Dec. 7, 11:59 p.m. ET.