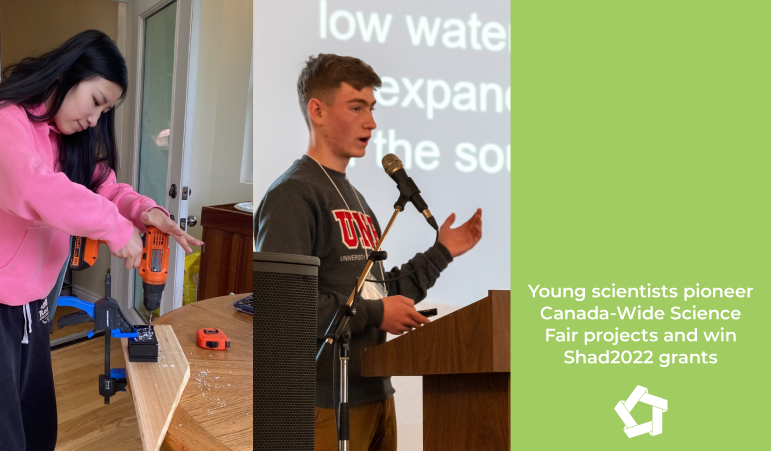 Young scientists pioneer Canada-Wide Science Fair projects and win Shad2022 grants
| June 4, 2021
Shad Stories
Categories:
The Canada-Wide Science Fair has always trickled with innovation, talent, and inspiring young people who are taking STEAM to the next level. For years, Shad has provided grants to a handful of incredible changemakers so that they can attend Shad and continue building on their passion for STEAM.
This year's Canada-Wide Science Fair may have been held virtually, but the projects were as innovative and inspiring as ever! Islay Graham and Bruce Porter each received a $1,000 grant for Shad2022. Bruce Porter, a Grade 10 student from the Yukon, presented his research on microplastics and explained how things we can't see might have the greatest impact on our environment. Islay Graham, a Grade 9 student from the Bruce Peninsula, designed a prototype to maximize energy use in her home with applications far and wide. Read on to discover how Bruce and Islay's passions for STEAM get them ready for Shad2022!
Bruce Porter
Q: Tell us a bit about yourself.
A: My name is Bruce Porter and I'm in Grade 10. I've lived in Whitehorse my whole life. I compete in sprint kayak and biathlon. This was my third Canada-Wide Science Fair; I've been doing science fairs since I was in Grade 5. This was my second microplastic project – my first was the first one ever done in the Yukon.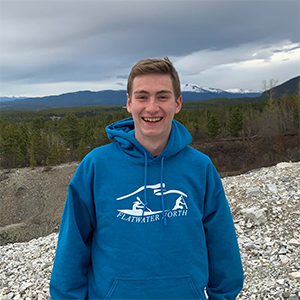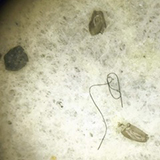 Q: What is your project?
A: I wanted to see if there was microplastic in wildlife. I was donated 66 fish stomachs from five lakes in Southern Yukon and Northern BC. I analyzed the fish stomachs for microplastics, and found that about 30% of the stomachs contained one microplastic per stomach, which was significant. Another part of my project was to develop procedures that would be easily applicable in other remote or First Nations communities around the Yukon, so that they can develop their own community monitoring to get more data.
Q: How did you come up with the idea?
A: I got the idea to do a microplastic project on the flight back from my first Canada-Wide Science Fair. My friend who was also on the trip was talking about how he'd heard so much about microplastics in the ocean. We think of the Yukon as a very pristine place; we have the cleanest air in the world. I wanted to see if that's really true since we can't see microplastics in day-to-day life so it's really hard to tell if they're actually there. I thought it would be important to show people that we aren't living in a pristine place if there's something else going on.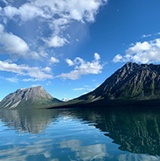 Q: What inspires you?
A: Helping people become more aware, becoming more aware myself, and trying to uncover some questions we have. Science fairs give me so many skills and I get to meet so many people – it's really cool to be part of this scientific community in the Yukon community who are doing such amazing things.
Q: How does your project help solve a real-world issue?
A: My project doesn't develop any sort of innovation, but these research projects can lead to what needs to be done in the innovations. I'm working with what I've got to try and show people what's going on in our environment. I've already been part of helping the government and other scientists in the Yukon start microplastics projects so I feel like that's a big step.
Q: How will you bring this momentum with you to Shad?
A: I've learnt a lot about the scientific process, how to be quick on my feet, and how to come up with solutions. When I was in the lab, I came across a roadblock where none of my samples were getting through the filters, so I reached out all across the country for help and I ended up getting my answer from a beluga whale scientist. My ability to communicate and be in contact with many different people would help me at Shad.
Q: What will you do between now and Shad2022?
A: Before this science fair, I had kind of lost the spark for science fairs because the 2020 one got cancelled, which was quite disappointing. Now that I've done this one, I'm excited to start a new project. I think I'm going to take a break from microplastics and try to answer a new question in environmental science. I'll also be preparing for the Canada Games next August.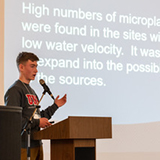 Q: What does your ideal future look like – for your life, and for the world?
A: Going into post-secondary, I'd like to explore environmental engineering or something similar. For the next few months, I am part of the Yukon's first Youth Climate Change Panel. Our job is to give recommendations to the Yukon government on how to put a youth perspective on their climate change plan; more of what we would like to see, maybe a little more bold. My work in microplastics has really helped me there, because like greenhouse gases, we can't see them. Trying to explain to people things they don't see is a really cool way those two areas are connected and how they affect the world.
Islay Graham
Q: Tell us a bit about yourself.
A: My name is Islay Graham and I am a Grade 9 French Immersion student attending Owen Sound District Secondary School. I live in Georgian Bluffs on the Bruce Peninsula. I have participated in science fairs for 6 years and attended the Canada-Wide Science Fair twice. I was fortunate enough to win the Best of Fair Junior Platinum Award in 2019 for my project entitled "Rake Wrack Risk" about an endangered species, the Great Lakes Piping Plover. I love volleyball, science, and English. I play piano and I am extremely passionate about environmental and humanitarian issues.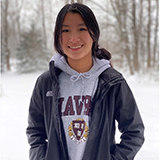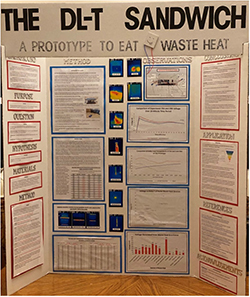 Q: What is your project?
A: My project is "the DL-T Sandwich (EX-25): A Prototype to Eat Waste Heat". I wondered if waste heat in a home could be captured to produce electrical energy. I used Thermoelectric Generators (TEGs) to investigate sources of waste heat in my home and transform it into usable electrical energy.I conducted 25 experiments to explore a variety of heat collectors, heat conductors, cooling methods, TEGs, and circuits – and built a prototype called the DL-T Sandwich. Its hot side was applied to the bottom of an oven, the greatest source of waste heat in a home. My final prototype only cost $13.57 to make using recycled and donated materials. My prototype was able to produce 5 volts and charge a cell phone.
Q: How did you come up with the idea?
A: After watching the documentary "Resilience: A Climate Change Film of Hope", I was inspired to investigate an at-home solution. This solution involved a way to incorporate waste heat in a home and transform it into usable electrical energy. I discovered the woodstove fan in my home was made by a local company called Caframo who built these fans using TEGs. I determined that these would be a perfect material to utilize in my experiment because they produce voltage using a temperature differential. Caframo kindly provided me with mentorship, materials, and guidance.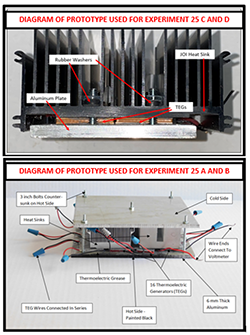 Q: What inspires you?
A: I am inspired by the entire environment in STEAM. I can remember at my first Canada-Wide Science Fair in 2019 how much I fell in love with all the excitement, presentation, and competition. It was amazing to meet so many students across Canada who were passionate about their projects. Being involved through STEAM brings so many new ideas and inspirations to mind.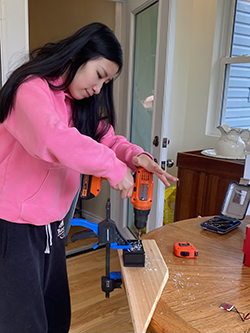 Q: How does your project help solve a real-world issue?
A: Through applications, my prototype could run a convection fan in the oven to minimize the oven cycling on and off, saving energy. The voltage produced through my prototype could charge a power bank or a cell phone using a step-up transformer. I intend to continue pursuing design modifications with the guidance of Caframo, as I feel that waste heat is an important contributor to global warming. The documentary "Resilience" challenged us to act locally. Starting with my home's waste heat, my DL-T Sandwich may be a simple first step in the right direction. My prototype could also be used in developing countries to provide access to renewable energy in home and outdoors. Electricity is expensive and my prototype can assist in providing a low-cost solution.
Q: How will you bring this momentum with you to Shad?
A: I am excited to meet new people and learn new things. I love to be with like-minded people; those who want to look for the good in the world and solve problems. I will offer my friendship, share my thoughts, listen to others, and give everyone's ideas attention and space. Together, I hope we will discover and experience more than I can imagine. I hope that when I come home, I carry everything I have learned, and that Shad will have been my launching pad to becoming the agent of change who will work diligently for the betterment of all people and the preservation of our earth.
Q: What will you do between now and Shad2022?
A: Between now and Shad 2022, I have started to investigate a new science fair project with the hope of attending Canada-Wide Science Fair again. My involvement with Brain Injury Resource Centre Grey-Bruce and Rowan's Law Day has inspired me to think seriously about further ways to prevent brain injury. I am also working towards a Grade 7 RCM Piano Exam.
Q: What does your ideal future look like – for your life, and for the world?
A: I look to my future with positivity and anticipation. I plan to continue contributing to annual science fairs. I want to accomplish my Grade 8 Piano Exam. As well, I am interested in working on Student Council, Yearbook Committee, and sports teams. Beyond high school, I have a strong passion to enter the medical field and pursue a career in surgery. My dream is to work at Sick Kids Hospital in Toronto. I want to help children get well, feel happy, inspire them to love science and embrace their lives. I want to extend my interests in science and environmental issues throughout my life and continue to volunteer in meaningful ways.