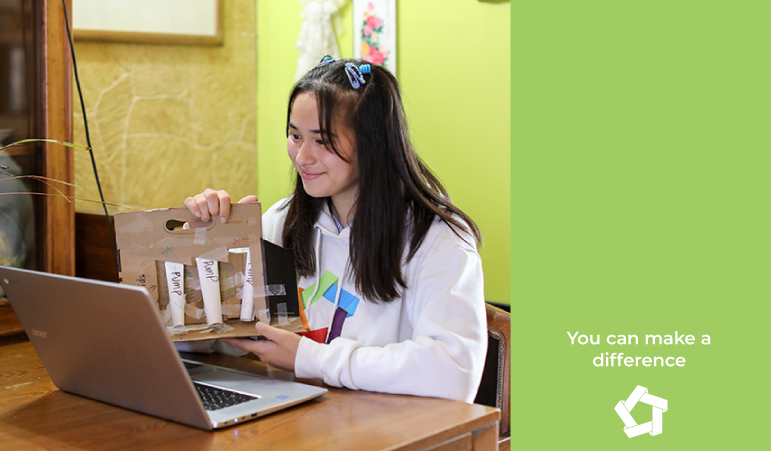 You can make a difference
| November 4, 2020
Shad Stories
Categories:
The Shad alumni network is full of changemakers. There's Greg FitzGerald, who uses his background in systems design to create funding models for cleantech ventures. There's Emily Jones Joanisse, who founded a non-profit organization to promote digital literacy skills among seniors. There's Sanjay Vakhil, a Google engineer who volunteers his time developing masks to support hospital workers amid the pandemic.
Through the real-word design challenge—where students are posed to solve real issues in the world today—Shads often get their first taste of using STEAM and entrepreneurship to create a better world for tomorrow.
"With the help of my team, we were able to determine what kind of social issue we wanted to conquer, that helped me knowing that I really enjoy finding solutions to social issues," says Shad2020 and Pathways to Education student Athena Goodale.
Working through the challenge with like-minded peers helped Athena realize that she wanted to use her passion for biology and other STEAM subjects to tackle social problems head-on.
"The area that I live in, in my neighbourhood, we're next to factories. The air quality isn't very good and the water quality isn't very good. It's kind of disappointing that because we live in a low-income neighbourhood, we're not able to go outside for long periods of time because we're near the factories."
Since Shad, Athena is hoping to make a difference in her own community by exploring the impact of fast fashion on the environment.
"Because I had the opportunity to do things like Shad and Pathways, I'll be the first one in my family to go to university. I want to be able to use those opportunities that I had to help other people in the same situation as me."
In the Shad2020 post-program survey, 83% of Shads said the experience helped them see themselves as a changemaker.
Many Shads from years past have valued changemaking, ingenuity and innovation throughout their careers. 85% invest in or advise start-ups, and 20% of Shads launch at least one start-up of their own.
Be a changemaker and apply to Shad2021. The application deadline is Dec. 7, 11:59 pm ET.