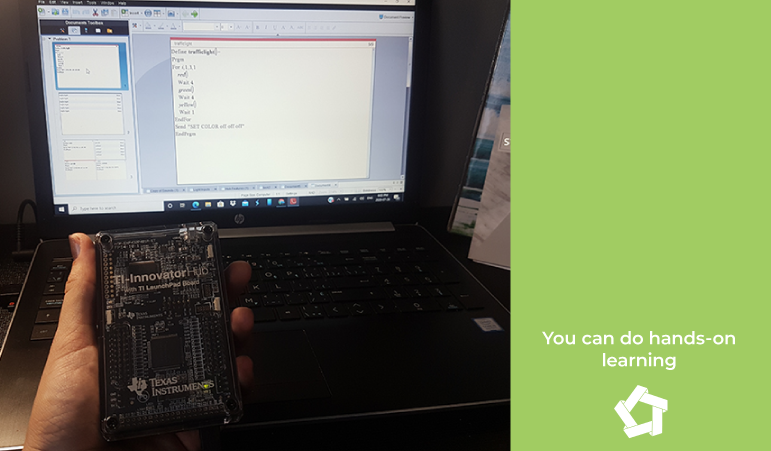 You can do hands-on learning
| November 4, 2020
Shad Stories
Categories:
A common misconception about online learning is that it can't be hands-on.
But this past summer at Shad revealed that it is possible to not only be engaged and challenged in a virtual setting, but that real, hands-on learning can flourish online.
"Before I had minimal experience coding, so it was really great to be able to learn to code," says Shad2020 Violet Silva.
Texas Instruments hosted virtual field trips where Shads got a chance to code using TI-Innovator Hubs that were mailed out to their homes. The hub allowed Shads to see their code come to life, in colour, light, and sound.
"With the innovator hub, being able to work with that was so cool. I loved being able to see what I was doing online actually in the physical world. Seeing it light up, hearing it make noise, and being able to code a song to play out of this hub. The only thing I wish was that I would have gotten to keep if for longer," says Violet.
As part of the real-world design challenge, teams often worked together and created rough prototypes to understand their designs.
"We made prototypes when we were first thinking about how we could get our initial experiment completed. That was with a bunch of popsicle sticks, some tape, elastics…," says Violet. "But then when we got our actual design figured out, I took some paper and made it to scale so that we could explain it easier to other people and we could see where problem areas might occur, more than looking at a 2D sketch online."
In the Shad2020 post-program survey, 86% of Shads said the program improved their ability to solve tough problems.
Violet even took some of what she learned during Shad and applied it to a problem she faced at her school. At the beginning of the school year, she realized with school being so vastly different, her peers needed to connect more meaningfully. She took on the challenge, and implemented activities she learned at Shad into some of her classes.
Apply to Shad2021 before the deadline, Dec. 7, 11:59 pm ET.