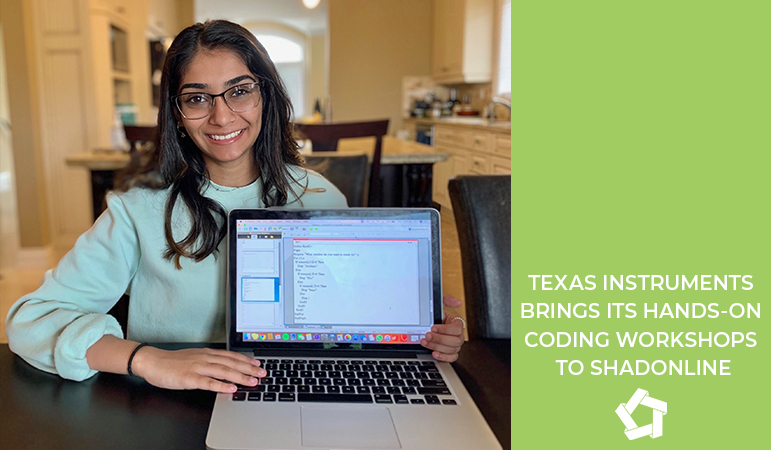 Texas Instruments brings its hands-on coding workshops to ShadOnline
| August 12, 2020
Shad Stories
Categories:
Over the past month, students have seen games, light sequences, scales, and even familiar songs come to life during ShadOnline.
Whether it was running a program perfectly or seeing flashing lights match their line of code, hundreds of Shads took on coding workshops from Texas Instruments (TI) and saw results in real-time.
For three years, TI has challenged Shads with unique coding problems, but this time, the company had its own obstacle to overcome: figuring out how to take their hands-on, in-person workshops online.
"It's incredible to see how this partnership was able to overcome those challenges and provide students all over Canada with the opportunity to experience coding, and help students see how STEM comes to life," says Peter Balyta, president, Texas Instruments Education Technology.
Like previous years, TI Instructors led collaborative coding sessions using TI software and technology. But this year, instead of using a graphing calculator, Shads were equipped with a perpetual license of the TI-Nspire CX Student Software, which will be updated with Python this Fall.
TI also mailed out their TI-Innovator Hub, which allowed Shads to code lights in different colours and play with varying frequencies of sound.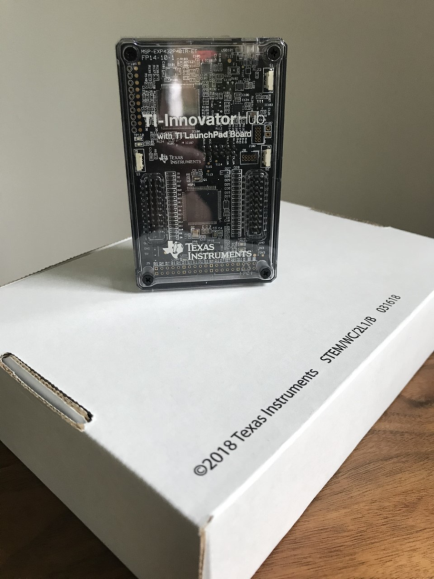 These sessions were held in virtual classrooms, where instructors could interact with Shads over video or through the chat feature.
In the first coding workshop, TI Instructors challenged Shads to solve lines of code for a counting game.
"It was really fun and kind of challenging at first, but we were all helping each other so it was easy to go through it," says Shad Emili Bykovsky, who's from Cornwall, PEI.
Although Emili came to the workshops with previous coding experience, she liked how she was able to take on challenges even after the session was over.
Shads were encouraged by TI instructors to finish coding a game of "Rock, paper, scissors"—or if they were up for it, "Rock, paper, scissors, lizard, Spock".
"I actually played against the computer several times during the weekend. It's really entertaining," says Emili.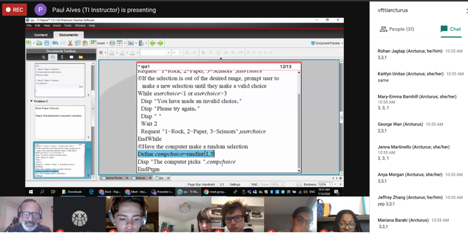 Shad Victoria Sephton liked that she was able to combine her passion for coding and her love of music, proving that coding isn't always just about the numbers.
"The lights were really fun to turn on, but I'm also musical myself so I like to play around with it. I was just figuring out how to play little tunes which was super fun," says Victoria, who's from Stouffville, ON.
Unlike Victoria or Emili, some Shads came to the workshops with little or no coding experience, being offered with an introduction to one of the most in-demand skills for the future.
"It's so useful. Even if it's just basic, starting out with Texas Instruments, it's a really great way for people to find their interests," says Victoria. "If you don't try, then you'll never know."
With the Government of Ontario's announcement to incorporate coding into elementary classrooms, it's evident more than ever that coding should be an essential part of learning.
"I really would like to see coding become a third language for all students…," said Peter Balyta, president, Texas Instruments Education Technology. "That type of thinking—computational thinking, algorithmic thinking, problem solving—that would help kids with whatever challenges they face in school and in life."