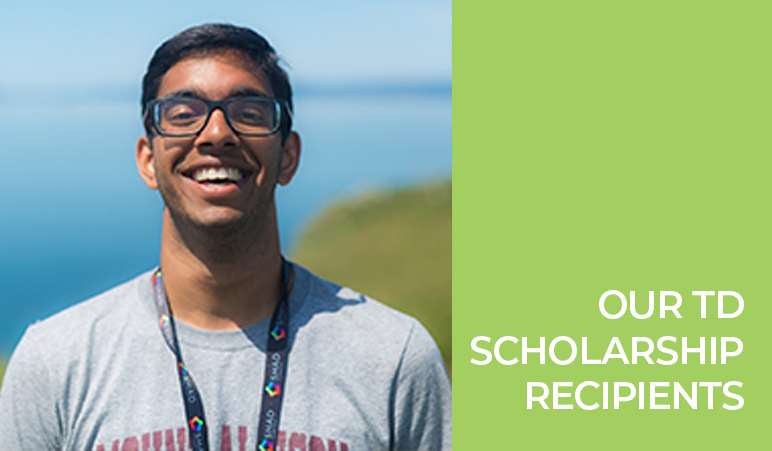 TD Scholarship for Community Leadership Recipient: Nicholas Rampertab
| June 24, 2020
Shad Stories
Categories:
Nicholas Rampertab, Shad2019 has been awarded the TD Community Leadership Scholarship, an esteemed $70K investment for changemaking grade 12 students pursuing an undergraduate degree.
Read below about Nicholas' reactions to being chosen and how Shad played a part.
Q: How did you feel when you received the news?
I am honoured to be among the 2020 Scholars helping to make our communities, and Canada, a better place. I was ecstatic when I found out I was 1 of 20 TD scholars. I was in the middle of doing online school when I got the email and found out I was selected. My family and I were just freaking out celebrating. It is also exciting to be recognized this year, as it's the 25th anniversary of the TD Scholarships for Community Leadership program, and I will be joining a network of over 500 scholars.
Q: How significant is it for you personally to receive the TD Scholarship for Community Leadership?
The TD Scholarship for Community Leadership is a life changing opportunity for me to reach my educational goals as it will support both living expenses and tuition for me throughout all of university. With around 2,700 applicants this year, TD recognizes youth who are making a mark on their communities. Through the help of the TD Ready Commitment, myself and 19 other 2020 Scholars are receiving support to reach our educational goals, including a total scholarship value of up to $70,000 for college or university. We also have an opportunity to make connections to summer employment, connect with mentors and more. The scholarship has been running for the past 25 years, so apart from the money and summer employment opportunities, it is just an amazing opportunity to network and connect with like-minded individuals. This award allows me to continue helping all demographics, through networking and raising awareness for projects I am passionate about.
Q: What are you hoping to do after graduation? Do you have a long-term goal in mind in terms of the kind of change you would like to make or be part of?
This fall I will be attending the University of Waterloo for Mechatronics Engineering. The Mechatronics program will provide fundamental education with depth in mechanical, electrical and software systems. After university graduation, I would like to design systems to improve the living standard for children of all abilities through technology. With an education in Engineering and experience through co-op opportunities, I want to create systems to help all children with disabilities communicate, a skill many kids lack. Mechatronics provides the tools and experiences I need in both hardware and software. We can improve the quality of life for those who are overlooked, changing how we value people of different abilities.
Q: Do you believe your time at Shad had an impact on your TD Scholarship?
Definitely! Shad helped me to realize that I could make a difference in my community. Through both the people I met and the experiences I had, I realized the potential I had to make a change in my community and the world, just like those around me. I was able to learn to push myself outside my comfort zone and put myself out there. With the confidence I grew at Shad and the Shad Mount Allison family we created there, I can proudly say that it was one of the best months FOR my life.
Q: What advice would you give an incoming Shad2020?
My advice would be to put yourself out there, whether that be applying to a big scholarship or trying something new! Never be afraid to fail or be embarrassed. Take those opportunities to learn and grow from that and become better people! You never know unless you try.
---
Read interviews with each of the other 3 Shads who were awarded the TD Scholarship for Community Leadership.