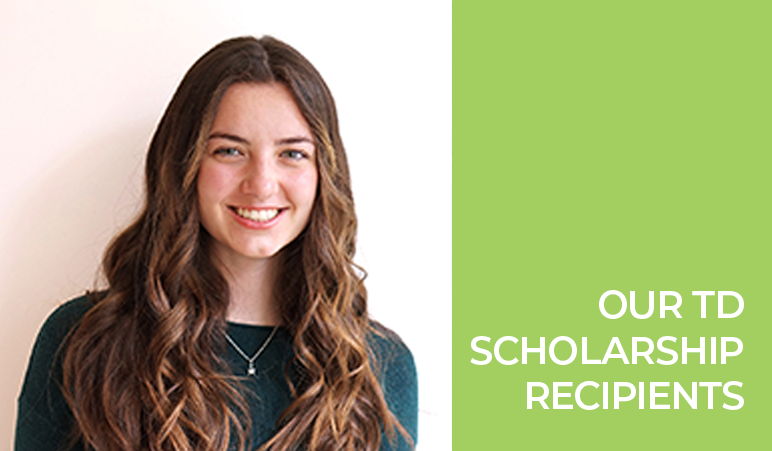 TD Scholarship for Community Leadership Recipient: Jocelyne Murphy
| June 24, 2020
Shad Stories
Categories:
Jocelyne Murphy, Shad2018 has been awarded the TD Community Leadership Scholarship, an esteemed $70K investment for changemaking grade 12 students pursuing an undergraduate degree.
Read below about Jocelyne's reactions to being chosen and how Shad played a part.
Q: How did you feel when you received the news?
When I received the email, I was so excited that all I could do was yell. My interview and entire TD Scholarship experience happened online due to the COVID-19 pandemic, and it definitely felt surreal to have something so life-changing happen from the comfort of my living room. If being a member of the class of 2020 wasn't memorable enough, receiving this news certainly made my graduating year unforgettable.
Q: How significant is it for you personally to receive the TD Scholarships for Community Leadership?
While the financial aspect of the scholarship is certainly significant, personally I am so grateful to have met such amazing people through the TD Scholars network. I've been inspired not only by how past scholars have bettered their respective communities across Canada, but at how willing they are to offer advice and have fun casual conversations about life. I am thrilled to have gained the support of the uplifting, humble, and wonderful people that are a part of this community and am looking forward to great opportunities and conversations in the years to come.
Q: What are you hoping to do after graduation? Do you have a long-term goal in mind interms of the kind of change you would like to make or be part of?
I've always wanted to dedicate myself to helping others in the most impactful way possible. Through studying engineering, I hope to gain valuable skills that can be applied to the global social issues that I care about. I've been very fortunate in so many ways. Factors including: growing up in Canada, having access to clean drinking water, being able to get a great education, and being able to attend programs like Shad, have set me up for success and I am beyond grateful. However, there are so many barriers that keep incredibly talented and hardworking people from reaching their full potential. Though I don't know what specific issue I hope to impact, I ultimately want to improve the quality of life and provide opportunities for those who are less fortunate.
Q: Do you believe your time at Shad had an impact on your TD Scholarship?
My time at Shad was truly transformational. My peers exposed me to new opportunities and consistently encouraged me to get outside my comfort zone, even after our time at Shad. Shad taught me how powerful youth can be when they are brought together and inspired me to connect caring and like-minded youth in my own community once I returned home. In my experience there is nothing that gets a conversation going more quickly than "oh YOU went to Shad? I went to Shad!", and I have Shad to thank for creating awesome opportunities, building incredible friendships, and helping shape my future.
Q: What advice would you give an incoming Shad2020?
Listen. You have so much to learn from each other, and so little time! You're about to meet some truly amazing peers who have been working on super cool projects and initiatives (but Shads are often humble and won't tell you about them unless you ask!). While meeting other Shads can be an absolute whirlwind of excitement, take time to ask people what they are most proud of and what they care most about. You will leave Shad absolutely inspired and will be glad you asked.
Beyond Shad, my advice would be that if there is an issue you care about, nothing is stopping you from taking action. One of my fellow Shads gave me some of the best advice I've ever received: as I was complaining about a circumstance I was frustrated with, she said "So? Make it better!". While this seems ridiculously straightforward, making change often is! The biggest thing getting in your way is your own belief that your actions cannot have impactful consequences. Do not wait for a leader to speak up about something you care about, you could be the leader someone else is waiting for! Do not wait for someone to hand you a title or to give you permission to take action. Take this as your 'push' – what makes you angry? If there is something you want to see changed – speak up! Be resilient. Make it better. It will not be a straightforward path, but the first step in making change is shifting your mentality from "Someone should do something about that" to "I am going to do something about that".
---
Read interviews with each of the other 3 Shads who were awarded the TD Scholarship for Community Leadership.