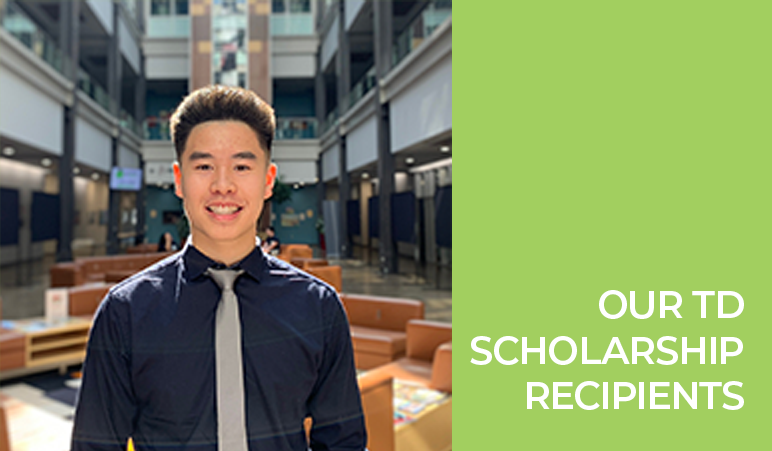 TD Scholarship for Community Leadership Recipient: David Chung
| June 24, 2020
Shad Stories
Categories:
David Chung, Shad2019 has been awarded the TD Community Leadership Scholarship, an esteemed $70K investment for changemaking grade 12 students pursuing an undergraduate degree.
Read below about David's reactions to being chosen and how Shad played a part.
Q: How did you feel when you received the news?
When I saw the email notification from TD, my heart started pounding. I crossed my fingers and hoped for the best. After opening the email and receiving the news, I shouted so loudly that my mother thought I was in trouble. I was surprised, but at the same time happy and relieved.
Q: How significant is it for you personally to receive the TD Scholarship for Community Leadership?
Receiving the TD Scholarship was very significant. This award lifted a huge burden off my shoulders and allows me to focus on school and continue my community work without financial constraints. I'm also extremely thankful for the opportunities this scholarship provides and the tremendous support that TD has for their scholars.
Q: What are you hoping to do after graduation? Do you have a long-term goal in mind in terms of the kind of change you would like to make or be part of?
I will be attending university in the fall to study engineering. I'm not completely sure of what I want to do down the road, but I've always been interested in entrepreneurship and hope to one day lead a start-up to impact millions of people.
Q: Do you believe your time at Shad had an impact on your TD Scholarship?
Yes! My time at Shad was amazing. The program itself taught me many technical and leadership skills. More importantly, I was surrounded by like-minded students who motivated me to achieve larger goals. I came back from Shad with a new set of skills and an even stronger drive to create an impact in my community – both of which I think contributed to winning the TD Scholarship.
Q: What advice would you give an incoming Shad2020?
It is truly the students and community that make Shad an amazing summer program. You are spending an entire month with students from all over Canada – students who are welcoming, driven, smart, compassionate, and change-makers. Use your month to connect with them, learn from them, and make memories with them that will last a lifetime.
---
Read interviews with each of the other 3 Shads who were awarded the TD Scholarship for Community Leadership.