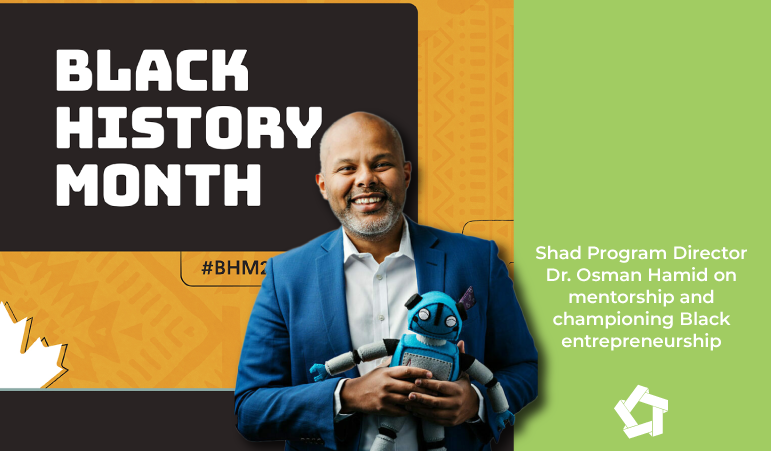 Shad Program Director Dr. Osman Hamid on mentorship and championing Black entrepreneurship
| February 28, 2023
Shad Stories
Categories:
Dr. Osman Hamid recognizes the power of sharing your own story.
He believes that sharing triumphs and lessons learned can bring youth closer to defining their own path. And for Osman, that's what his work as a Shad Program Director and the Founding Director of Creativity and Entrepreneurship at Ontario Tech University is all about.
In his current role at Ontario Tech University, Osman builds innovative initiatives and programs for students at startup incubator and experiential learning hub, Brilliant Catalyst. He established the Black Entrepreneurship and Skilled Trades Program at the incubator with the help of the Dream Legacy Foundation and the Government of Canada's Federal Economic Development Agency for Southern Ontario.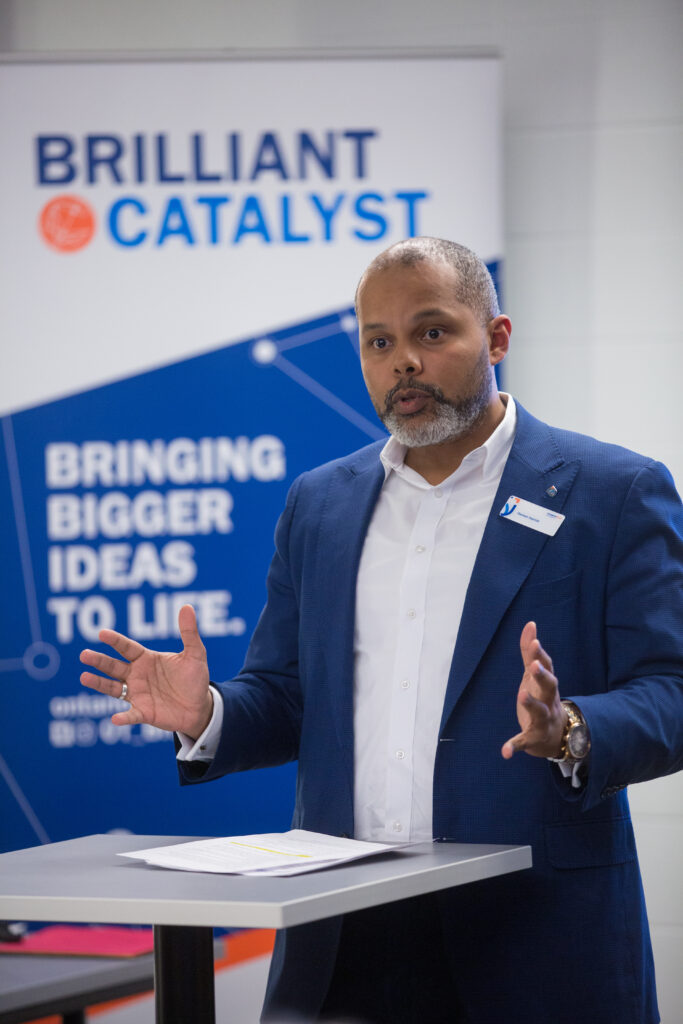 Together they aim to provide 1,200 certifications and micro credentials to Black youth interested in the skilled trades and entrepreneurship.
"We teach them the fundamentals of being an entrepreneur with the skilled trades as a foundation. At the same time, we use role models from the Black community to provide them with the cultural context…," says Osman. "Role modeling and seeing someone who looks like you doing things, that has a big, powerful impact on your life."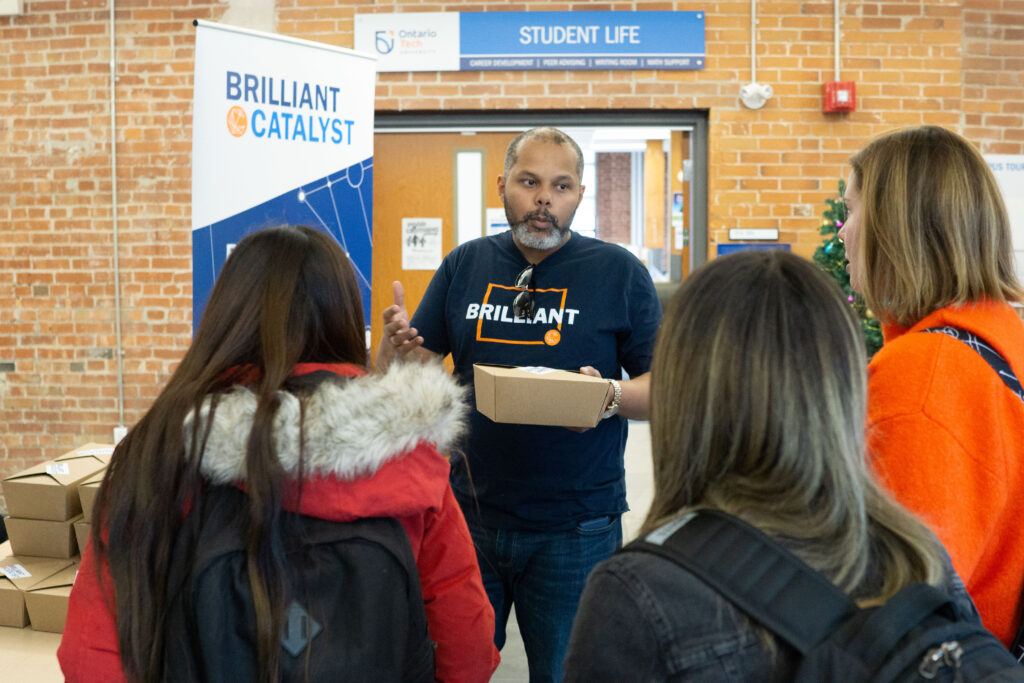 Osman was inspired to provide opportunities like this to marginalized youth after being the founding program manager of the Black Innovation Fellowship (now known as the Black Innovation Program) at the DMZ, Toronto Metropolitan University's startup incubator.
"Marginalized groups have an extra burden," says Osman. "Sometimes they don't have the role models, examples and networks to enable them to enter a world like entrepreneurship. They can't just call an auntie, an uncle, or a cousin."
Osman has seen these barriers come to light while mentoring youth, including those who come from newcomer backgrounds, like himself.
Coming to Canada from Eritrea, a small country in East Africa, Osman recognizes its widespread diaspora and how many Eritreans find themselves in different parts of the world.
"There are a lot of us who are first generation and live in Canada," says Osman. "That first generation is having kids and those kids often need advice about going to school, but because that network is not there, sometimes they don't know their path or what to do."
When sharing advice with youth on post-secondary pathways and career paths, Osman says he typically starts with the same story, which often surprises them.
"The first thing I tell them is that I failed out of school," says Osman. "Just because you fail, doesn't mean you can't succeed later."
And for Osman, it was this failure from an Engineering program that revealed an important ally and mentor in his own life—Judy Broadbent—someone he still stays connected with over twenty years later.
Before entering university, Osman connected with Judy when she was a chairperson at the Maytree Foundation, a Toronto-based organization that aims to dismantle systemic inequalities through a human rights approach. Being ineligible for the Ontario Student Assistance Program (OSAP), Judy and the Maytree community helped Osman secure a scholarship which made going to university possible.
"Through and through, they were still there behind me. The scholarship fell through but they still helped me transition into my new educational path," says Osman. "When people are with you when you're on your downs, that's when you know who really counts."
The next step in his educational transition was completing an Advanced Diploma in Accounting at Seneca College, and later pursuing a Bachelor of Commerce in Accounting and an MBA at the Ted Rogers School of Management.
With a spot on the Student Union Board of Directors, the university's Board of Governors, and with the enthusiastic support of the University President, Sheldon Levy, Osman was very involved and excited about student leadership at the time.
"I could see the power of being part of a post-secondary education system, not only changing the lives of the people in the institution, like students and alumni, but the community around it."
What also defined Osman's passion for collaboration and mentorship was his time as the Director of Student Engagement with the Ted Rogers School of Management at Toronto Metropolitan University. After working with the business school and the student society to launch the Startup Certified Program, Osman realized just how an entrepreneurial mindset can propel students to develop their skills and passions, even if they didn't want to start their own business.
"With the leadership of that student society, we were able to pledge $400,000 towards a collaboration with the DMZ," says Osman.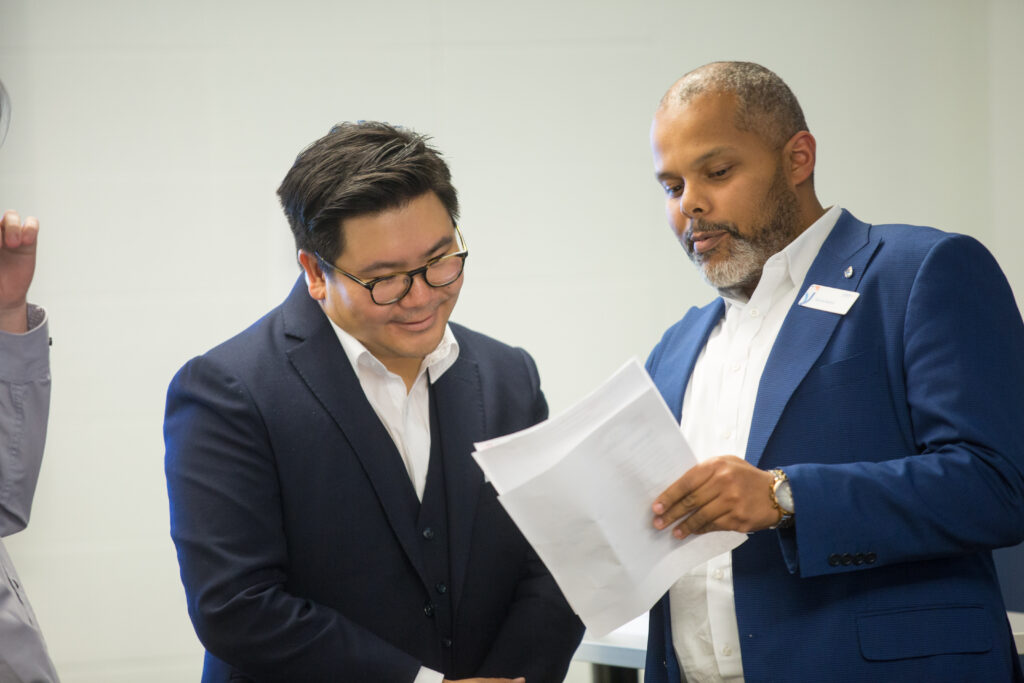 This funding went towards a program that showed students what it was like to work in a startup, while subsidizing a startup internship opportunity for them or providing the necessary supports and capital to work on their own startup idea.
"That opportunity resonated so well with students. That's when I saw that there was something behind this so we need to be able to find ways of inspiring students, getting them out of their shell and giving them the opportunity to think with an entrepreneurial mindset."
Now as a Shad Program Director at Ontario Tech University, Osman loves using an entrepreneurial framework to guide students and show them that failure is inevitable, no matter your journey.
"You see the pressure of them needing to always achieve and be number one…," says Osman. "But entrepreneurship in its DNA encourages failure."
And it's through his own triumphs and lessons learned that Osman has always prioritized sharing his story in hopes that mentees will share their stories and in turn, inspire others.
"They also want to pay it forward to the next generation, and the next generation. That's why I do it. It starts a cascading effect to support each other and learn from other communities."