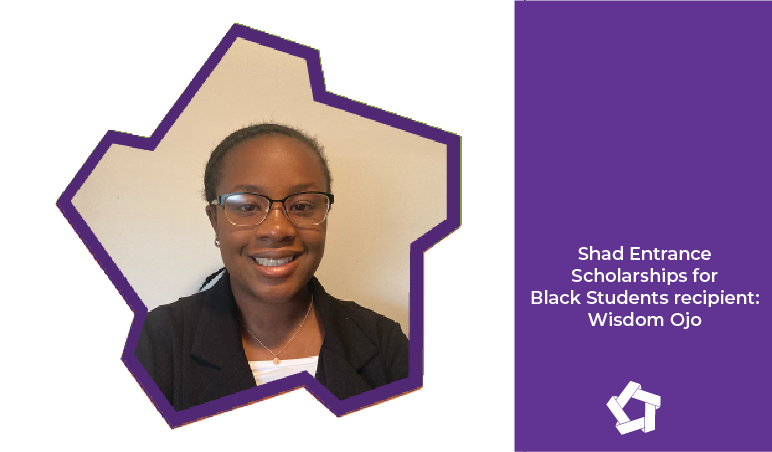 Shad Entrance Scholarships for Black Students – Wisdom Ojo
| June 6, 2023
Shad Stories
Categories:
Q: Tell us a bit about yourself
My name is Wisdom, and I am a grade 11 student from Winnipeg, Manitoba. I am passionate about learning and exploring new ideas while using my passions to make a difference in my community. Though I have always been interested in all aspects of STEAM, I am particularly interested in health sciences and hope to pursue a career in the medical field as a psychiatrist. In my free time, I love to play basketball, learn to play new instruments like the guitar or the piano, and spend time with my friends and family. I am excited to participate in the ShadAnywhere program and eagerly anticipate meeting like-minded individuals who share my passions for learning and making a difference.
Q: Why do you want to participate in the Shad program/What are you most looking forward to?
I am excited to be a part of the ShadAnywhere program and am looking forward to immersing myself in STEAM topics through the program's dynamic and interactive approach to learning. Through the lectures, workshops, and activities, I hope to explore some of the world's relevant and intriguing subjects in STEAM. In addition, I am excited about the virtual excursions that will allow me to see various famous historical sites and gain a deeper understanding of their importance. Lastly, I look forward to the opportunity to establish meaningful connections with other like-minded students. I hope that these relationships will not only enrich my experience during the program but will also last long after it has ended.
Q: What motivates or sparks your curiosity in STEAM and/or entrepreneurship?
Ever since I was young, I have always been fascinated by the potential of STEAM and entrepreneurship to solve complex problems facing our world and make a positive impact on society. As a result, I became passionate about both STEAM and entrepreneurship, particularly in the areas of technology, medicine, and mathematics, and would continually seek opportunities to explore these fields. While my particular interest in the health sciences has now led me to focus on a career in that field, I still find myself in awe of the ongoing advancements in STEAM as they positively influence the lives of many around the world. In the future, I hope to contribute to this impact through my own innovations and ideas, as I believe the STEAM fields offer numerous opportunities to create solutions to some of society's biggest issues.
Q: How do you envision your future? Ultimately, I hope to create positive change in the world, no matter where my path takes me. Whether that be through becoming a psychiatrist and focusing on the mental health of my patients, becoming a clinical researcher and working to find solutions to some of the biggest problems in the medical field, or taking the time to volunteer in my community, I hope to continue to dedicate my time and effort to helping those around me as an adult. By continuing to grow through programs like Shad, I know that I will be well-equipped to achieve these goals.
---
Want to meet the other Black student Scholars? Read their stories