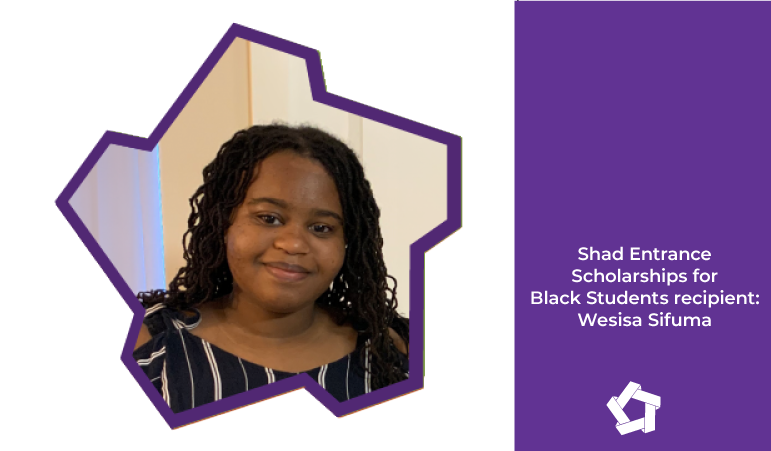 Shad Entrance Scholarships for Black Students – Wesisa Sifuma
| June 6, 2023
Shad Stories
Categories:
Q: Tell us a bit about yourself
Hello, my name is Wesisa Sifuma. I'm currently in grade 11. I love learning and participating in school-based clubs. When I'm not in school learning or participating in extracurriculars, you can find me at home curled up in a blanket probably rewatching some of my favourite shows. I love to travel, play the flute, and talk about my cats.
Q: Why do you want to participate in the Shad program/What are you most looking forward to?
I am excited to participate in the Shad program because it includes two of my most favourite things, traveling and science. Science has been one of my favourite subjects for as long as I can remember and getting to spend three weeks participating in science related activities and lectures is very exciting. I am really looking forward to working with other great students from across Canada and the world, travelling to a province I've never been to before and of course living on campus.
Q: What motivates or sparks your curiosity in STEAM and/or entrepreneurship?
I enjoy the sciences and math because they challenge my thinking, and I am a curious person who likes to know why things work the way they do. I honestly love the fact that STEAM not only includes sciences and math and of course engineering but it also integrates art. Apart from science, I enjoy music and I have been playing the flute for as long as I can remember. Knowing that when I take part in Shad this summer, I will be able to include that aspect of my life into the program is really encouraging and motivating because I will get to share it with people around me.
Q: How do you envision your future?
Like almost everyone else, I do have my goals for the future. What really makes life interesting and unpredictable is that each day brings on a new surprise and things are always changing. One thing that I do know is that I am very passionate about science and would very much love to go into a career that involves science, but I am an open-minded person, and I am always willing to try new things. In a nutshell, I envision myself in the future as having a stable career that I absolutely love, hopefully being able to continue with my musical ambitions, exploring different parts of the world and taking care of one or maybe two cats.
---
Want to meet the other Black student Scholars? Read their stories