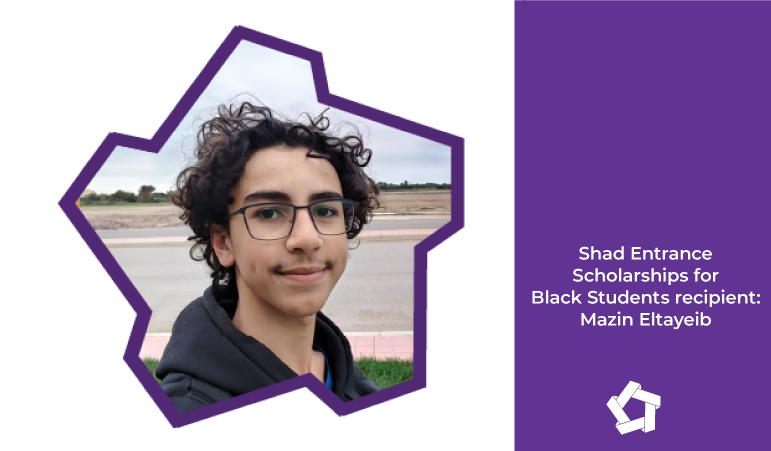 Shad Entrance Scholarships for Black Students – Mazin Eltayeib
| June 6, 2023
Shad Stories
Categories:
Q: Tell us a bit about yourself
My name is Mazin Eltayeib and I am 15 years old, currently finishing up my grade 10 academic year. I am a confident and relaxed person who enjoys a nice sunny day. As for hobbies I like soccer, reading, video games, computer programming, making 2D and 3D animations, and taking long peaceful walks. I'm a very curious person who loves to learn through new, challenging, and fun experiences.
Q: Why do you want to participate in the Shad program/What are you most looking forward to?
I'm most looking forward to the activities relating to science and technology. Since I was little, I loved learning new things that I found interesting, whether that be how the body works or even what makes the earth spin. Technology-wise I like computer programming as well as figuring out what makes complex machines tick.
Q: What motivates or sparks your curiosity in STEAM and/or entrepreneurship?
A mix of everything in STEAM sparks my curiosity. Science allows me to figure out how the world works and everything that lives in it. Technology paves the way for innovation because creations are constantly changing, such as updated software or maybe a new phone. Engineering uses a blend of all of these and limitless amounts of creativity. Almost forgot to add entrepreneurship. This is an amazing way to channel all of these aspects and use them in a way that will benefit not just one person but many people for generations to come. Each of these topics holds special value, when combined they can create something increasingly special.
Q: How do you envision your future? Brighter than the sun that rises in the morning and sets in the evening. Thinking big is how problems find solutions. That is why I envision my future to be very vast and free, not constricted by terms of realism. Using the knowledge I gain from learning experiences I want to have a business that runs on my creativity. Preferably somewhere in science or technology. I want to invent or innovate something that will help change the world for the better, and most importantly I want to be happy with what I do.
---
Want to meet the other Black student Scholars?Read their stories