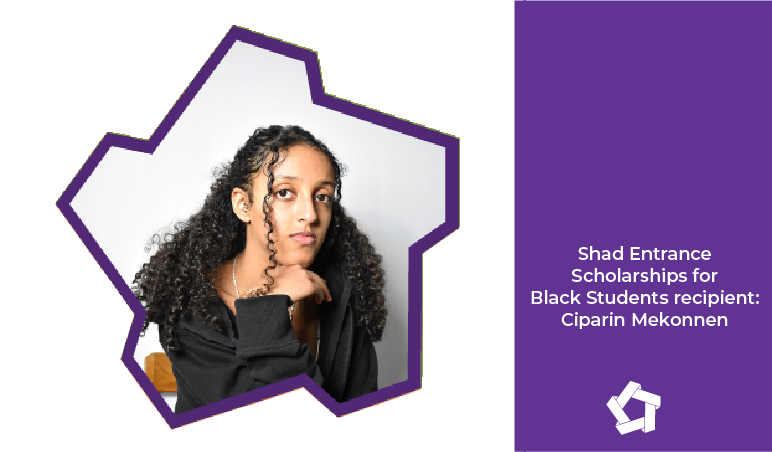 Shad Entrance Scholarships for Black Students – Ciparin Mekonnen
| June 6, 2023
Shad Stories
Categories:
Q: Tell us a bit about yourself
Hi there! I'm Ciparin Mekonnen, and I'm currently a Grade Ten student at John Oliver Secondary School in Vancouver, BC. Originally born in Addis Ababa, Ethiopia, I've always had a passion for learning and exploring new things. As a student, I enjoy social studies because it allows me to explore cultures, societies, and historical events. When I'm not at school studying, I love to stay active and participate in sports. Volleyball is one of my all-time favourites, as I enjoy the teamwork and competitive spirit that comes with it. I'm also into anything that involves running, whether it's track and field or simply going for a jog in the park.
Q: Why do you want to participate in the Shad program/What are you most looking forward to?
Among the many aspects of the Shad program that I am excited about are the hands-on learning experiences and the opportunity to learn from peers and mentors. Using workshops, projects, and other interactive activities to apply what I learn in real-world contexts can increase my understanding and retention of the material. It can be motivating and inspiring to collaborate with peers who share a passion for learning and growth from experienced mentors can provide valuable guidance and insight. I can't wait to be able to experience the Shad program and put what I learn into practice. Working with a team of like-minded students and having access to experienced mentors will be invaluable. This is an excellent opportunity to grow and expand my knowledge.
Q: What motivates or sparks your curiosity in STEAM and/or entrepreneurship?
One of the main motivations for me is the ability to make a positive impact on society through STEAM and entrepreneurship. I am driven by the idea of using my knowledge and skills to contribute to the development of new technologies or solutions. This will benefit people and the planet. The prospect of using science, technology, engineering, the arts, and mathematics to solve real-world problems, such as climate change, healthcare, or poverty, is both inspiring and motivating. As well as this, entrepreneurship presents a unique opportunity to shape ideas into reality. It is exciting to have the chance to build a business, create something of value, and contribute to the economy and society. The entrepreneurial mindset of creativity, innovation, and taking risks resonates with my aspirations and ignites my curiosity to explore the world of entrepreneurship.
Q: How do you envision your future?
In the future, I see myself pursuing my passion for international affairs by attending a university to study this field in depth. I envision myself immersed in diverse cultures and global issues, gaining knowledge and skills to understand and contribute to the complexities of international relations. But I don't plan to stop there. I also see myself pursuing a law degree in the future. I believe that a law degree would complement my understanding of international affairs. It would open up more avenues for me to make a positive impact in the world. With a law degree, I could specialize in international law, human rights, or diplomatic relations. I could also advocate for justice, equality, and global cooperation. In addition to my academic pursuits, I also envision myself actively engaging in extracurricular activities. I envision myself building a network of like-minded individuals and gaining practical experiences through internships or volunteering. I hope to utilize my education and skills to work in international organizations, government agencies, or NGOs, contributing towards resolving complex global issues and making a meaningful difference in people's lives.
---
Want to meet the other Black student Scholars? Read their stories