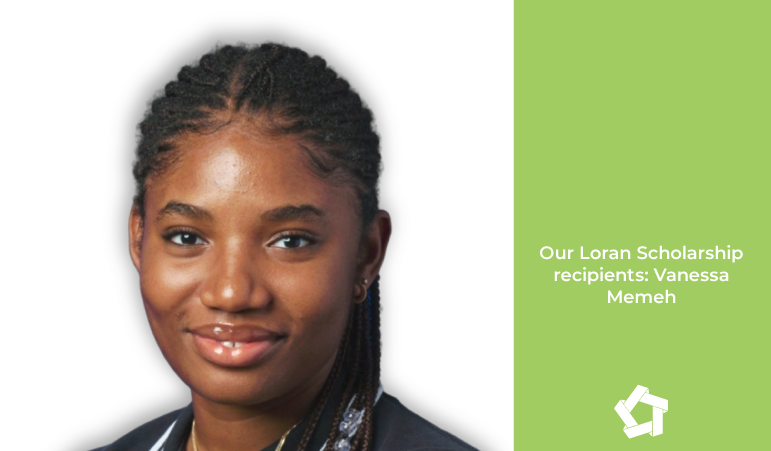 Loran Scholar 2023: Vanessa Memeh
| April 26, 2023
Shad Stories
Categories:
Q: What does it mean for you to win this scholarship?
Becoming a Loran Scholar is an incredible honour exposing me to a new realm of opportunities and has inspired me to continue my academic journey and pursue my goals with even greater fervor and enthusiasm. The Loran Award is a testament to my character, passion, zeal, and desire to contribute to society, and to have that hard work recognized in this way is truly a dream come true.
Q: How might this scholarship change your undergraduate experience?
The Loran Award will transform my undergraduate experience by providing financial support, access to a supportive community of mentors and peers, opportunities to develop leadership skills, and enhanced academic opportunities. These benefits alter my academic and professional trajectory, aiding me give back to my community and will undoubtedly prepare me for future success.
Q: What do you envision yourself doing after you graduate? How do you plan to continue to be of service in your community?
I plan on pursuing a degree in Integrated Science this fall and I hope to follow through with a Master of Science in Administration. My goal is to pursue a career in Health Administration to foster a safer and inclusive environment for both staff and patients and improve health outcomes and contribute to a healthier society. As I grow, I hope to continually be involved in my community by volunteering at learning centres and healthcare facilities.
Q: What lessons did you take away from your Shad experience? Were any of them helpful through the Loran selection process?
During my Shad experience I learned to get comfortable with the uncomfortable; just because it feels uncomfortable does not mean it is wrong or not worth doing. Sometimes, stepping outside of one's comfort zone and facing discomfort is necessary for personal growth and development. It can lead to new experiences, perspectives, and opportunities that may not have been possible otherwise. This was particularly helpful through out stages in the Loran process which ultimately led to a positive outcome.
Q: What advice do you have for those about to get into the Shad 2023 program?
Be present, learn, stay true to you and make the most out of this amazing experience because time flies fast!
---
Want to meet the other 2023 Loran Scholars? Read their stories