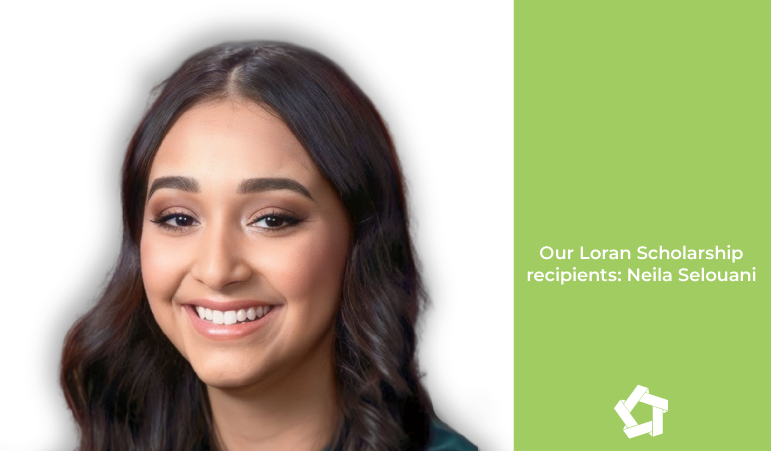 Loran Scholar 2023: Neila Selouani
| April 26, 2023
Shad Stories
Categories:
Q: What does it mean for you to win this scholarship?
The Loran scholarship represents more than just financial assistance. It represents an investment in my future, a recognition of my potential and a vote of confidence in my abilities. It gives me the motivation and inspiration to continue working hard, to strive for academic excellence and to make a positive impact on the world!
Q: How might this scholarship change your undergraduate experience?
Being a scholar comes with additional resources such as mentorship, networking opportunities, and academic support. I think that these resources can support me during my undergraduate experience and greatly contribute to my academic pursuits and prepare me for my subsequent career!
Q: What do you envision yourself doing after you graduate? How do you plan to continue to be of service in your community?
After graduation, I plan on focusing on my studies and my community engagement, to make an impact on my new environment, I will discover opportunities to get involved in my new community. Volunteering, donating resources, or attending community events. I plan on also continuing my current engagement in my hometown!
Q: What lessons did you take away from your Shad experience? Were any of them helpful through the Loran selection process?
Shad was one of the best summers of my life; I not only developed new skills but met new people that changed my life. Shad emphasizes leadership development. It provided me with opportunities to take on leadership roles within the program and develop my skills and my selfesteem. Shad helped me gain self-confidence and leadership skills that I used during the Loran process. I learned to be myself and to not be afraid to go out of my comfort zone.
Q: What advice do you have for those about to enter the Shad 2023 program?
I would say to not be afraid of meeting new people, of learning new things or to discover an unfamiliar place. Shad is a one in a lifetime experience that helps you grow as an individual. It's not only about opportunities or new skills, but also about the connections, the friends you make that will impact you for life. You just have to trust the process, because shad will not only be the best month of your life, but the best month for your life!
---
Want to meet the other 2023 Loran Scholars? Read their stories