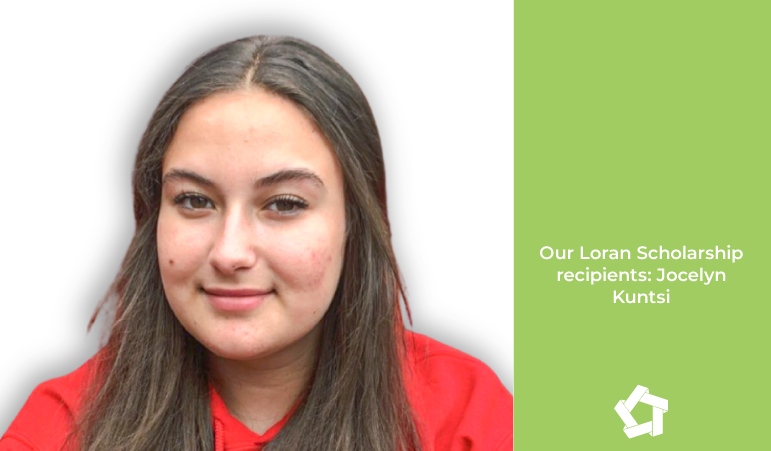 Loran Scholar 2023: Jocelyn Kuntsi
| April 26, 2023
Shad Stories
Categories:
Q: What does it mean for you to win this scholarship?
Becoming a Loran Scholar means that I get to be a part of an amazing community of fellow scholars, alumni, and staff. It opens a whole new world of support that I never would have imagined. Coming from a small town, I was nervous about moving to a city by myself to start post-secondary. Knowing that I will have the support of an amazing community makes me feel so much calmer.
Q: How might this scholarship change your undergraduate experience?
This scholarship will allow me to take full advantage of the learning aspect in university. I am so excited to pursue engineering and having less of a financial burden will make it easier for me to take full advantage of post-secondary education. In addition to this, I have already learned so much from the class of 2023 scholars. They have broadened my perspectives on so many diverse topics. I think that the way I approach my undergraduate experience has already changed in learning from my peers in this amazing group of people.
Q: What do you envision yourself doing after you graduate? How do you plan to continue to be of service in your community?
I want to use my degree to help rural communities who tend to be overlooked in engineering projects because they are in smaller areas. I hope to learn skills that can help unique problems that rural towns face such as infrastructure, water systems, and accessibility. In terms of my community work, I hope to continue to advocate for diversity in STEM, and bring opportunities to communities like my own. I want to be a mentor and volunteer with the FIRST Robotics community and continue to support student leaders.
Q: What lessons did you take away from your Shad experience? Were any of them helpful through the Loran selection process?
One thing that Shad taught me was to be open with connecting with everyone. I tried to do this as best as possible at Shad with my peers, PAs, and staff. During Loran, I had the opportunity to get to know so many other applicants. I think that an important part of the application experience is learning from so many amazing student leaders. Shad gave me a good opportunity to learn how to connect with diverse groups of people.
Q: What advice do you have for those about to enter the Shad 2023 program?
Talk to everyone. It seems trivial but try to take advantage of the month and learn from the amazing people around you. Everyone there has amazing stories, accomplishments, and expertise. Let yourself be inspired with those around you. Additionally, let yourself be open to trying new things. There are lots of opportunities to explore new subjects and see new places. Take every chance to try something new. Whether it is Python Coding or Marketing 101, just try.
Want to meet the other 2023 Loran Scholars? Read their stories