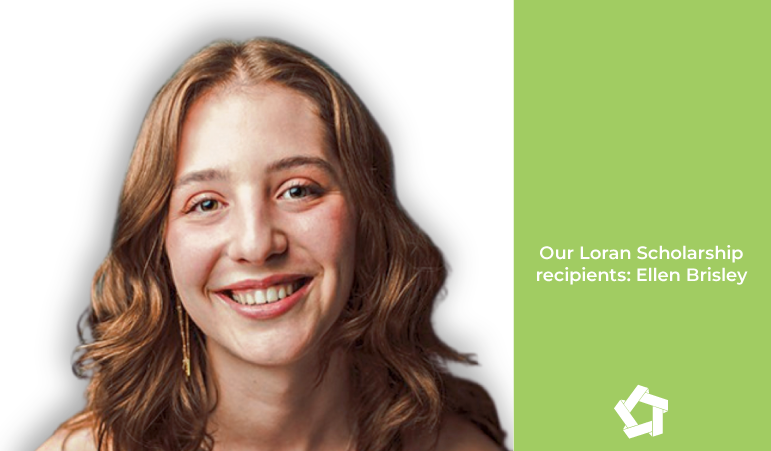 Loran Scholar 2023: Ellen Brisley
| April 26, 2023
Shad Stories
Categories:
Q: What does it mean for you to win this scholarship?
I am beyond excited to enter a community of such driven, interesting people. I already got a taste of the diversity of perspectives and experiences at the Finalist Nationals Selections and will make it my goal to learn more from the large network of scholars.
Q: How might this scholarship change your undergraduate experience?
The Loran Award asks scholars to complete job experiences in policy, community, and enterprise. This, along with the extensive Loran network, will help me discover what kind of work I enjoy and how I can best impact my community. The Loran also provides mentorship throughout undergraduate studies, which I plan to use extensively. Ultimately, the award will force me outside of my comfort zone personally and academically – which is very exciting!
Q: What do you envision yourself doing after you graduate? How do you plan to continue to be of service in your community?
I want to use my technical engineering skills to solve important problems. I have worked in startups and enjoy the fast-paced, adaptive startup culture. However, I am open to anything!
Q: What lessons did you take away from your Shad experience? Were any of them helpful through the Loran selection process?
Shad reminded me that it is important to always surround yourself with driven, passionate people who push you to constantly improve. I found this community at Shad and will be joining a new one at Loran (which includes my Shad roommate!).
Q: What advice do you have for those about to enter the Shad 2023 program?
Make an effort to stay in contact with your peers after the program, they may even become some of your closest friends.
---
Want to meet the other 2023 Loran Scholars? Read their stories