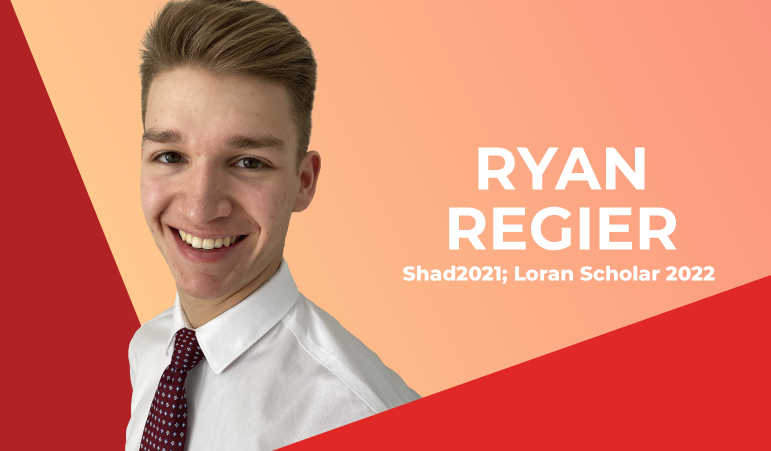 Loran Scholar 2022: Ryan Regier
| June 14, 2022
Shad Stories
Categories:
Q: How did you feel when you received the news?
I was absolutely ecstatic! Initially, I missed the call while in my third-period Calculus class, and upon seeing that I missed a call from a 416 area code I knew that it was Loran calling. When attempting to call them back I could hardly hold my phone still nor say much more than "thank you" and "thanks so much" over and over again. I was speechless!
Q: How significant is it for you personally to become a Loran Scholar?
Being involved in my school and community is something I have always enjoyed doing. I think people who volunteer their time realize that we gain as much from the experience as we give to the organization. We do this work, not expecting anything in return, rather we hope to make a change. Being recognized as a Loran Scholar, pushes me to want to do more and gives me additional opportunities to make a difference. I am extremely humbled and honoured for being recognized by Loran for my past achievements but also the potential that they see in me.
Q: What lessons did you take away from your Shad experience? Were any of them helpful through the Loran selection process?
Being outgoing, especially in an online environment was a very unique takeaway from my Shad experience. I was relied upon heavily to communicate in a group setting for our design project and much more throughout my Shad experience. Having to present allowed me to become more confident when speaking to people and forced me to learn to think on the spot. This correlated very well with how I communicated and presented myself during the Loran interviews.
Q: What are you hoping to do after graduation? Do you have a long-term goal in mind in terms of the change you'd like to make or be part of?
I plan on pursuing a degree in Commerce/ Business next fall. In relation to future ambitions, I don't entirely know what career I hope to pursue although I would like to have the opportunity to promote self entrepreneurship and financial literacy in my small-town community and region. As well as being a prominent figure in youth sports and giving back to those programs that allowed me to grow into the individual I am today, are two greater goals I hope to tackle.
Q: What advice would you give an incoming Shad2022?
I believe the classic motto "what you put into the program is what you get out" is the utmost important tidbit of advice that I can give. As a Shad2021 participant, I experienced the program in an online format and I had to choose to carry a positive and engaged mindset. If you go into the program with the ambitions of taking something away and connecting with many incredible like-minded individuals you will have an incredible experience.
Want to meet the other 2022 Loran Scholars? Read their stories.