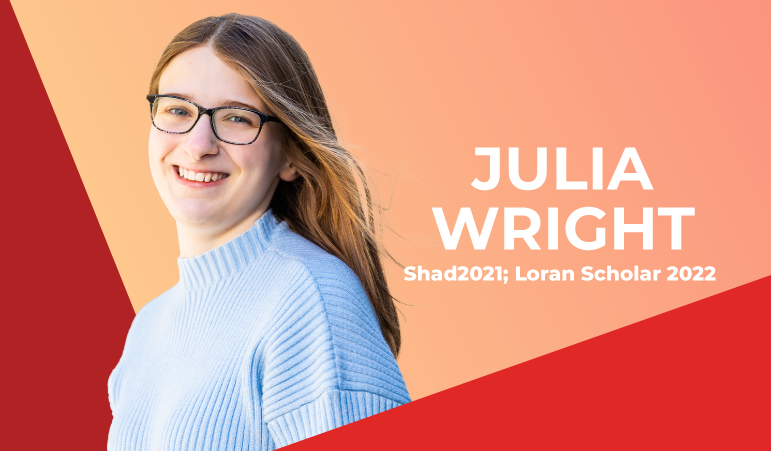 Loran Scholar 2022: Julia Wright
| June 14, 2022
Shad Stories
Categories:
Q: How did you feel when you received the news?
When I was first told that I would be a Loran Scholar I was so surprised that the news did not fully sink in for a few days. When I started to understand exactly what it means to be a Loran Scholar, gratefulness washed over me. I am so thankful to the Loran Scholars Foundation for supporting me and to donors and selections volunteers for investing in the Class of 2022 Loran Scholars cohort.
Q: How significant is it for you personally to become a Loran Scholar?
Being named a Loran Scholar opens so many doors for me. Not only will I receive financial support in my studies, but it also provides me with access to invaluable mentorship and personal development opportunities. Throughout the next four years, I am sure I will grow immensely because of the Loran Award by stepping outside my comfort zone and taking on new challenges.
Q: What lessons did you take away from your Shad experience? Were any of them helpful through the Loran selection process?
Throughout Shad, one of my program directors, Jess Tang, encouraged my fellow Shads and I to show up to everything we do as our true authentic selves. Not only has this lesson been useful in almost every aspect of my life, but I think it may have been helpful during the Loran selection process. By showing up as my true self, I could help the Loran selections volunteers understand who I was as a person and what the motivations behind my community service were.
Q: What are you hoping to do after graduation? Do you have a long-term goal in mind in terms of the change you'd like to make or be part of?
I'm very excited to be attending McGill University in the fall of 2022 with an intended major in biology and computer science. Although my future plans are constantly changing, I currently hope to use the knowledge I will gain through university to affect change in the women's health sector. Woman's health is currently a severely under-researched and underfunded area, so I hope my potential contributions can make a difference in the lives of women.
Q: What advice would you give an incoming Shad2022?
Go all in! Shad is what you make of it. There are so many amazing opportunities at Shad, from the amazing community you will now be a part of to the insightful speakers you'll hear from. As I was told at my Shad campus, you only Shad once, so try to step outside your comfort zone and create your own Shad experience.
Want to meet the other 2022 Loran Scholars? Read their stories.