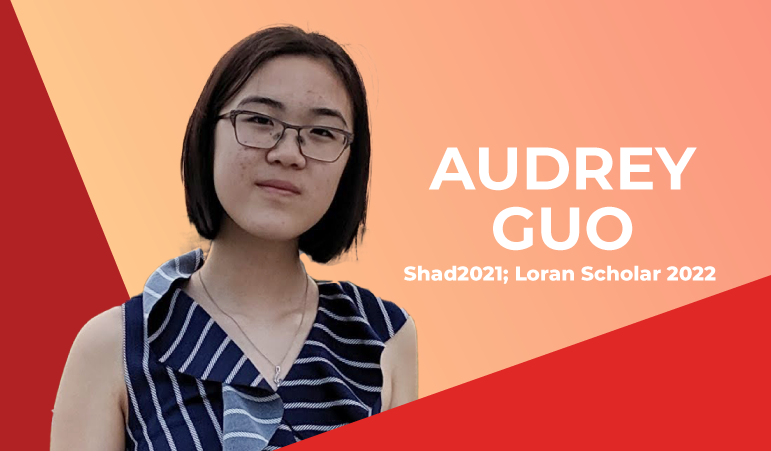 Loran Scholar 2022: Audrey Guo
| June 9, 2022
Shad Stories
Categories:
Q: How did you feel when you received the news?
Honestly, I couldn't believe my ears. I spent a good week absolutely convinced that it was only a matter of time until I "woke up"! Now that things have had some time to sink in, though, it's safe to say that I've been feeling more optimistic and excited for the future than ever before.
Q: How significant is it for you personally to become a Loran Scholar?
I think the most important thing for me is this sense of reassurance that things are going to turn out okay after all. Feelings of self-doubt are something that I think a lot of people can relate to, but the fact that I was somehow selected from such an incredible pool is a sign that somewhere along the way, the Loran Foundation saw something in me. Armed with that knowledge, I've been able to be a lot more confident in making decisions that might have previously seemed too risky–most crucially, my decision to move away from home and pursue an arts degree instead of the computer science degree that I had been considering, but felt no particular passion or aptitude for.
Q: What lessons did you take away from your Shad experience? Were any of them helpful through the Loran selection process?
Absolutely!! Many times throughout the Loran selection process, I spoke about the experience of working with a design team. My time with Shad taught me so many things: leadership skills, of course, but also the importance of going out of my comfort zone–I went in fully believing I didn't have much meaningful STEM knowledge to contribute, and walked away as my team's scientific specialist! As I wrote in my Loran essay, Shad taught me that no one is keeping me in a box except myself, and with enough time and dedication, a person can learn to love just about anything.

Q: What are you hoping to do after graduation? Do you have a long-term goal in mind in terms of the change you'd like to make or be part of?
At the moment, I would love to become a teacher. Long-term, my hope is to find something to be a part of that allows me to work with young people to help them explore their potential, identities and interests, and/or to uplift the arts–I am a firm believer that arts-based education has just as much to contribute to society as more STEM-focused pursuits.

Q: What advice would you give an incoming Shad2022?
If you're feeling nervous or like you somehow faked your way into Shad, take a deep breath–you're here for a reason, I promise. Imposter syndrome seems to be a pretty common thread among a lot of Shads, or at least it was at the campus that I attended (I was no exception), but for real: no one is expecting you to be anything but yourself. The month that Shad spans is too short to let yourself devote time to worrying about maintaining whatever you might think the ideal image is–just be you, and let yourself enjoy the ride!!
Want to meet the other 2022 Loran Scholars? Read their stories.