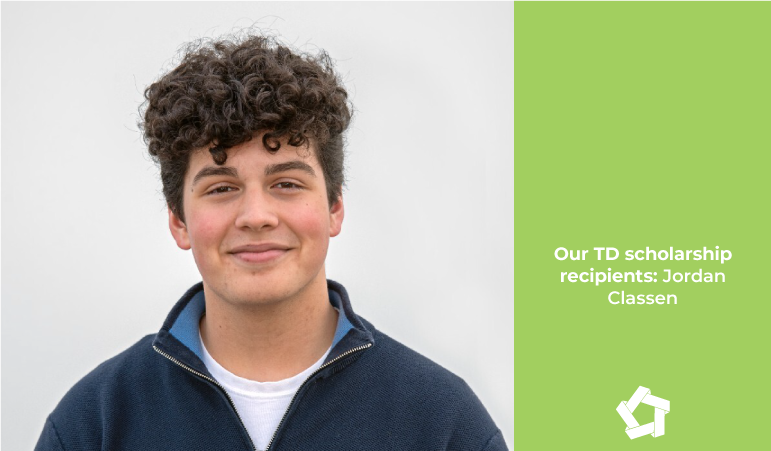 TD Scholarship for Community Leadership Recipient: Jordan Classen
| April 17, 2023
Shad Stories
Categories:
Jordan Classen has been selected as the recipient of the TD Community Leadership Scholarship, a prestigious $70K award for outstanding grade 12 students who are dedicated to making a positive impact on their community and pursuing an undergraduate degree.
Find out more about Jordan's response to being chosen and how the role of Shad2021 contributed to his success below.
Q: What does it mean for you to win this scholarship?
For me, winning the TD Scholarship for Community Leadership is a both an immense and humbling honour, for I know that I didn't get to this point on my own. I have been very blessed to be surrounded by educators, mentors, friends, and family who have believed in me and supported me throughout all of my endeavours. I'm passionate about life, learning, and community involvement, no matter how big or small that community may be, and I have worked hard to foster and build equity, diversity, and inclusion in the spaces that I find myself in. Winning this award has validated my belief that anyone's efforts can make a difference!
Q: What do you envision yourself doing after you finish your undergraduate studies? How will your studies help you to continue to influence change in the world?
As I entered university, I already knew that I would continue to pursue my deep passion for helping to shape policy and systems of power, and for increasing the accessibility of society's resources and spaces in an equitable, diverse, and inclusive manner. However, this is starting to take a new form as I progress through my journey of studying Integrated Chemical & Biomedical Engineering and Health Sciences here at McMaster University. Since beginning my program, I have found that I have a deep love for critical analysis, biomedical innovation, and the biomedical applications of biological engineering. Some may look at these academic interests as purely technical, but I truly believe that engineering, and even more so biomedical engineering, is an inherently social profession. By combining creativity, academic rigour, the contribution of newfound knowledge, and the application of science in a socially relevant and tangible manner, I believe we are harnessing a powerful vector for social change. Currently, I envision myself pursuing graduate education after the completion of my undergraduate degree and looking towards a career in academia. I hope to pursue research that is oriented in biomedical discovery and focuses on the creation of genetically engineered organisms that perform therapeutic tasks optimally. A dream of mine would be to run my own lab and research group someday. Not only do I want to create positive outcomes through scientific and engineering applications via original research, but I also want to ensure that the accessibility and maximal impact of such technology is available to everyone throughout society. In addition, I would relish the opportunity to engage students as a lecturer and through experiential learning opportunities in synthetic biology. It would be extremely fulfilling to empower others in this field to create and have a tangible impact on broader society while also fostering their ability to look beyond the lab bench and understand the effects of positionality on research and its usage.
Q: How did your Shad experience influence the path you've chosen?
My Shad experience opened my eyes to a wide range of possibilities in the field of STEM, and even led me to discovering the program that I am enrolled in right now! In 2021, I participated in McMaster University's Shad program, and fell in love with the institution. The community, the engineering and health sciences faculties, the professors, and more are unparalleled. I'm extremely grateful that Shad led me in this direction because I have been loving every second of my time in the iBioMed program here at Mac.
Q: What advice do you have for those about to enter the Shad 2023 program?
My biggest piece of advice for those that are about to enter the Shad 2023 program is to not be afraid to take risks or try something new! Remember that you miss 100% of the shots you don't take, so put yourself out there and participate in as much as you can! You never know what you might discover about yourself, or what experiences might come back around to support you later on – maybe even in an upcoming application! *cheeky wink*
---
Read interviews with each of the other 3 Shads who were awarded the TD Scholarship for Community Leadership.