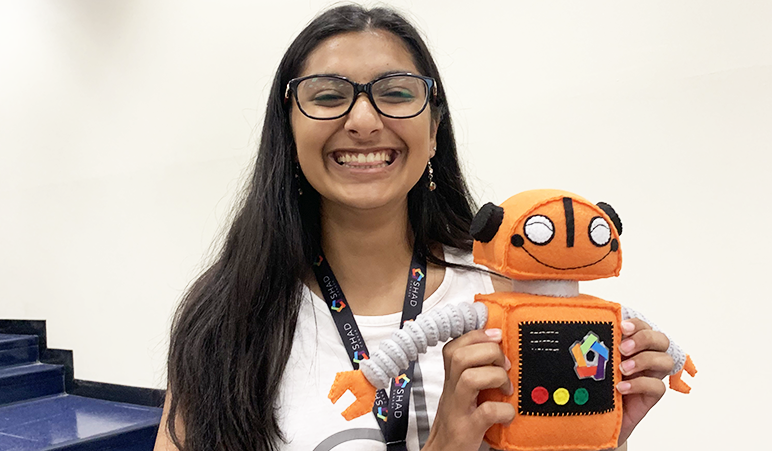 Anjali Dhaliwal shares highlights from Shad and her passion for leadership
| September 23, 2019
Shad Stories
Categories:
"I don't think I would have ever applied for Shad if it weren't for YELL."
Anjali Dhaliwal, Surrey, BC, is still reeling after her Shad2019 experience. She received a $3,000 bursary to attend Shad while participating in the Youth Entrepreneurship Leadership Launchpad program–YELL Canada–a charity that partners with schools to support entrepreneurial learning and is part of Shad's extensive bursary offerings.
This year, Shad granted over $1-million in bursaries for students to attend the program.
Anjali's story includes her passion for business, a workshop on eye tracking technology, and how she plans on bringing Shad back to her community.
Q: Were you a leader in your community or at school before Shad?
A: Yes, I was definitely a leader in my community before Shad. I started many clubs in my school, a non-profit in my community and was on many community boards. Since Grade 8, I've been enrolled in a rigorous and academically challenging leadership program called Inter-A. It was through Inter-A that I first learned how to become a strong and empowering leader in and out of my school community. Over the years, leadership has not only become one of my strongest qualities, but an identifying factor to who I am as a person.
Q: Describe your participation in the YELL program. What does entrepreneurship and leadership mean to you?
A: Simply put, YELL was an amazing experience. I didn't realize how much I was taking away from the program until it was over. I learned so much on the lines of networking, the importance of LinkedIn, my passion for business, and about what Shad was. I don't think I would have ever applied for Shad if it weren't for YELL. It was through a YELL fieldtrip to the We for She conference that I found out about Shad, and from there got encouraged to apply. The knowledge YELL taught me helps me in numerous high school business case competitions, such as the Real-World Design Project during Shad, where my team placed first at Shad McMaster.
Having skills in leadership and entrepreneurship defines excellence to me.
It's through these skills that I can continually align with values like creativity. I never thought that there was a job in the world for me that included all my interests and skills. But I was sorely mistaken. Entrepreneurship allows me to be creative through the designing and branding process, analytical through the logistics, and mathematical through finances. Through YELL, I was able to meet a wide range of entrepreneurs and learned that there are many methods for starting and running a business. It was through YELL that I finally realized what I wanted to do for post-secondary.
Q: What was it like attending Shad McMaster?
A: It was very nerve-racking at first. I was in a room full of the best youth in all of Canada… young minds who knew the scientific name of every living thing that exists, ARCT musicians, IB students, private school students, business founders, youth with the knowledge of a 3rd year university student, people with 99.3% averages, non-profit board members, and everything else in between. I was intimidated being in a room full of Canada's best and brightest. But I was quickly welcomed into everyone's social circles and the connections started to spark instantly. I've never met like-minded individuals like I've met at Shad, and it was a refreshing change.
At Shad McMaster, every day started at 7:15 am and ran until around 11 pm. While the days were long and tiring, they were also amazing. Through Shad I learned so much, not just academically but personally. I loved the program directors, they were so kind, welcoming, and friendly. They were full of wisdom and taught the Shad McMaster community so much. Shad is one of those programs where you don't truly realize how much you've learned until it's over. At first, I didn't think that Shad changed me, but a few days later I realized that Shad did. I had developed strong and positive habits that I didn't have before.
I quickly realized that the Shad values were now my values.
I had the knowledge to participate in social justice conversations that I otherwise didn't. I felt supported in a community of amazing people. According to my family members, I also became more mature.
Q: What was your favourite lecture or workshop?
A: To be completely honest, I'd be lying if I said I had a favourite workshop or lecture because there were so many that I loved. I loved the nuclear reactor visit and everything that I learned from it. It was something that I would have never seen or learned about if I didn't attend Shad McMaster. I also really enjoyed the law workshop where a lawyer taught everyone about the differences between patents, trademarks, copyrights, etc. There was another interesting workshop on eye tracking technology and how to recognize emotions on a person's face. These are all great examples of Shad teaching me about things that I didn't even know that I didn't know.
Q: What is one thing at Shad that you didn't expect to learn?
A: There was a lot that I wasn't expecting to learn about but am so happy that I did. For one, we had a self-defence class that was both a lot of fun and very educational. We also learned a lot about personal wellbeing, values, and relationships—all important skills, and topics that aren't traditionally taught to youth in summer programs or at school. One of the many things that I'll really miss are my Program Director Kingsley's 'runosophies'. These were 'create your own stories' while participating in morning runs. The stories were all false dilemmas and ended in us having to make many difficult decisions. But it was also through these difficult decisions that I learned so much about my values, and the values of the people around me.
Most importantly, I learned not to strive for perfection but rather excellence; and that statement changed my life for the better. Shad truly is a life-changing experience.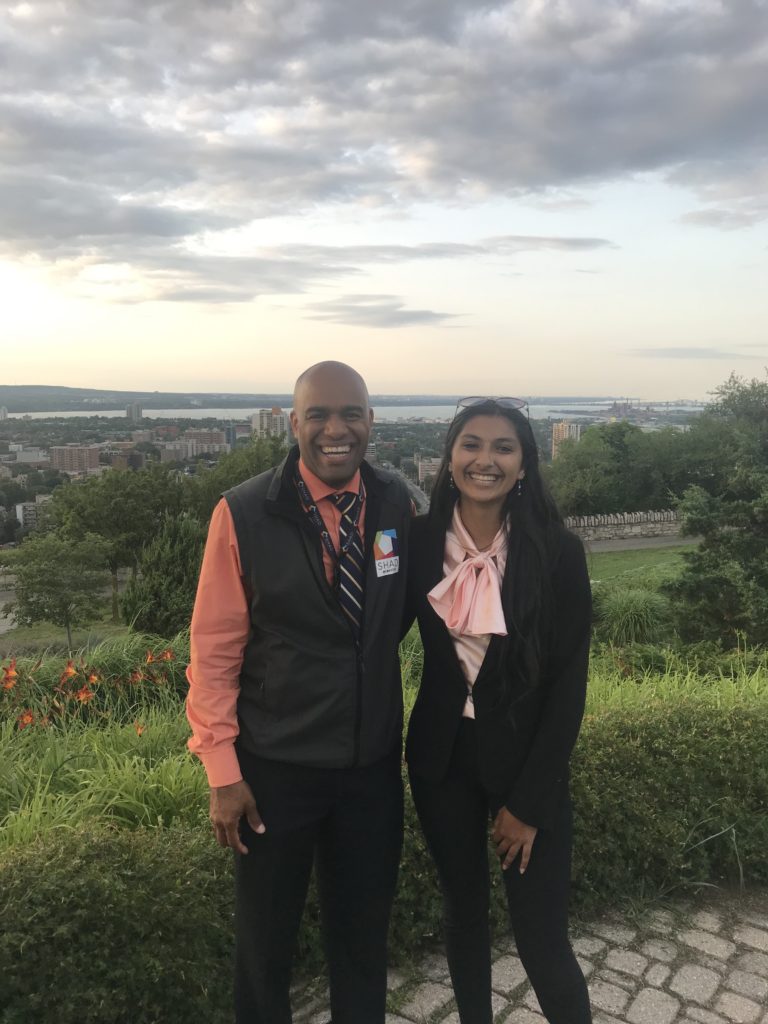 Q: What will you bring back to your community after attending Shad?
A: A few things I plan on bringing back to my community after attending Shad is a whole new set of values, wicked problems to ponder over, new motivational speech ideas, new projects for my school community such as mental health awareness campaigns, encouraging philosophy-related education, creating a more welcoming atmosphere, and much more. Shad filled my brain with so much knowledge and I can't wait to share all of it with my community.
Q: What are some of your goals for the future?
A: For one, getting accepted to a post-secondary institution would be nice. I hope to attend UBC, Sauder School of Business. In the future, I'd also love to visit Japan and do something adventurous such as going skydiving. I hope to continue helping my community in the future and to continue growing my stems until finally I am a tree – standing sagaciously with knowledge but still growing my numerical value of rings.