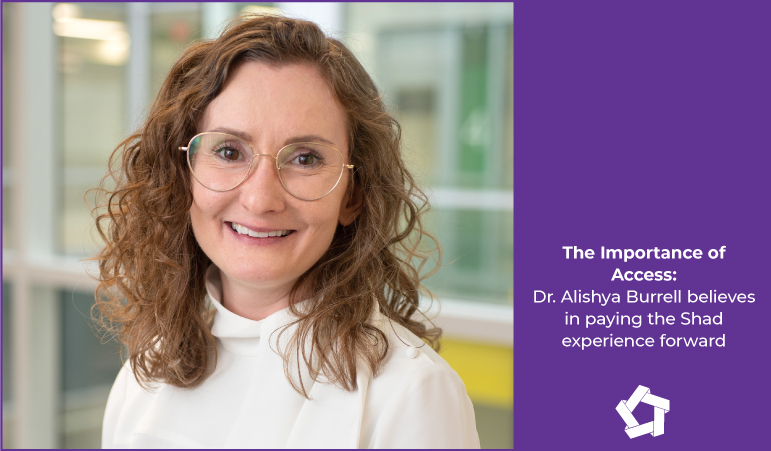 The Importance of Access: Dr. Alishya Burrell believes in paying the Shad experience forward
| November 2, 2023
Shad Stories
Categories:
Dr. Alishya Burrell knew she wanted to be a physician from a young age. She set her sights on studying medicine in elementary school and looked for every science-related opportunity that came her way as she moved through school. So, when someone at her high school told her about Shad, she knew it was something she wanted to explore. But going away to a month-long program wasn't something that came without barriers for Alishya.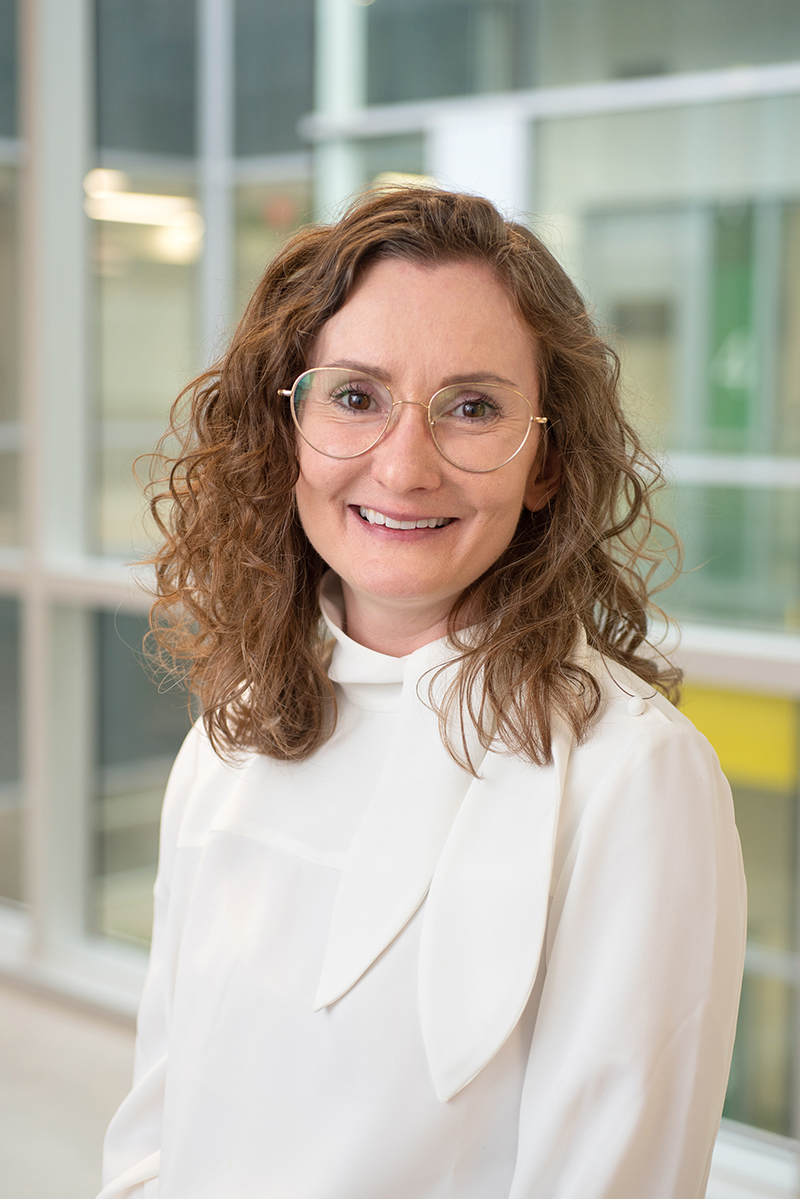 Alishya's parents had always been supportive of her academic goals, ensuring that anytime an opportunity for her to participate in a STEAM program arose, they worked to make sure she could be a part of it. However, as hardworking as they were, they did not have a lot of disposable income and so could not just say 'yes' to every program. Thankfully, Shad offers a number of financial support opportunities for students, including bursaries and scholarships, which Alishya was able to apply for and receive full funding to attend the program.
"I would not have had access to a program like Shad without funding, my family didn't have the resources for it. Without a scholarship, Shad would have been beyond my reach."
Growing up in a small, rural community, Alishya didn't always have access to programs like Shad. She went to a high school with only 500 students, and this small student body meant that there were no specialized classes or programs offered to challenge high achieving students. This made the Shad experience a truly unique opportunity for Alishya, since she didn't always feel she was able to connect with her peers on the subjects she loved.
"It was such an incredible experience to go away and work with other students who were more like me, who were really into math and science and who were passionate about those interests. Other students that I knew at my school at the time just didn't share those same passions, and so going to Shad and being able to connect with peers on that level was so rewarding."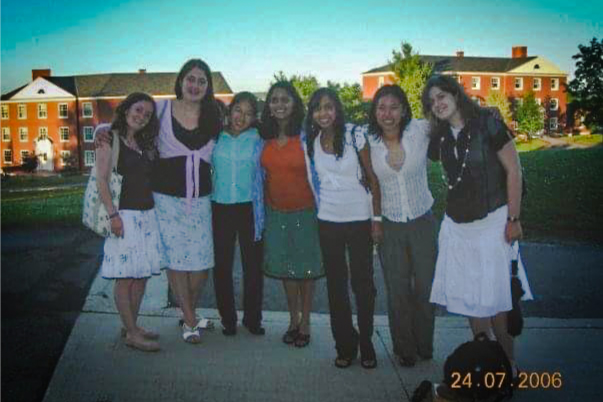 Alishya spent her Shad summer of 2006 at the University of New Brunswick (UNB) campus, which was both exhilarating and nerve wracking. She was thrilled to be connecting with like-minded peers and exploring new parts of the country, but she had also never travelled so far from her family.
"It was a bit overwhelming, it was my first time travelling and flying by myself, so it was a very new experience. I had done day camps on university campuses before, but nothing like Shad. There were people from all over Canada from different backgrounds, it was amazing."
Spending the month on the UNB campus and exploring life as a university student is what helped Alishya to see herself setting off on her own and applying to universities farther away from where her parents lived. She had originally planned to go to the University of Western Ontario because of its proximity to home, but after Shad, she decided she wanted to branch out, which is how she ended up at the University of Ottawa for her undergraduate before attending medical school.
"Shad really prepared me for university. Being able to go away to a campus and meet a ton of people who differed so much from people in my everyday life, it really helped to expose me to a diversity of views and backgrounds that I wasn't used to. It made the transition from high school to university that much easier. The experience of going somewhere away from home like that really gave me the confidence to believe that I was capable of going to school away from home, which is how I ended up in Ottawa for my undergraduate."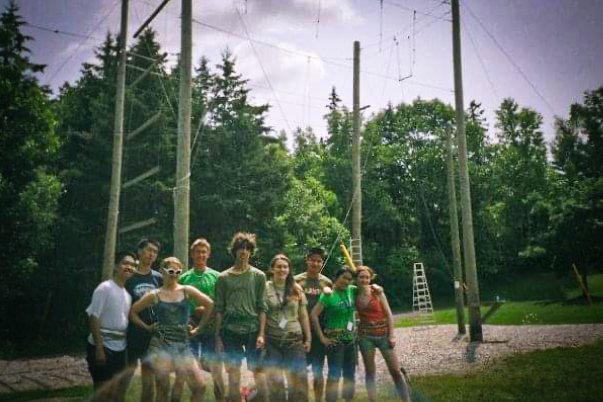 Beyond just preparing her for post-secondary, Alishya credits Shad with helping her to broaden her perspectives and grow in ways she hadn't anticipated.
"Shad opened opportunities that pushed me to put myself out there in ways I wasn't used to. Being an introvert from a small town, it was a big deal to go away for a month and surround myself with new people and experiences. It showed me that there was a lot I could do, and that I needed to do, in order to achieve the things I wanted to achieve."
An important part of the Shad experience is the access students have to mentors who inspire them to push their boundaries and to believe in their own ability to achieve amazing things. For Alishya, good mentorship has been a driving force in her own academic and professional journey, and she believes in the importance of young people having influential people in their lives who can help motivate and guide them towards their goals.
"Strong mentorship has been a theme for me throughout high school, university, and into my career as a physician. Having people that you can put your trust in, who will help to guide you along your path, even those who might change your path, is invaluable."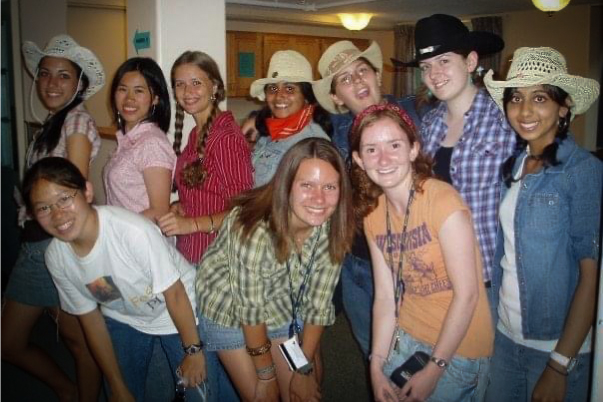 Now that Alishya is a practicing medical doctor in London, Ontario, she wants to help another student from her childhood community have the same opportunity to experience Shad. Knowing that there may be another young person who aspires, like she did, to push beyond the local limits, Alishya is funding a scholarship to Shad for a student from her former high school.
"A lot of smaller communities don't have access to specialized programs, they don't have the class sizes and population to warrant the introduction of certain opportunities, so I think making sure students in these communities know about programs like Shad and have access to them is really important."
Alishya believes her life might have unfolded differently if she had not received the scholarship to attend Shad, and she continues to be grateful for the lessons she learned from the program and the community she is still connected to. She hopes that funding a scholarship to Shad for a student who might otherwise not be able to attend will be a way to pay that positivity forward and help ensure someone deserving has access to the same opportunities as others.
"Taking down barriers for people from different socioeconomic groups is so important, and I'm glad Shad offers funding to help students like me attend the program. I'm in medicine where a large chunk of my medical school peers had doctor parents and came from a higher socioeconomic group. We need to be removing barriers so that students from different backgrounds and different perspectives have the opportunity to achieve without limits."