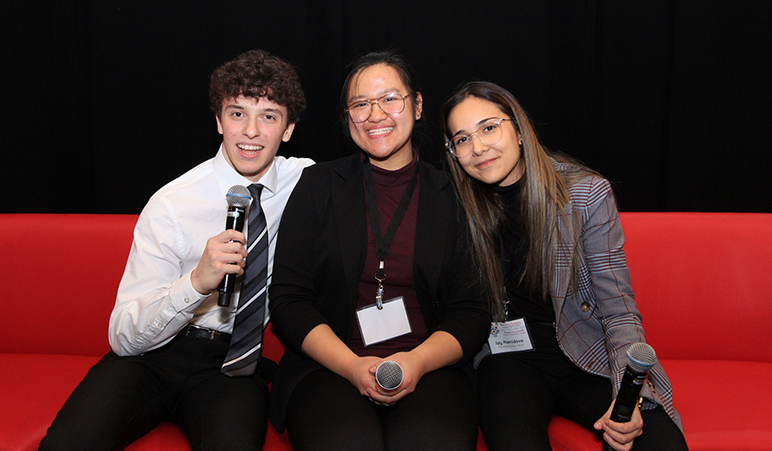 Shad Speaks at STAN – Calgary, Alberta
| April 1, 2020
Shad Stories
Categories:
In February, Kara Pettinger, Shad's Director of Strategic Initiatives moderated a panel discussing the gender impact on STEAM and entrepreneurship programs at STAN's 2020 Conference: Sparking Curiosity. Joining Kara onstage as our panelists were three Shad2018 alumni, JuliAnn Thai, Mohammed Al Habboub and Jay Hamidova.
During the panel, Kara presented Shad's extensive post-program evaluation aimed at measuring the impact of Shad programming on participants. New measures around transformation, access to mentors, and feeling like a changemaker were most interesting to the audience.
Our panelists discussed the data from the evaluation and spoke enthusiastically about the inclusive space created at Shad, and how the Shad culture of respect for others allows everyone to succeed in the program.
"[Shad is] everyone with diverse experiences, bringing in their own backgrounds and who they are, but once you interact with them, it all just disappears because each person has similar common goals and passions and that's what I really liked about [Shad], that we all had similar mindsets."

JuliAnn Thai
They also spoke at length about the benefits of the emotional intelligence they gained from participating in Shad and how that has matured them and helped them in their everyday lives.
"Shad isn't just Shad, like that place that you attended for 27 days. You start learning how to find Shad everywhere you go and cultivating those experiences – empathy and learning how to be emotionally more intelligent. That's something that we learned a lot about at Shad. Not just how to academically succeed, most of it is how to be a socially aware and passionate human."

Jay Hamidova
Each panelist felt they were introduced to ideas around building resilience during their time at Shad, and that they learned to accept that making mistakes is simply part of life and that you have to pick yourself up and keep going afterwards.
Jay, JuliAnn and Mohammed were very self-reflective and introspective about their personal Shad journeys and shared how their own experiences aligned with the new data collected by Shad. They also discussed how attending Shad further expanded their interests in science and entrepreneurship, all of which are the outcomes we work towards as we prepare each program.
"Something that stands out in the research in my personal experience is the identification with business, technology and entrepreneurship. I've always been a medicine interested guy, like I've always been into health sciences, and after Shad I found that I was more inclined to start my own initiatives, to explore other technological fields."

Mohammed Al Habboub
We thank each of them for making the trip out to Calgary for the conference, and for STAN for inviting us to present.
STAN is a national network open to all organizations and individuals committed to improving science and technology literacy for all Canadians. For more information, or to join, you can visit the STAN website.