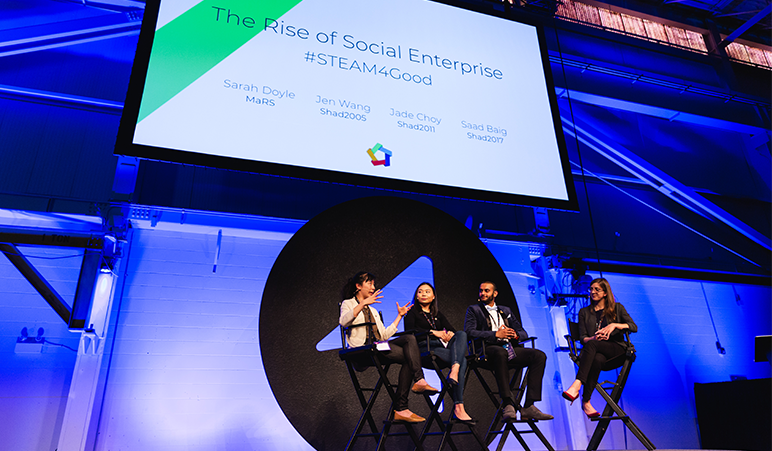 Shads share expertise on social enterprise at True North conference
| June 27, 2019
Shad Stories
Categories:
Saad Baig, Jade Choy, and Jen Wang are at different stages of their life, but they are all united in their drive to use #STEAM4Good.
They came together at the social enterprise panel for the first day of True North, a conference that features incredible thinkers who discuss the boundaries, potential and future of technology.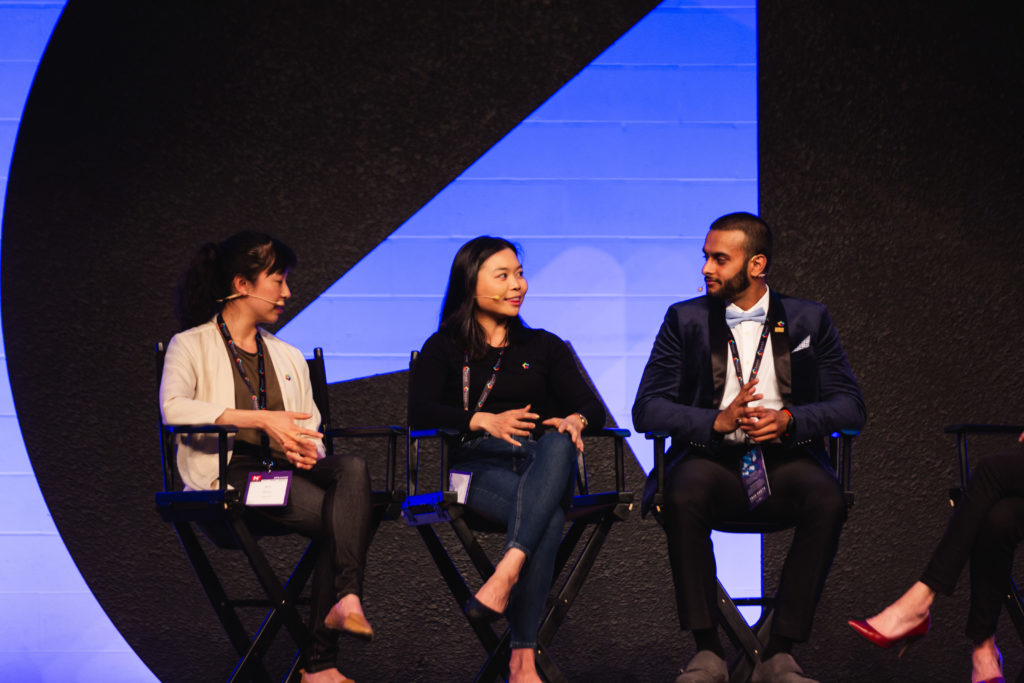 "Social enterprise should be seen as the new dominant business model," says Sarah Doyle, the moderator of the panel and the Director of Policy and Research at the Brookfield Institute for Innovation + Entrepreneurship.
According to the Deloitte Human Capital Trends survey last year, 77 per cent of respondents said that corporate citizenship and social impact were important corporate strategies—and all the panelists agree.
But aiming for a triple bottom line isn't the only thing that brings them together. They all attended the Shad program when their desire to make a difference was just being ignited.
"Shad made me realize that business can be a real form of change making that causes real impact," says Saad Baig, who just finished his first-year in engineering at McMaster University.
During the design project, where Shads are challenged to develop a product that solves a real-world problem, Saad and his team came-up with the idea of colour changing shingles that save energy by absorbing and expelling heat. It was Saad's first run-in with entrepreneurship and innovation, but not his last.
"The most important takeaway from a failure is that you can't let it slow you down, just take it as a lesson. It's okay to fail and for every idea not to become a great venture, but every venture comes from a great idea," says Saad.
CEO Jade Choy also hopes to spread positivity with her digital platform, EPOCH.
EPOCH is a human resources engagement platform that companies—including Deloitte and Shopify—can use to roll-out volunteer programs to employees.
"For us, it's all about connecting people," says Jade. "Right now, we are doing it through companies and local non-profits."
EPOCH started out as a tool to assist refugees integrate into new environments. Jade thought of the idea after seeing the magnitude of the refugee crisis while studying overseas.
Jade and her team competed as a finalist for the Hult Prize. Shortly after, they realized that the scope of EPOCH was too narrow to be sustainable as a business, so they went back to their original idea to make an impact in communities.
"Shad showed me the concept of starting something with impact in mind first," says Jade.
Jen Wang is a product manager at thredUP, an online marketplace that keeps impact at the forefront by selling secondhand clothing.
"We're really lucky that the more clothes we bring into the marketplace the better it is for consumers and for the environment," says Jen.
Coming from an extensive energy, consumer behaviour and natural resources background, you wouldn't expect Jen to lead mobile-app delivery at a fashion company. But she says fashion is one of the worse industries for environmental harm.
"When you reuse a piece of clothing, you reduce the carbon footprint by 80 per cent," says Jen.
Shopping trends are changing. Over the past three years, the resale apparel market grew 21 times faster than the traditional market.
Jen, Jade, and Saad are all embracing the rise of social enterprise and showing that innovation can lead to positive change. "We need more people to think about how they can deploy their potential for innovation and entrepreneurship in a way that is socially-minded," says Sarah Doyle. "Shad is helping to promote that type of thinking in young people."