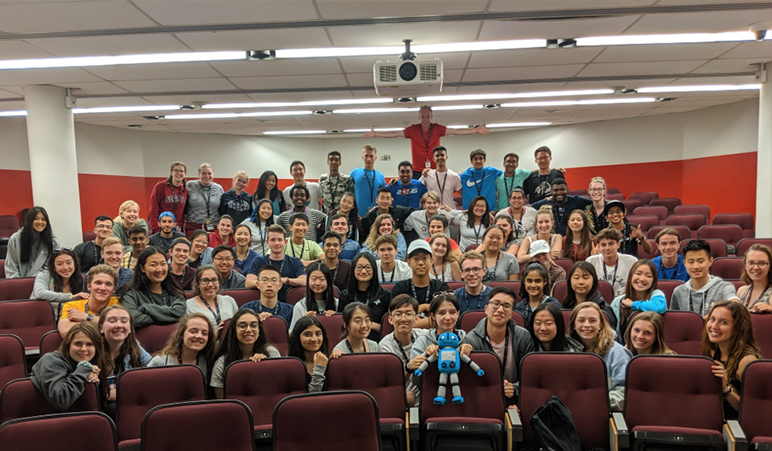 Shad McGill 2019
| July 3, 2019
Shad Stories
Categories:
Words from Mira Buckle, Shad2019
Wow, these first two days have been a blast. So many new faces, new foods, new places and new experiences. It's been a whole lot of "new." Shad provides such a wonderful program from what I've seen over the past two days. When I arrived on Sunday, I must say I was overwhelmed. I was trying to remember everyone's names while unpacking my suitcase in a brand-new room.
This was my first time being away from my family for more than 10 days, and to be honest, I was thrust into a new zone. Bruce Tracy the Program Director told us on Monday morning that Shad provides students with an opportunity to be in the learning zone which is outside of your comfort zone but not in your danger zone. This really helped me put my feelings into perspective.
The first couple of days have just been icebreaker activities, getting to know the PAs (program assistants), finding our way around the campus and making loads of new friends. I have been beginning to meet so many wonderful people, who are all in the same boat as me with this new experience, and my feelings of insecurity and homesickness have been slowly melting away. From morning to night, we have been go go go… but that is what is expected and the activities are so entertaining and interesting. I cannot wait to see what the rest of this month has to offer me and the rest of my Shad fam!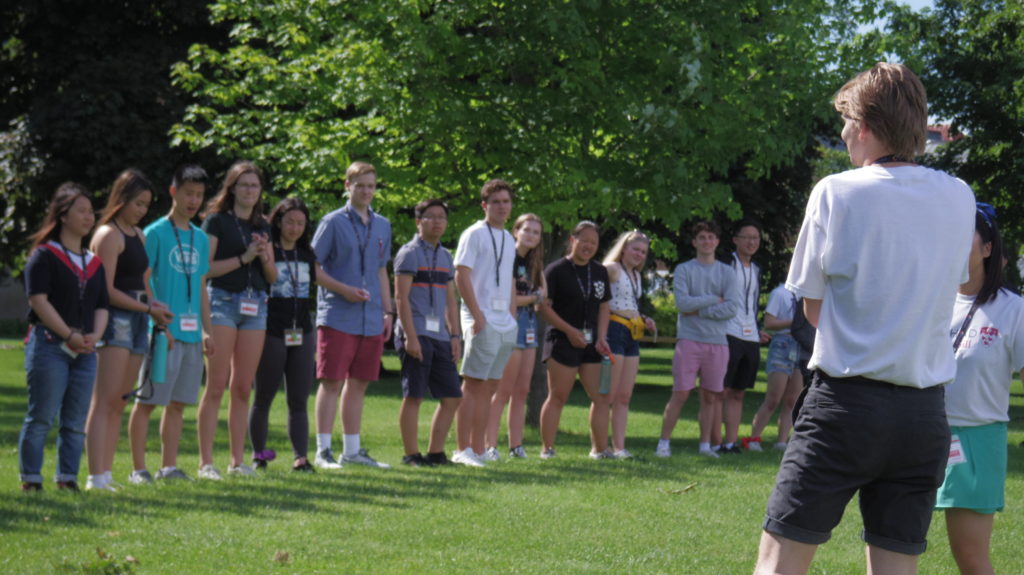 Words from Matthew Deo, Shad2019
On June 30, myself and 63 other high school students from across Canada assembled at the McGill University Macdonald Campus in Sainte-Anne-de-Bellevue, Quebec. Some of us arrived long before the program started, some of us, including myself, arrived after everyone had already done icebreaker activities. Some of us came from across the country in Vancouver, and others had a short drive from Ottawa.
We were welcomed by our friendly team of PAs (or program assistants), as well as our Program Director, Bruce Tracy. He assured us of any uncertainties we were harbouring with his signature mantra, "trust the process".
Activities among the 64 students started immediately on the first day, including an innovative challenge to create the tallest free-standing structure using only newspaper and masking tape.
Despite only being together for a few hours, it felt as if we had been there for several days already. In the coming days, we would go on to participate in a variety of different activities, including those that are academic and recreational. For example, the group took a short hike to the MacDonald Campus Farm and learned about how the facility promotes environmental sustainability through limiting the use of industrial farm equipment, eliminating pesticides, and the team working tirelessly to ensure that the farming continues smoothly.
Rec, or recreational activities, are an important part of the Shad experience. Regardless of a Shad's athletic ability, all are encouraged to wholeheartedly participate in team sports. All Shads are treated with respect by their teammates, opponents, and staff despite the differences they may have in experience or ability.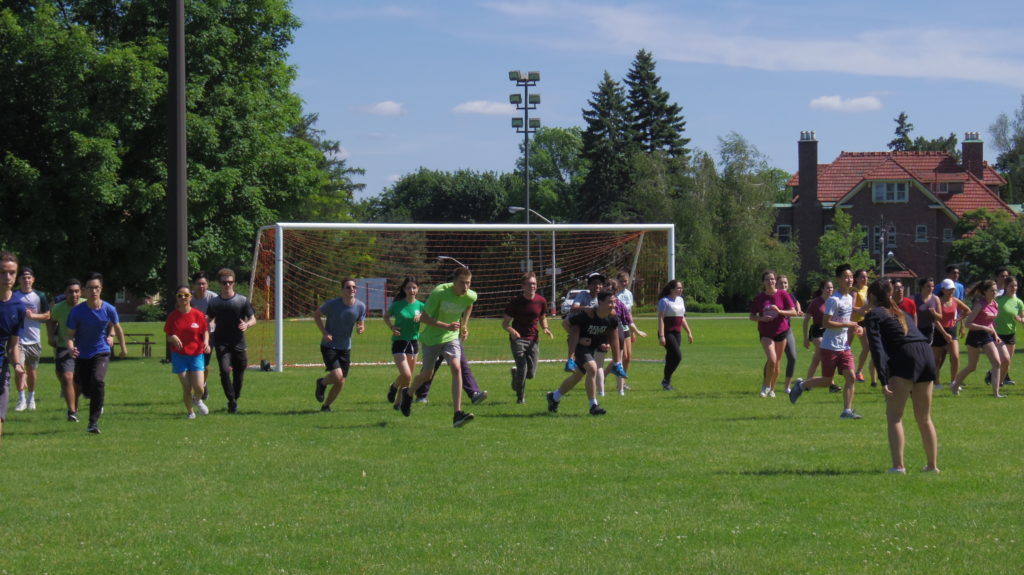 The same goes for the academic aspects of Shad. Whatever task that a Shad is presented with, they are encouraged to try their best, even if they do not meet the goal. They are encouraged to rely on fellow Shads, and to foster a true sense of community.
Community is fostered at Shad in a variety of different ways, with many different teams or groups that a Shad is/will be part of. This includes their recreational team, their committee team, and their project group.
Shads are encouraged to form connections with each and every other participant, and as such, strong emphasis is put on constantly mixing up groups.
Shad is meant to be a challenging program, and that challenge is well demonstrated by the lectures. A variety of accomplished individuals drop in to give lessons on topics that most Shads are unfamiliar about. They are encouraged to listen attentively and ask questions to discover more about the topics being discussed.
We still have many days ahead of us at Shad, but I expect them to go by quickly. I'm sure I speak for everyone in the program when I say that we're all looking forward to whatever awaits us, even if we don't know what that might be.
Words from Jillian Dhawan, Shad2019
So far, during my Shad McGill experience, I have been immersed in a lively, high-spirited and supportive atmosphere. From the day I first arrived, I was greeted with smiles and welcomed by joyful faces – this is when I immediately knew that Shad would be an experience that would have a positive and empowering impact on my life. From the start, the positive energy initiated by faculty members was contagious and radiated endlessly throughout the entire Shad group very quickly.
For me, one of the most memorable moments was an exercise performed at the very start of our journey. On a piece of paper all 64 Shads anonymously wrote down something we wanted to achieve throughout this month or a new identity in which we wanted to create for ourselves. Soon after, our responses were read out loud in a big group. Just like the other Shads, I felt safe and supported as we all took a collective risk to step outside our comfort zones and share something about ourselves that we found personal.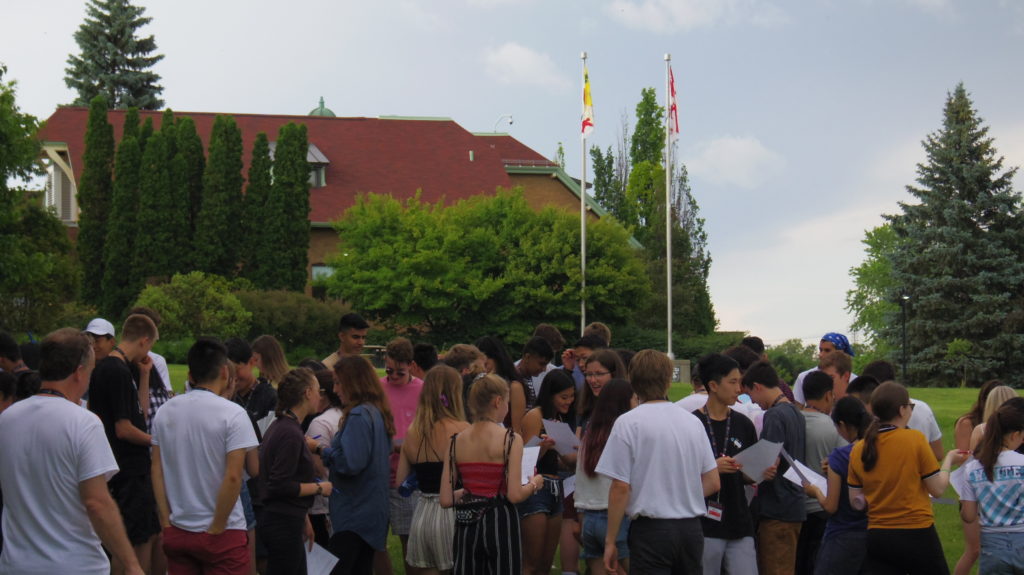 By performing this activity, I established two new learnings – the first being that there are many others, just like me, wanting to reach a common goal by the end of the month. We all want to form a tightly knit community of 63 new friends. To me, this represents the Shad Values (creativity, excellence, community, diversity and responsibility) as together we aspire to form a cohesive group with like-minded people to tackle any challenge no matter the situation. There are 63 other perspectives to consider with their own stories and experiences which will help shape the way problems are approached and eventually solved. The second learning is that at Shad, never take the easy path. Shad's mission statement is to empower exceptional youth to make the world a better place. To do this, we must be willing to put ourselves out there and to take those risks – to never close any door as the possibilities are infinite. We must follow through with our passions and desires without fear of failure or judgement. Failure must be accepted as a part of learning and that without it, we would not be able to succeed. Understanding that perseverance is key to solve the unsolvable is crucial.
Nonetheless, Shad is designed for individuals to have the confidence to think outside the box and to thrive in the face of challenges. I have learned to trust the process and I have no doubt that the Shad McGill experience will not only transform my life, but the lives of my 63 other friends. I'm ecstatic to see what this month has in store!
Words from Aunum Abid, Shad2019
I guess I can finally say that I've successfully completed my first full day as a Shad, and let me just say that it wasn't like anything I was expecting at all. In fact, it was quite the opposite to what I anticipated. As I headed up to my dorm room with my roommate Florence, I began to recap and reminisce on my first official day as a Shad. And at that moment as I was walking up the flight of stairs I remembered that I was completely terrified from the nervousness of coming to Shad, but I guess it's now safe to say that I know this month will be filled with life-changing, extraordinary experiences. I also remember recalling why I was so nervous in the first place and now that I think about it, I'm pretty sure I was nervous over the fact that I had to spend an entire month away from home, let alone an entire month with people I had never met before in my entire life. I've been away from home for a week at the max and the fact that I had to spend a whole month away really made me anxious at first. But despite these nervous thoughts I was extremely excited to start my summer at Shad McGill where I know I would get the chance to meet and make friends with 63 other like-minded, smart students! And after the first official day I knew that I would have the greatest summer with all 63 Shad-ies by my side (haha including the PAs of course).
The first day went by in a whirlwind! It started off a little hectic with all my flights from Saskatoon but once I got to Shad, everyone really made it feel like a second home. When I first arrived at Shad all the PAs were standing in a line at the front of Laird Hall, our new home for the next week of Shad. They were all so welcoming and I could clearly tell that they were equally excited about the following month of adventures in Montreal. Soon after I settled into my room and met my new roommate for the next month, I headed down to the lobby where everyone was waiting. I recall myself being flooded with nervousness while walking down the staircase but soon afterwards we all went out to a grassy field to play 'get to know each other games'.
The games started off with each PA taking a group of Shads each to play games such as 'two truths and a lie', 'graveyard' and 'mafia'. Everyone was introducing themselves and we continued to play these games for the following hour. Afterwards, we all played a bingo game to get to know each other's names. I tried my best to remember everyone's names plus the PAs', but it makes things harder when there's over 70 people's names to memorize. Alas, I still had an amazing time meeting everyone and getting to talk to them about the next month we'd spend together.
After we all had supper, we headed out again to start our recreational part of the night. This would have had to be my favourite part of the day because we got to do a strategic design challenge. All 63 of us had the challenge to use pieces of newspaper to create the tallest tower out of every group. My group started to lay out all our newspapers and began to converse amongst each other. We all had great ideas of how to stabilize the tower, what strategies to use to create the tower and how to organize our ideas so we could finish the project in enough time. And to our surprise, my group ended up winning the challenge! This was the most exciting part of the day for me because I got the unique opportunity to connect with eight different people at a personal level and it made me feel more comfortable in spending the rest of my month with them.
Overall, my first day experience of being a Shad was nothing like I was expecting, in fact it was really surprising in a good way. I realized at the end of the design challenge that I had nothing to be worried about because everyone at Shad with me was all in the same boat. Everyone was feeling the same emotions, and everyone was here for the same purpose. Everyone was here to achieve some purpose. A common purpose. And that's what I think Shad is really all about, everyone achieving a common purpose.