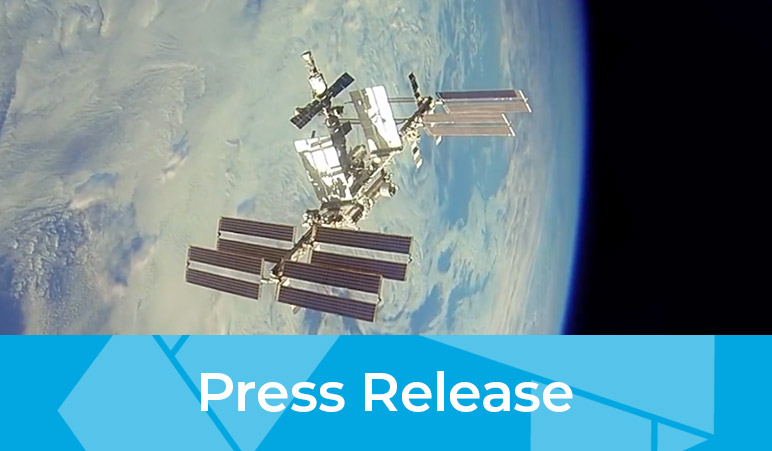 Shad 2018 theme revealed from the International Space Station
| July 5, 2018
Press Releases
Categories:
WATERLOO, Ont. – NASA and Canadian astronaut Drew Feustel surprised the 1,000 high school students attending the Shad program at university campuses from coast by coast by announcing the 2018 theme for the summer program via video message from the International Space Station.
"Canadians need to be ready for extreme events," Feustel said. "This year's challenge at Shad is to come up with some kind of solution to help Canadian communities be more resilient in a natural disaster."
Feustel is no stranger to Shad, the award-winning enrichment and entrepreneurship program meant to help empower change-makers and leaders of the future. His son Ari helps run Shad's newest host campus at McGill University, the 16th university to partner with the Shad network.
"Humans over the years have found solutions to big problems. As I look down at Canada, I see many opportunities for each of you participating in the Shad program," Feustel adds.
Shad, which runs until July 27, has served as an incubator for entrepreneurship and innovation. It boasts 17,000 alumni among its network including 32 Rhodes Scholars and leaders in many different fields.
One of Shad's unique elements is hands-on experiential learning through a design engineering challenge. Each year, the youth are presented with a complex and topical global issue. They then set out to find solutions by devising an original product or service, and learn the ins and outs of creating a startup.
"It's timely for Shad youth to think about extreme events which are happening more often and taking a bigger toll than ever before," says Shad President and CEO Tim Jackson. "Whether it's people in their homes or planning for a community, we are challenging our top youth to find ways to help us better prepare."
Shad has teamed up with a number of experts who will help Shad participants by serving as mentors and judges, including lead theme sponsor the Insurance Bureau of Canada.
"This is a pressing issue and one of national significance which is why we jumped at the opportunity to work with the Shad students," says President and CEO of the Insurance Bureau of Canada, Don Forgeron.
"Here in Canada, insurers have paid out billions of dollars in claims over the past few years related to floods, ice and wind storms, and other severe weather events. But it's not just the dollar figure- it's the toll that catastrophes, like flooding, take on the lives of those affected," Forgeron adds.
The students will spend the next month working in small teams, collaborating to design and engineer a new solution that addresses the problem. As part of this challenge, the teams will conduct market research, write business and marketing plans, and design and build digital prototypes showcasing their solutions on Shad's Open Day July 26.
-30-
ABOUT SHAD
Shad produces leaders for Canada through its award-winning, life-changing, pan-Canadian enrichment platform for high school students. Every year, Shad helps about 1,000 young Canadians tap into their full potential through an innovative month-long program at one of 16 partner university campuses. There, students apply STEAM (science-tech-engineering-arts-math) disciplines to real-life public policy and entrepreneurial challenges, forging insights and valuable relationships for life. Among its thriving global network of close to 17,000 Shad alumni and innovators are 32 Rhodes Scholars, 88 Loran Scholars, and 56 Schulich Leaders.
ABOUT THE INSURANCE BUREAU OF CANADA
Insurance Bureau of Canada (IBC) is the national industry association representing Canada's private home, auto and business insurers. Its member companies make up 90% of the property and casualty (P&C) insurance market in Canada. For more than 50 years, IBC has worked with governments across the country to help make affordable home, auto and business insurance available for all Canadians. IBC supports the vision of consumers and governments trusting, valuing and supporting the private P&C insurance industry. It champions key issues and helps educate consumers on how best to protect their homes, cars, businesses and properties.
For more information or to set up an interview, please contact:
Teddy Katz
Vice President, Media Relations | Shad Canada
media@shad.ca | office (519) 884-8844 ext. 226 | mobile (647) 505-8095
Vanessa Barrasa
Manager, Media Relations | Insurance Bureau of Canada
416-362-2031 ext. 4312 | vbarrasa@ibc.ca