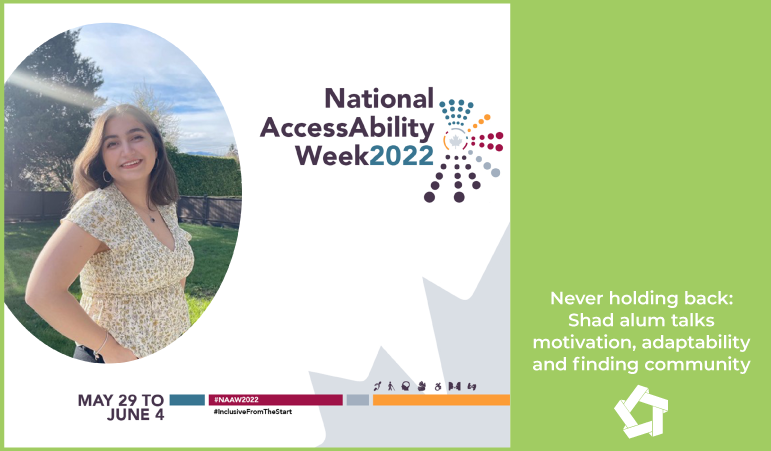 Never holding back: Shad alum talks motivation, adaptability and finding community
| June 2, 2022
Shad Stories
Categories:
The equipment Romina Naderi uses to see the board and take notes in class is cumbersome, and the available alternatives are worse. So, she did what she often does and created a customized solution.
Throughout school, Romina's visual impairment has required the use of a monocular, coloured lenses, magnifiers and various kinds of software on her computer to access learning materials and see the writing on the board. It's tedious to use and a lot to carry. When she starts university in the fall, the commute to campus will be longer and the distance between classrooms greater. The amount of equipment she would have to lug to her many classes is unmanageable. She modified what exists and designed a better system.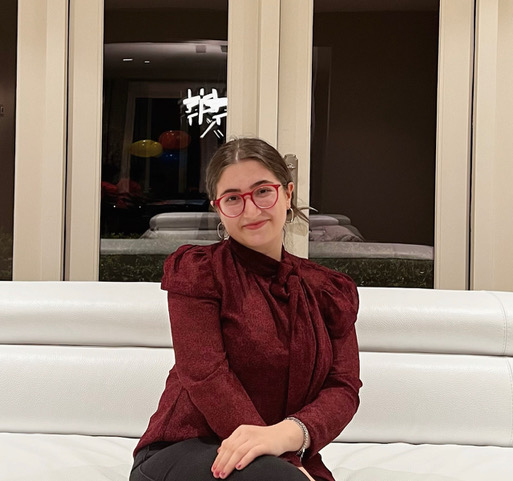 "One of the things I came up with was having a wireless camera, which I connect to my iPad. I could place it on the professor's desk and then I could see the screen on my iPad," she said. "I wanted a screen that would be right beside my paper. There was a lens that came with its own screen, and I could take the lens from that and connect it to a regular iPad with Bluetooth."
Romina has achromotopsia. It's a condition that includes a partial or total inability to see colour. Unlike colour vision deficiency—also known as colour blindness—where people can perceive colour but have difficulty telling the difference between certain hues, achromotopsia also involves sensitivity to bright light, a lack of clear vision, and involuntary eye movements.
"I can't see a lot of colours. I can't see more than two meters away. If someone walks up to me, I can't see their face," Romina said. "I'm also very light sensitive. That's why I'm always squinting my eyes or moving close."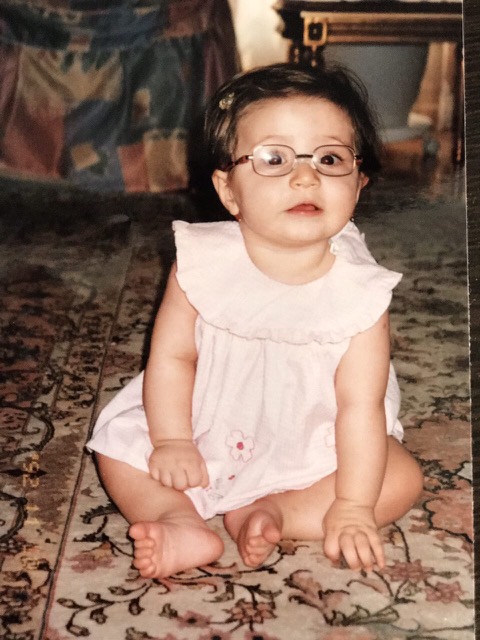 Achromotopsia affects about one in 30,000 people. The condition develops in infancy, but Romina wasn't diagnosed until she was in Grade 9. Not knowing what was happening or what she needed, elementary school was tough. Meanwhile, her older brother excelled.
"I always compare myself to him. My parents always motivated him to do higher, better things. For me, it was kind of the opposite," she said. "They were afraid of trying to motivate me to do better and would tell me not to pressure myself. I think it's all about the idea that someone with a disability can't do much."
Similarly, she recalls a conversation with one of her doctors a couple of years ago. He asked her about her career plans.
"I listed some of my options and architecture was one of them. He straight up told me, 'You can't do architecture.' He just said, 'You can't do it.'"
Romina realized she would need to motivate herself. She took up the violin. She had difficulty seeing the notes to play, so she memorized them. Interested in sports like volleyball and basketball, she found that she couldn't really see the ball. Instead of giving up, she found alternatives that better suited. Swimming, dance and yoga were safer, and the coach or teacher could describe the body movements for her. Romina went on to earn certification as a yoga instructor. Through her connection with a vision teacher who supports her learning, she met other young people with visual impairments and led yoga classes for them. Her experience as someone with partial vision informed her teaching.

"I really just want a closer community. I want to create a space for them," she said. "Around me there is a huge community of people with normal sight. But I want a community of people like me. That's where you build a network of people who can give each other advice and help each other."
She found another strong network at Shad in 2021. Her brother attended a previous year and told her she would find young people who are as motivated to study and work hard as she is. At Shad, she was exposed to students with varying interests, and experts and mentors from an array of STEAM fields. One guest speaker stood out for Romina, in particular.
Dennis Rovere delivered a presentation called Think Like an Architect and Build. A frequent guest speaker at Shad Calgary, his talk focuses on generating ideas, making decisions, and the importance of teamwork. Dennis is an architect. He also has a visual impairment.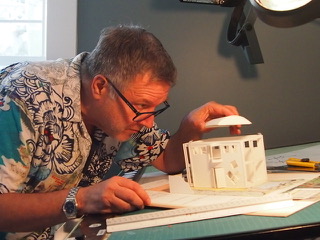 "He was inspiring," she said. "I called my mom and told her I just found someone who doesn't have full vision, and he's an architect. It motivated me."
An architect for more than 35 years, Dennis is also an award-winning author of non-fiction books. He lost vision in his left eye when a vein near the optic nerve exploded about six years ago. After a series of operations and regular treatment, he has regained partial vision in his left eye, though can read or do close-up work with only his right eye. He still designs buildings, with his most recent projects including a home and a church. He said Romina would have heard him explain that he has trouble shifting his gaze from his laptop to the big screen. His visual impairment isn't part of his presentation. He mentions it, but doesn't dwell on it, he says.
"I'm flattered," he said. "I appreciate the fact that people are inspired. But I want them to do things. People shouldn't be held back—especially young people."
At Shad, Romina enjoyed learning about computer-aided design, or CAD. It's software often used by engineers, designers, and architects. She even started to make designs on her own. It was a glimpse of a career she was once told she could never have. Learning about many career options at Shad helped her decide what she wanted for herself.
While studying yoga, Romina developed an interest in human movement and anatomy. She plans to study kinesiology at university then train to be a physiotherapist. While she now knows the career in architecture she once wanted is an option, she found something that works even better for her.