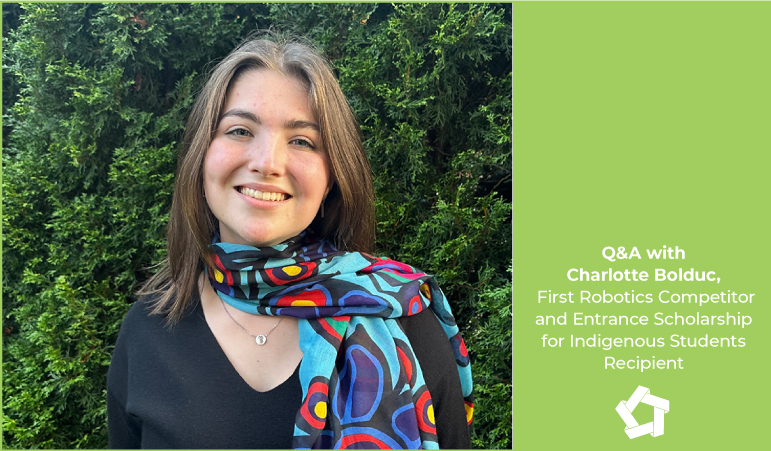 Q&A with Charlotte Bolduc, First Robotics Competitor and Entrance Scholarship for Indigenous Students Recipient
| October 12, 2023
Shad Stories
Categories:
Q: Tell us a bit about yourself.
My name is Charlotte, a 16-year-old student in the eleventh grade. I call Oakville home, embarking on a daily hour-long journey to immerse myself in Aldershot's I-STEM program. With roots tracing back to the Ojibway heritage, I share a profound connection with the land. I find solace in the pages of books, relishing in the exploration of diverse cultures and their unique ways of life. This fascination, coupled with an unwavering passion for environmental sustainability, has propelled me towards a future in engineering, with a focus on addressing critical environmental issues.
Q: What interests you about STEAM?
I'm driven to pursue STEAM and entrepreneurship because I believe in their potential to tackle critical global issues, such as climate change and social inequality. The nexus of technology and the environment is particularly intriguing to me, as it holds the promise of crafting inventive solutions to alleviate the detrimental effects of human activity on our planet. I'm motivated by the prospect of these fields catalyzing positive change and enhancing the well-being of individuals. In the future, I aim to delve into biochemistry research, furthering my contribution to these endeavours.
Q: What was the biggest takeaway from your Shad experience?
One of the most profound realizations I gained from my Shad experience was the transformative potential of collaboration and innovation in addressing societal challenges. Witnessing the collective efforts of diverse minds coming together to tackle real-world issues left an indelible mark on me. It underscored the notion that STEAM and entrepreneurship are not just academic pursuits, but powerful tools for creating positive change in the world. This experience instilled in me a sense of purpose and a deepened commitment to using my skills and knowledge for the betterment of society.
Q: At Shad we are leaders in social innovation, how do you plan to use #STEAM4Good?
Embracing the ethos of #STEAM4Good, I envision utilizing the convergence of science, technology, engineering, arts, and mathematics to pioneer solutions that address pressing global challenges. My focus lies in the realm of environmental sustainability, where I intend to leverage innovative approaches to mitigate the impacts of human activity on our planet. Through interdisciplinary collaboration and a steadfast dedication to ethical and sustainable practices, I aim to lead initiatives that not only preserve our environment but also uplift the communities that depend on it. By applying the principles of social innovation, I aspire to leave a lasting positive legacy that echoes Shad's legacy of impactful leadership.
Q: What lessons would you share with incoming Shads?
Embrace every opportunity to collaborate, learn, and innovate. Challenge yourself to think beyond boundaries and never underestimate the impact you can make through your unique perspective and skill set. The journey ahead is bound to be transformative, and the lessons you carry forth will undoubtedly shape a brighter future.