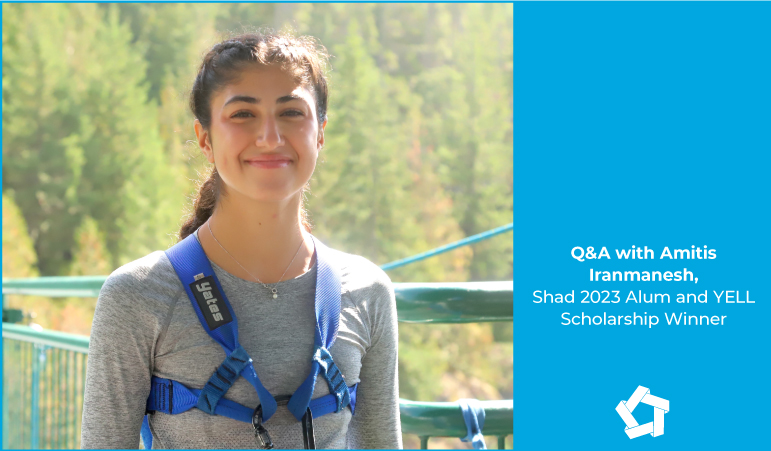 Q&A with Amitis Iranmanesh, Shad 2023 Alum and YELL Scholarship Winner
| October 5, 2023
Shad Stories
Categories:
Q: Tell us a bit about yourself.
My name is Amitis Iranmanesh and I am in Grade 12 at Sentinel Secondary School in West Vancouver, British Columbia. I love the outdoors and moving my body, whether it's from playing sports to going camping or doing crazy things like bungee jumping. I also think our hands hold so much power and I really love doing things with them including making jewelry, crocheting bags, and making friendship bracelets and scrapbooking. I think these kinds of things are really valuable, even if they are not consistently kept up with. I am motivated to pursue engineering in my post-secondary education, however I used to be terrified of going into university. I did not want to leave high school, and really dreaded the thought of university. I applied to Shad last year not thinking much of it, and the experience really was the best of my entire life, and it had really changed my perspective on university. Instead of dreading it, I now look forward to it, and I think that that mindset has really benefited me.
Q: What motivates your interest in entrepreneurship?
Throughout my high school career, I've made sure to seize every entrepreneurship opportunity despite never having a major interest in business. However, the applicability of entrepreneurship across all fields, especially engineering and tech industries, is what keeps me motivated to continue taking these opportunities. Both my programs between YELL and Shad have had an entrepreneurial angle to them, which I think is important to explore and learn, no matter what you want to do in the future.
Q: What was your biggest takeaway from your Shad experience?
I hate giving the cliché answer, but my biggest takeaway was definitely the friendships I made. I remember going on the Shad website before applying and seeing all of those quotes and videos of Shad Alumni talking about having the time of their life and meeting the best people and if I'm being honest, I had doubted having a similar experience. But I was definitely proved very wrong. I was extremely lucky to land amongst a group of really amazing people that all got along amazingly well. I found many close friends and a few best friends, and even though my Shad experience was full of so many takeaways, I think that what really made my Shad experience the best of my life, was the people. Not only the Shads, but we also grew really very close to the staff and I think that that made all the difference.
Q: At Shad we are leaders in social innovation, how do you plan to use #STEAM4Good?
I want to study engineering, most likely civil, in university and I stand for a lot of social and environmental issues, and it is my goal to create a disruptive innovation or technology that can help tackle climate issues and be able to create a company out of it to make a real impact.
Q: What lessons would you share with incoming Shads?
It is normal to be scared to give up half of your summer with your friends and leave home. It's normal to be nervous since it is a new experience. But it's also imperative to go into the Shad experience with an excited and positive 'ready to make friends' mindset. Because it is normal to be a little bit negative and sad on your trip there, but if you enter with a negative mindset when you arrive, it will just take away from the experience.