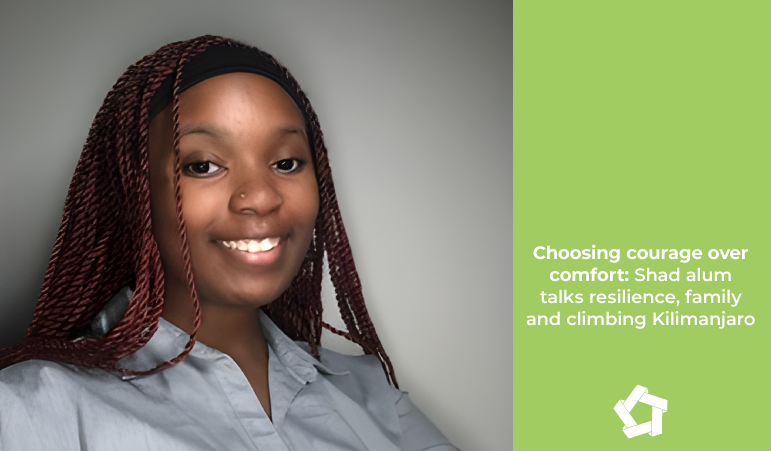 Choosing courage over comfort: Shad alum talks resilience, family and climbing Kilimanjaro
| April 21, 2023
Shad Stories
Categories:
When Maria Muiruri started her climb of Mount Kilimanjaro, she knew it would be a gruelling trek to the top. What she didn't know was the hardest part would be coming down.
At an elevation of 5,756 metres—less than 150 metres from the summit—Maria twisted her ankle on the rocky terrain. She realized that after days of climbing, she was not going to reach the summit before her group needed to head back down the mountain. They had to make it to basecamp by nightfall.
"It was one of the hardest things I've ever done. It was a lot of physical endurance and mental strength to keep going even when your feet are hurting and you can barely feel your toes.  It's hot and then cold, and then hot again and it's raining," she said. "I was really upset I didn't make it to the top. But when I reflected on it later, I realized it's still such an accomplishment to have made it that far, and to have made it down after rolling my ankle."
That challenge in Tanzania last winter wasn't the first time Maria pushed herself beyond her comfort zone. But by then she had a name for it. She first heard the phrase courage over comfort while attending Shad online at the University of British Columbia in 2021. It was a theme for her cohort and something she heard frequently at Shad. More than a slogan or catchphrase, it's a philosophy that inspired her when she was at Shad UBC. It still guides her.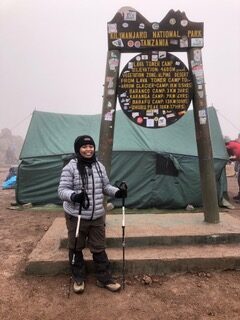 "Although I came into Shad interested in robotics and tech, there were people there who had already coded their own apps and were building so many different cool things," Maria said. "I wasn't at that level, so it was more just being comfortable not knowing the most in the room and being open to learning, but also making the most out of an experience."
Jess Tang, program director at Shad UBC, describes choosing courage over comfort as a foundation of that program, and it's an expression they use often. She credits the idea to Brené Brown, professor, researcher, and author. Dr. Brown's TED Talk on the power of vulnerability has more than 60 million views.
"The way they are going to get the most growth out of the program is if they put themselves out there, they are courageous and in every interaction they have they choose to be vulnerable and show up authentically," she said. "If we can get these high-achieving youth to start thinking about that, and to recognize that great and effective leadership comes from how vulnerable they're willing to be, that's when I think the magic happens."
A self-described shy person, Maria took these words at Shad to heart and felt motivated to engage with guest speakers or to ask other students if they wanted to hang out at the end of the day. As Shad was virtual then, her cohort staged living room concerts online where the Shads were the performers, and they watched movies in their online chat. These social events along with the technical aspects of the program were her favourite parts. She still has the learning materials she got in the mail for hands-on learning and experiments. Maria has made lasting friendships with students across the country. She hopes many more others will get to have the same experience.
"I know Shad has some initiatives to increase opportunities for Black youth to attend Shad, which is great because I think there are a lot more Black youth in STEM. Even in my robotics program I've seen a lot more in the last few years, and I hope those students will apply to Shad as well," she said.
After Shad, she embraced that adventurous spirit when applying for university. She originally thought she would apply only to Canadian schools. But, to expand her horizons, she decided to try for some that didn't have the familiarity of home. Maria settled on the University of North Carolina-Chapel Hill, where she plans to study political science and international relations. She won a coveted Morehead-Cain scholarship to attend.
"Even though the U.S. is not so far from Canada, I thought at least apply for it, maybe attend a school with a different culture a little bit farther away so I have to manage things on my own," she said. "I thought it would also be a really good opportunity because even reading about the options they had, their gap-year programs and the different summers they offer to students who get the scholarship, I thought those might also be really beneficial for me."
The Morehead-Cain Foundation selects scholarship winners based on their character, athletics, academics and leadership skills. The award helps fund a gap year with international experiences. Maria's trip to Tanzania and Kilimanjaro was with some other scholarship winners she met. And she just got back from Kenya, where she and her mother spent time with family so Maria could research their family tree.
She is especially keen to know more about her great-grandparents, who were members of the Mau Mau, a militant group who revolted against British colonial rule in Kenya. The Mau Mau uprising was a war between the Mau Mau and British authorities in the 1950s. The human rights commission in Kenya puts the resulting number of executed, tortured or mutilated Kenyans at 90,000 with nearly double that number detained in terrible conditions. As part of the International Baccalaureate Diploma Programme while in high school, Maria completed a 4,000-word essay on the group. As a result, she already had a sense of what her relatives would have endured.
"When I was in Kenya, I was able to talk to my great-uncle about more specifics, even about how his parents being in detention affected him and his siblings when they were growing up and being raised by community members," she said. "Or the impact of what they saw, or even their quality of life when their dad was well off before, but then because he was a Mau Mau fighter, he went to detention."
Maria marvels at the fortitude of her great-grandparents and her grandparents. The latter still sent their children to good schools and saw them immigrate to Canada, where Maria and her siblings were born.
Maria's convinced that choosing courage over comfort in her own life has had already had a positive effect on her life.
"I think it's opened up more opportunities for me," she said. "It exposed me to new experiences I would not have had if I didn't have the confidence to go for them."
And when you do, as she noted on Kilimanjaro, the views can be spectacular.