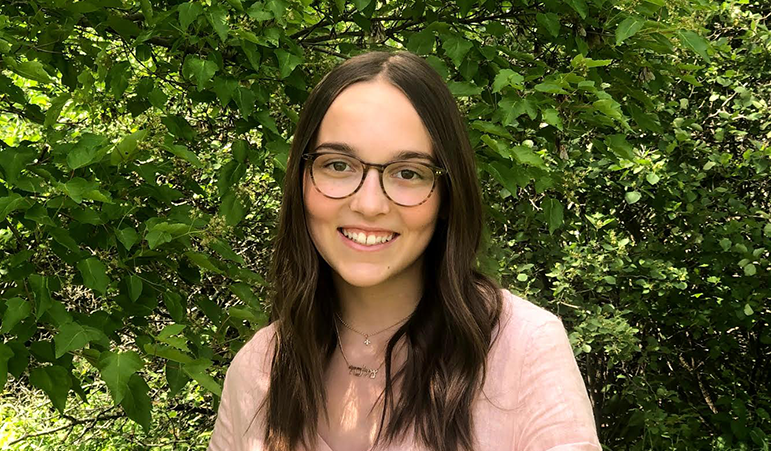 Loran Scholar 2021: Emma Harris
| April 13, 2021
Shad Stories
Categories:
Q: How did you feel when you received the news?
A: I don't think I'll ever be able to properly sum up how I felt when I got the call, but overall, I was immensely grateful, not only to have been named a Loran Scholar, but for all the support I've received that helped me get to that point—whether that be from friends, teachers, mentors, or my family.
Q: How significant is it for you personally to become a Loran Scholar?
A: It truly has changed my life and my future. Not only does being named a Loran Scholar mean I get to pursue my dreams and study outside of my home province, but it will provide me support and mentorship throughout university that is immeasurable in value.
Q: What lessons did you take away from your Shad experience? Were any of them helpful through the Loran selection process?
A: For me personally, I think the biggest thing I took away from my Shad experience was that you can still create lasting and valuable connections through a virtual platform. Going into Shad I was nervous that I wouldn't be able to genuinely connect with others, which was definitely not the case. This was the first year that the Loran selection process was completely virtual, which I think made it difficult for lots of applicants. I truly believe the Shad online experience made me feel more at ease while meeting new people online in Loran interviews, something I couldn't be more thankful for.
Q: What are you hoping to do after graduation? Do you have a long-term goal in mind in terms of the change you'd like to make or be part of?
A: I plan on pursuing engineering at the University of British Columbia next fall. I'm passionate about food insecurity and hope that my work as an engineer could help change the way we plan and design cities and in turn, help eliminate food insecurity in Canada.
Q: What advice would you give an incoming Shad2021?
A: My biggest advice would be to be yourself and embrace every moment. Becoming a Shad alumni means you have the potential and the drive to be a change maker in your school, community, and the world—don't ever forget that.
Want to meet the other 2021 Loran Scholars? Continue reading here!