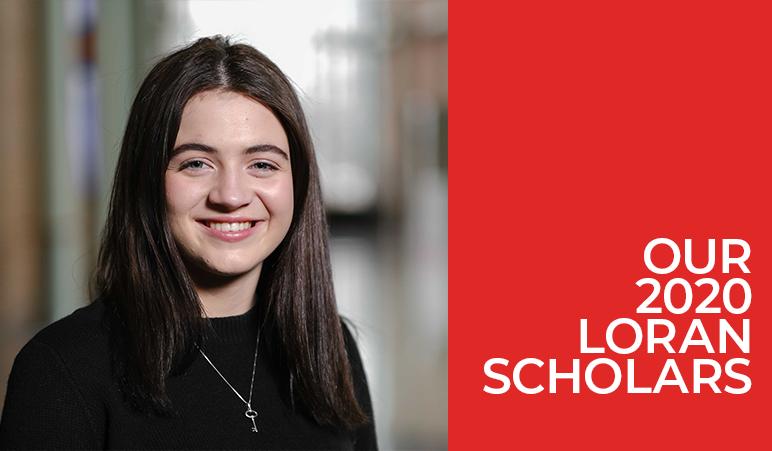 Loran Scholar 2020: Heather Chisholm
| March 11, 2020
Shad Stories
Categories:
Heather Chisholm, Shad2018, has been awarded with a prestigious Loran Award—a $100K investment for dedicated Grade 12 students pursuing an undergraduate degree. To date, 97 Shads have received the award. And like the rest, this year's recipients are changemakers to keep an eye on!
Read below about Heather's reactions to being chosen and how Shad played a part.
Q: How did you feel when you received the news?
A: I was extremely stunned and couldn't seem to get out the right words. I called my mom right after and that's when it started to sink in. After having met such wonderful people and learning about all of the incredible opportunities and adventures Loran offers, I couldn't believe that this might be something I could be a part of!
Q: How significant is it for you personally to become a Loran Scholar?
A: Incredibly so! This is something that I've been really interested in for a while. I actually first learned about the opportunity through Shad and since then have wanted to be a part of such an amazing network and family. I've learned through the selection process – similar to Shad, just how tight-knit and inspiring the Loran community is.
Q: What are you hoping to do after graduation? Do you have a long-term goal in mind in terms of the kind of change you'd like to make or be part of?
A: I am hoping to study political science and foreign relations at McGill and potentially look towards a career in foreign policy or maybe towards law. I am very passionate about education systems and human rights, so perhaps I will focus on those areas.
Q: Do you believe your time at Shad had an impact on your Loran Award?
A: Definitely, Shad really opened up my eyes to the opportunities out there and how many passionate and like-minded people there are out there. It was a really eye-opening experience for me and inspired me to dream about more possibilities.
Q: What advice would you give an incoming Shad2020?
A: The most important thing I can think is to fully embrace the experience. It can be scary to put yourself out there in a new group, but with Shad you will not regret it. Take advantage of all the chances to connect with all of the other Shads and commit to fully being a part of the experience. Immerse yourself into the experience and be proud of everything that makes you unique. The people you meet and the memories you make will last forever.
---
Read interviews with each of the other 4 Shads who were awarded the Loran Award.
We are always excited to see the progress and accomplishments of all of our Shad fellows, so if you have a story to tell, let us know.
Photo credit: Eric Choi (Edge Imaging)