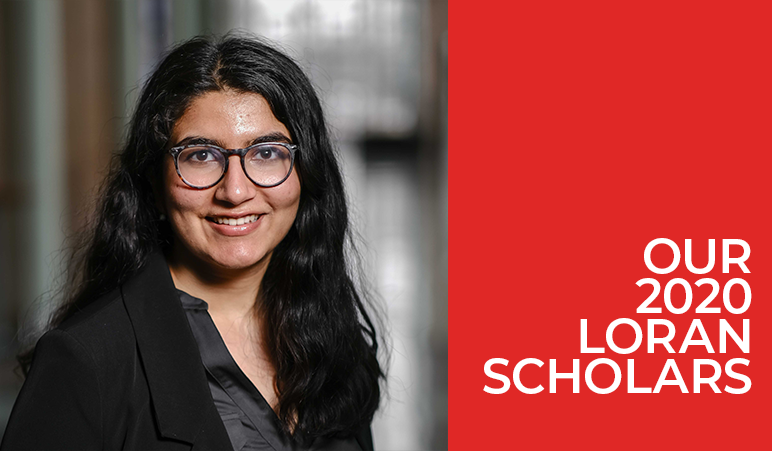 Loran Scholar 2020: Dhanishta Ambwani
| March 11, 2020
Shad Stories
Categories:
Dhanishta Ambwani, Shad2019, has been awarded with a prestigious Loran Award—a $100K investment for dedicated Grade 12 students pursuing an undergraduate degree. To date, 97 Shads have received the award. And like the rest, this year's recipients are changemakers to keep an eye on!
Read below about Dhanishta's reactions to being chosen and how Shad played a part.
Q: How did you feel when you received the news?
A: I felt really grateful when I got the call and I was honoured; all the finalists I met were so passionate and more than qualified, I was honoured that I was chosen to be a part of such an accomplished community. I was overwhelmed with emotion and it was hard to process but in general I feel excited for what is to come next!
Q: How significant is it for you personally to become a Loran Scholar?
A: I am humbled to be selected as a Loran Scholar; it is more than a scholarship, but a program chalk-full of opportunities for growth and learning. At finals, I saw firsthand how supportive, encouraging and open the Loran community is and I am truly grateful to be a part of it. I am looking forward to the mentorship and have the opportunity to contribute to the community as well.
Q: What are you hoping to do after graduation? Do you have a long-term goal in mind in terms of the kind of change you'd like to make or be part of?
A: After graduation I am hoping to study Sciences and Arts with a general goal of working in the health field. I am passionate about public health issues as well as equal access to healthcare and hope to contribute to creating change in this area. I will continue to give back to the community I grew up in that shaped the person I am today.
Q: Do you believe your time at Shad had an impact on your Loran Award?
A: Shad allowed me to reflect on who I truly was as an individual and who I want to be, away from everything I am familiar with. This insight really helped me while going through the Loran selection process. I believe that my experiences, friendships and opportunities at Shad also made me more confident which led to me applying for the Loran Award.
Q: What advice would you give an incoming Shad2020?
A: The best advice would be to go to Shad with only an open mind; forget your preconceived notions about certain fields or subjects and just absorb everything and learn. Shad is such an amazing program because you learn different things, in different fields of study almost every hour, so take advantage of it! Also, don't hold back. If there is a place to experience new things or new ideas and to push yourself out of your comfort zone, it's Shad. Finally, enjoy every moment because it goes by so fast!
---
Read interviews with each of the other 4 Shads who were awarded the Loran Award.
We are always excited to see the progress and accomplishments of all of our Shad fellows, so if you have a story to tell, let us know.
Photo credit: Eric Choi (Edge Imaging)