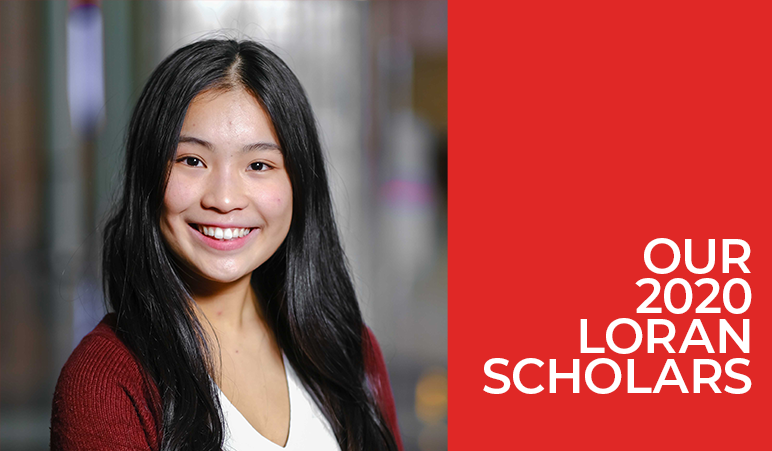 Loran Scholar 2020: Anson Yu
| March 11, 2020
Shad Stories
Categories:
Anson Yu, Shad2018, has been awarded with a prestigious Loran Award—a $100K investment for dedicated Grade 12 students pursuing an undergraduate degree. To date, 97 Shads have received the award. And like the rest, this year's recipients are changemakers to keep an eye on!
Read below about Anson's reactions to being chosen and how Shad played a part.
Q: How did you feel when you received the news?
A: I felt a combination of happiness, surprise, and relief. However, I didn't believe it at first. In fact, I ended up calling the Loran Foundation back to double check if that I had not heard correctly. After the shock wore away, I started to think about all the possibilities that had opened up for not only me, but my family as well.
Q: How significant is it for you personally to become a Loran Scholar?
A: As cliché as it sounds, I think the award is completely life changing. By talking to current Loran Scholars during the national selection weekend, I came to understand the incredible experiences that would be granted as part of the Loran family. For me personally, this award means pushing myself out of my comfort zone for the next 4 years by attending university out of province and pursuing unconventional internships—and I wouldn't have it any other way.
Q: What are you hoping to do after graduation? Do you have a long-term goal in mind in terms of the kind of change you'd like to make or be part of?
A: After graduating, I hope to apply technical knowledge from my degree to work on projects concerning the development of sustainable systems. Whether it be reducing food waste or developing new forms of public transit, I want to address smaller subsects of environmentalism that compose the larger issue. Aside from career, I want to eventually script and direct a film or documentary.
Q: Do you believe your time at Shad had an impact on your Loran Award?
A: For me, Shad was the embodiment of everything that I needed at that point in time. Although the experience exposed me to new ideas about concrete engineering, intellectual property laws, and neural network, Shad didn't necessarily show me what ideas to think about, but how to think about ideas. I thought that the solutions-based approach influenced me to be an arbiter of change in issues I care about. Not only so, but the friends I met at Shad Ryerson in 2018 still push me to better myself to this day. Funnily enough, when I got the call from the Loran Foundation for the award, I was actually among the company of other Shad Fellows for a reunion.
Q: What advice would you give an incoming Shad2020?
A: You get out what you put in. The reason why there are such diverse experiences with the same program is largely due to how much you immerse yourself into what Shad has to offer. My personal advice is to put away your phone, connect deeply with those around you, and allow yourself to be unabashedly nerdy for the next month.
---
Read interviews with each of the other 4 Shads who were awarded the Loran Award.
We are always excited to see the progress and accomplishments of all of our Shad fellows, so if you have a story to tell, let us know.
Photo credit: Eric Choi (Edge Imaging)