LGBTQ2S+ advocate shares their identity and the power of the written word to change minds and hearts
| June 13, 2023
Shad Stories
Categories:
Growing up as newcomer to Canada, having immigrated from China, Luna Yin (she/they) struggled to connect to the Asian part of their identity, feeling it sometimes conflicted with their desire to fit in with their peers and avoid feeling different. This feeling of conflict grew as they came to terms with their sexuality and their connection to the LGBTQ2S+ community. Not only did both aspects of their identity make them feel "othered", but they were also at odds with each other, as they were aware of the lack of acceptance shown towards the queer community in many Asian cultures.
"When I was younger, I felt that if I was queer, I couldn't be Chinese, because what I knew about China was that the government (the Chinese Communist Party) doesn't like gay people, they are not accepted. And so those two aspects of myself were in conflict, I couldn't be both."
Thankfully, Luna was able to take those feelings of adversity and channel them into their work with Dear Asian Youth, a not-for-profit "run by Asian youth, for Asian youth." It's a global network of the Asian diaspora connecting through literature, podcasts, digital campaigns and conferences to share with and support other Asians.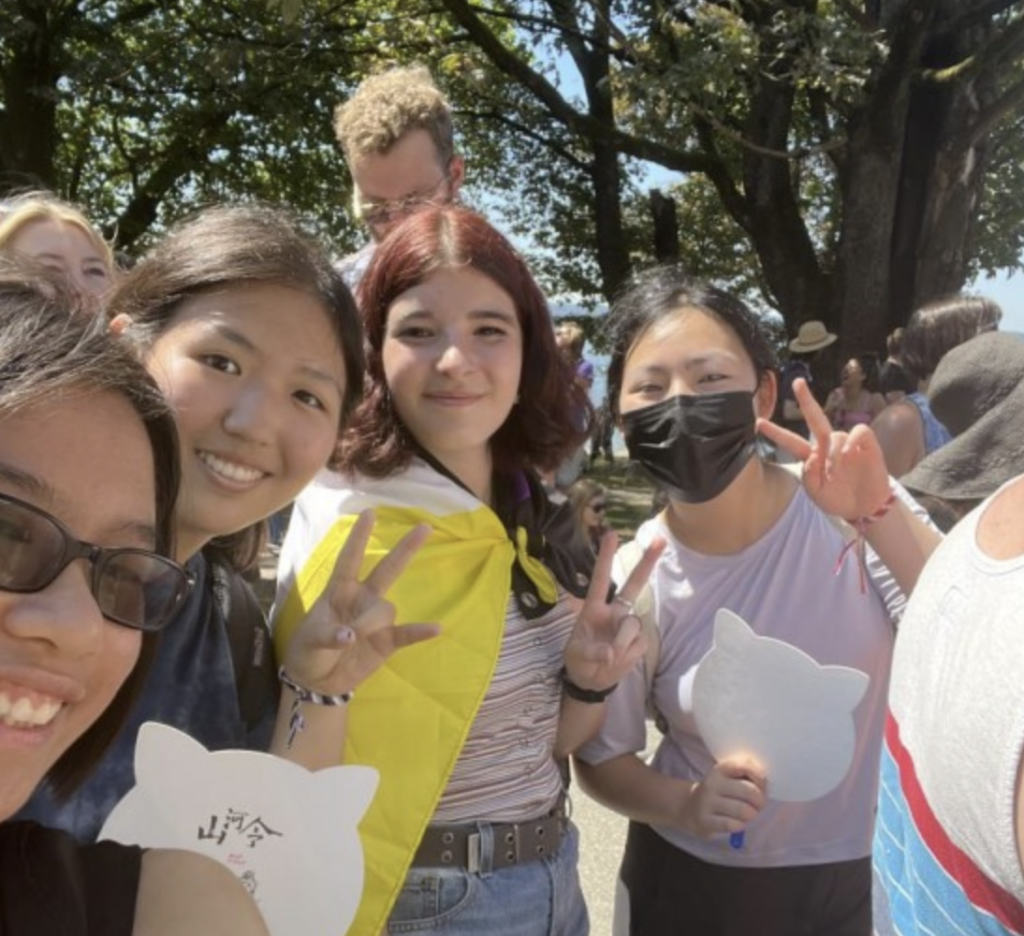 Luna with peers at Pride in Vancouver
Through the Dear Asian Youth platform, Luna is able to amplify the voices of fellow members of the LGBTQ2S+ community as Deputy Editor in Chief, working with a team of writers and editors to use poetry and other written works to share their experience with identity.
"One of my favourite pieces from a writer on my team called 'Transformation' involves the use of a Chinese legend to relate how the writer felt excluded from her family and how she felt a sense of unbelonging when she went to visit her hometown after coming out a year earlier."
Luna believes these pieces can have a meaningful impact on others reading the stories who might be experiencing something similar. It's important for others to know that they aren't alone, that there are other members of the community who have felt similarly and can relate to what they're going through. These forums provide a safe space for Asian members of the LGBTQ2S+ community to feel accepted and supported, as they do not always feel accepted at home due to the stigma attached to the queer community within some cultures.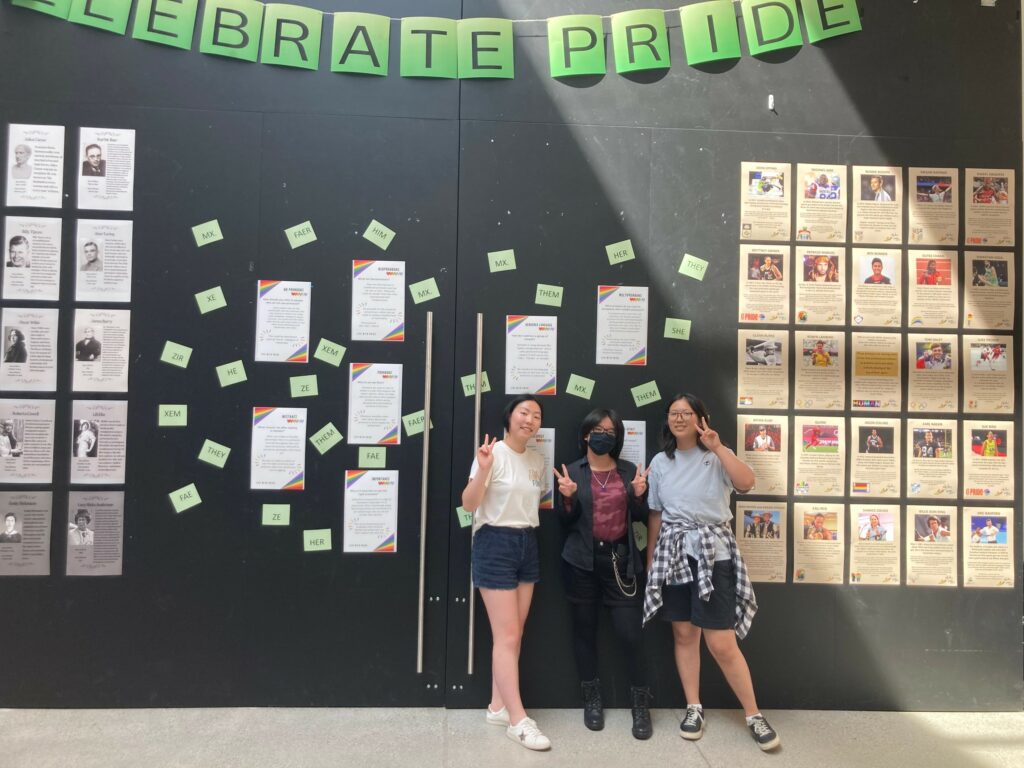 She also believes it is important for ethnic minorities in the LGBTQ2S+ community to see themselves represented in art and the media as a means of fostering self-acceptance.
"We did a lot of written coverage when 'Everything, Everywhere, All at Once' came out because it meant so much to see a protagonist who was both Asian and queer. We have so few examples of that, and it was incredible for me. Just a few years ago, it was so hard for me to find literature or representation in media where I felt like I was seen. And now more diverse content is coming out, and I am so proud to be contributing to that through Dear Asian Youth."
Luna uses poetry to express their own experience with identity. She won a Silver Key Award from the Scholastic Art and Writing competition for a collection titled "fragments; white lilies", which relates to their experience identifying as queer and not receiving the support they need from their family. "Writing for me is so cool because it's a place where I can explore these aspects of myself, and I love that my work with Dear Asian Youth allows me to help others express themselves using that same outlet."
Along with representation, Luna feels having an accepting support system is vital for members of the LGBTQ2S+ community, something she found during her time at Shad in 2022 at the University of Calgary. "My Shad experience helped me so much in the work I am doing with Dear Asian Youth because I left there with a new sense of confidence, feeling like I had the power to influence change, which was so empowering."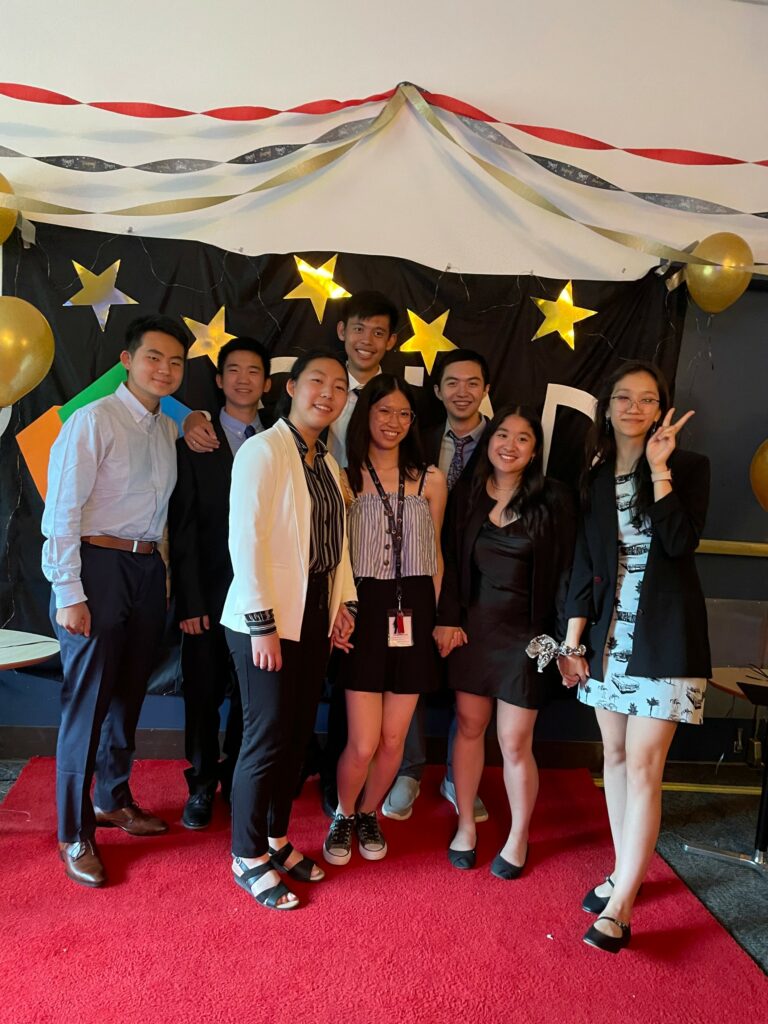 She wasn't sure what to expect when she arrived for the program, feeling trepidation around sharing her queer identity with others. It was the first time she was sharing a room with a stranger after Luna discovered she did not identify as straight, and worried that she would once again feel as though she wasn't accepted. But her roommate's response blew her away.
"My roommate was amazing; she was so accepting. I told her that I understood if she felt uncomfortable, and her response was 'why would you feel ashamed, of course you should be yourself!' That meant so much to me because I have never heard that in response to my coming out before. It was an eye-opening experience for me because I was able to ask myself those same questions of 'yeah, why would I feel uncomfortable, why wouldn't I just be myself?' It was incredible."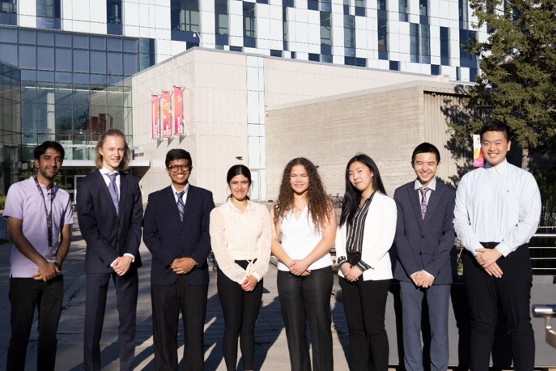 This experience gave her the courage to be open with others in the program and share her experiences when others did, which provided her the kind of supportive environment she felt she did not always get from her community at home.
Encouraged, Luna hopes to share that feeling of acceptance and support with others. And although she feels that strides have been made regarding the acceptance of the LGBTQ2S+ community, as well as better visible representation of the diversity within the community, she feels there is still more work to be done.
"I think a lot of the work starts with education and representation so that people who are not members of the community can see these people and understand them for who they are. I believe so much of the fear of members of the LGBTQ2S+ community stems from ignorance rather than hatred. I know people who held some unaccepting views in the past, but after learning more they became more accepting, kinder people. I think the more we learn about one another, the harder it is to see each other as anything other than a fellow human."
---