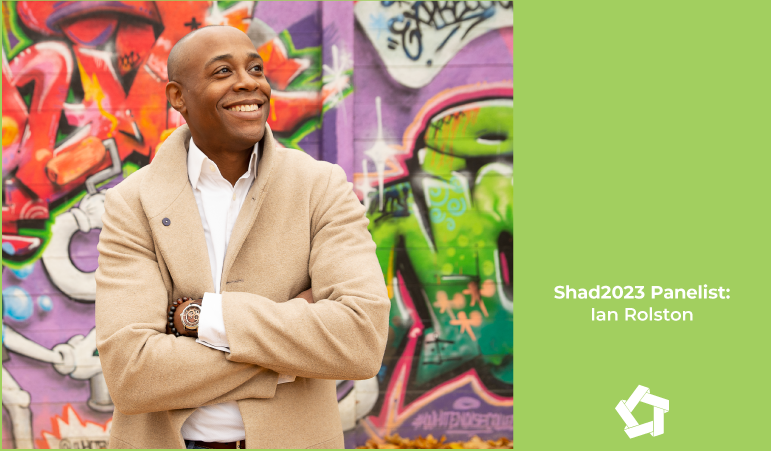 Ian Rolston
| July 7, 2023
Shad Stories
Categories:
Decanthropy is a collaborative equity design and innovation studio engaged by executive teams committed to equitable futures in both private and public sectors. Led by Founder and global design strategist, Ian Rolston, the studio leverages cross-discipline knowledge foresight to optimize unrealized value for their clients impacting people, processes, and built environments. Decanthropy makes systems, strategies, and spaces more human.
They are equity engineers – partners for social impact.
Ian Rolston is a speaker, creative analyst, design leader, and humanist. He has collaborated with leaders of industry across three continents and has worked for transformative interior design firms in Canada and in the US across multiple sectors. He has occupied the role of President for the national interior design association, Interior Designers of Canada (IDC), and has served on the Board of Black Architects and Interior Designers Association (BAIDA). He is currently a Registered member at the Association of Interior Designers of Ontario (ARIDO) and a site auditor with the Council for Interior Design Accreditation (CIDA). Ian has been a podcast guest on Canadian Interiors' BEVEL, Defining Hospitality with Dan Ryan, and Hospitality Design's "What I Learned". He has written two articles for Canadian Interiors; "Behind Closed Doors" in 2020 and revisited the article's theory in 2022 with "Revisiting Behind Closed Doors". Ian is a proud committee member of Jenn-Air's Disrupting Design program which aims to drive progress by fostering a more inclusive sector that creates access and opportunities for Black, Indigenous and racialized designers. Rolston has spoken openly about the missed opportunities and the hope for social impact that lies within the design-build industry. He has assembled a team of curious creatives to help executives, boards, committees, and directors strengthen equity strategies to solve the right problems at the right time. His studio, Decanthropy, supports teams to analyze, envision, align interests, communicate, and implement equitable futures.
Decanthropy.com
LinkedIn: https://www.linkedin.com/company/decanthropy
Instagram: https://www.instagram.com/decanthropy/
Youtube: https://www.youtube.com/@decanthropy