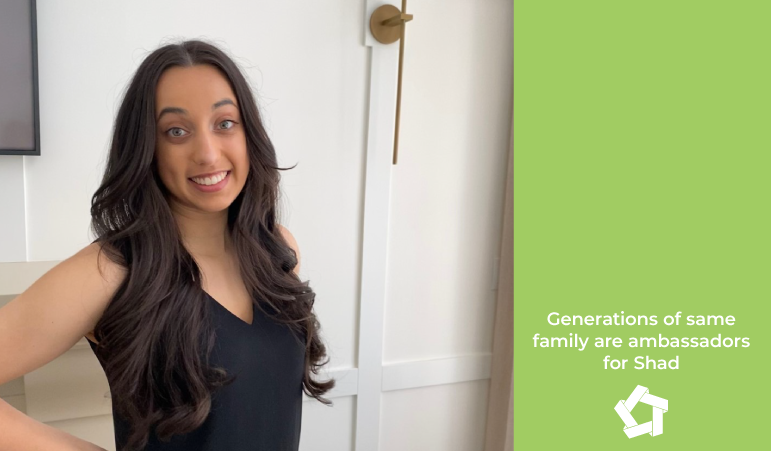 Generations of same family are ambassadors for Shad
| November 17, 2022
Shad Stories
Categories:
For Gita Manhas, you could say Shad is all in the family. Her mother, aunt and uncle all attended when they were in high school. Different aspects of Shad resonated with each of them and inspired them, and they all shared their experiences with Gita. It was almost inevitable that she would participate herself.
Gita attended Shad at the University of Calgary in 2016. And only a couple of months after she earned a Bachelor of Science degree from the University of British Columbia, she came back to work as a program assistant at Shad's first summer at Wilfrid Laurier University. Now her Shad stories join those of her relatives, all demonstrating the benefits of Shad to younger people.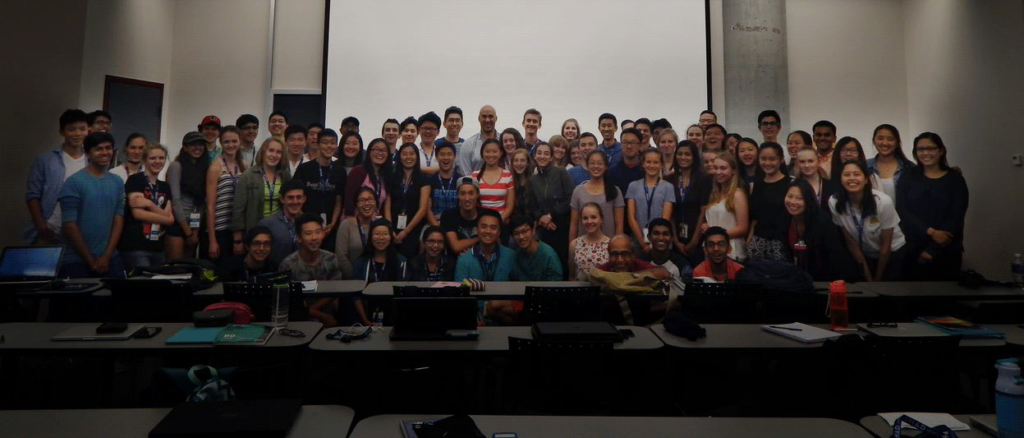 Gita's mother grew up in the town of Kitimat, B.C. She and her two siblings all attended Shad UBC in succession three years apart. First to attend Shad was Gita's uncle, Dr. Gurdeep Parhar, now a physician and a professor at UBC. In a guest lecture at Shad in 2013, he discussed his Shad experience and the ways it helped him find his career path. Gita already knew.
"My uncle was really passionate about science fairs, and it was his passion for science I think that connected him with a biology teacher in Kitimat who recommended Shad," Gita said. "Maybe it's because we have similar passions in the field of science but listening to his story about him attending Shad and how it opened his eyes inspired me. For him, it was a career in medicine that unfolded from that experience."
Gita's aunt Rosy Loodu, now a teacher-librarian, shared the specifics of the workshops, lectures and field trips during her year. And although she attended Shad three decades ago, she still remembers the theme of the design challenge. It's still relevant today.
"It was addressing the growing concern about the damaging effects of UV radiation. She remembers specifically developing a personal UV meter for people to keep on them to measure UV radiation and avoid getting sunburned," Gita said.
Gita's mother, Harjeet Manhas, attended Shad in 1989. She knew back then that she wanted to be a teacher, but she didn't know what subjects she wanted to teach. Shad helped provide clarity. She later earned a master's degree in education and now teaches mathematics and science at a high school.
"My mom told me that it was inspiring because she found that the students were good learners and at the same time so well-rounded and talented. She connected with the kids who were passionate about math and science," Gita said. "She wanted to inspire youth who were academically driven to be competent in academics but also encourage them to also engage in their passions."
"It was my best high school experience, and I met so many interesting and smart students from across the country," Harjeet said. "I believe that Shad can be a transformative program for many, and I often recommend it to young people in my community."
Just how much her mother inspired young people to attend Shad was evident to Gita during a chance encounter this summer. When Gita was a program assistant checking in a new Shad, she was chatting with the young woman's mother, and realized they shared a connection.
"She mentioned a friend's daughter who was a program assistant at Mount Allison that year, and that friend happened to be one of my family friends who got involved in the program because my mom recommended it to her," Gita said. "This student who was now my Shad and I had a mutual friend involved in Shad because of my mom. So, this student attended Shad in a roundabout way because of my mom being an advocate for the program."
With glowing recommendations from three important adults in Gita's life, Shad had a lot to live up to when it came time for Gita to attend at age 16. She had high expectations.
"The community was inspiring. I still look up to some of my peers and supervisors as role models in my life. But at the same time, I think I took away a lot of the same things that my uncle did in that the personal experiences that I had and the people I met opened my eyes to a career in STEM," Gita said.
She says the exposure to science at Shad led her to earn a degree in pharmacology, which examines many aspects of drug development. She has a particular interest in pharmacogenomics. It looks at the way people's genes impact their physical response to medications. She presented a lecture and workshop on pharmacogenomics as a program assistant at Shad this year.
"I've done research specifically looking at chemotherapies for a pediatric population and how some can actually lead to adverse side effects that are even as severe as heart attack, depending on their genetic profile," she said. "Identifying the specific genes and variations of the gene might let us know if a child is at a greater risk of this adverse reaction."
It felt natural for Gita to return to Shad as an adult to help inspire other young people. She was thrilled to share her passion with the students.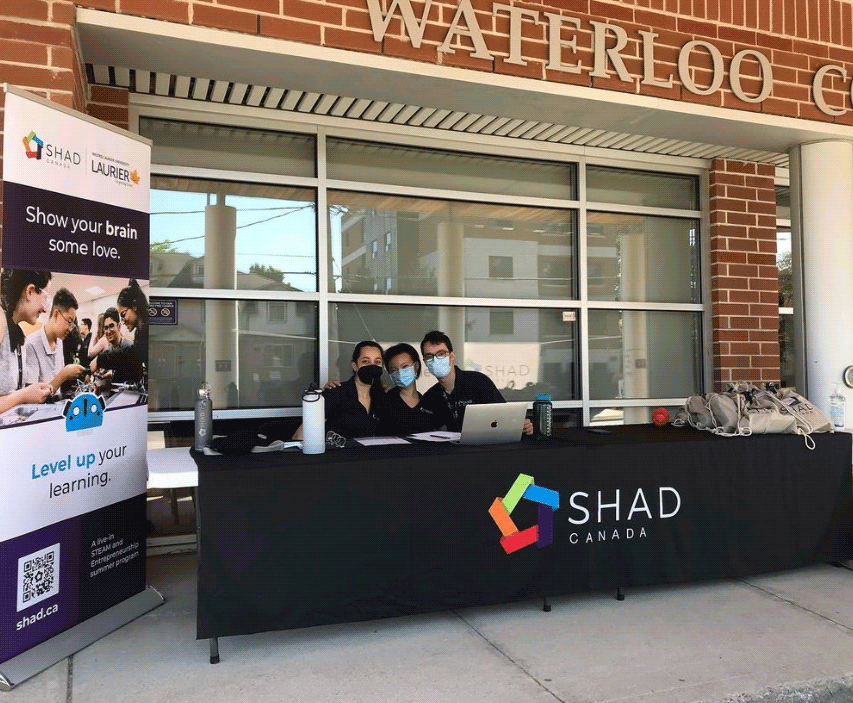 "I think finishing my degree and figuring out what my passion in science was specifically made me feel ready to be a role model to youth who are inspiring in so many was and aspiring to be scientists and future world leaders. At this point in my life, I felt I had something to offer them in terms of everything I've achieved, how I did it, and sharing the life lessons l learned along the way."
These days, Gita is considering her options and planning for her next chapter is underway. Working in industry, pursuing graduate studies or applying to medical school are all on the table and she's busy submitting applications. In the interim, she is working with Adapted Kicks, a new soccer program she founded in Richmond, B.C. to help remove barriers for kids with physical or cognitive limitations so that they have a chance to share in a sport Gita loves. Her efforts to inspire other young people continue.
Gita's younger sister, Jaia Manhas, attended Shad after Gita and on the recommendation of relatives in both her generation and the previous one. Her brother is in Grade 9 now and he has already heard their pitches about Shad for when he is of age. In the meantime, they are telling more and more young people about the benefits they experienced in the program. For them, encouraging as many young people as possible to explore their interest in STEAM goes beyond a family matter.